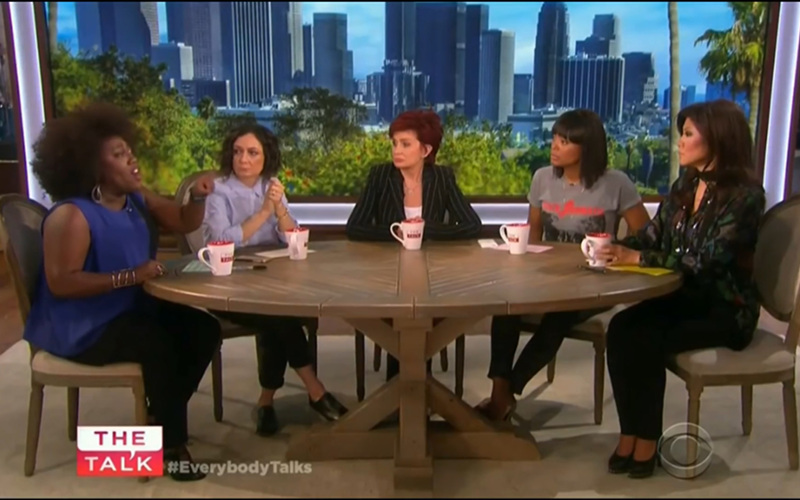 Police brutality and the killing of unarmed black people, particularly black men, continues to be at the forefront of conversation across the country. Many are angry, hurt, and emotionally tired. Sheryl Underwood passionately expressed all of those frustrations during a recent episode of The Talk.
On Tuesday's broadcast (Sept. 20), the co-hosts attempted to process the killing of Terence Crutcher. The unarmed black man was shot and killed by a white female officer in Tulsa while his hands were in the air. Moderator Julie Chen asked the panel, "What can be done to stop racial profiling?"
"We have a legacy of racism in this country and if we don't start calling it racism then we can't fight it," Aisha Tyler explained. She continued to express the need to better train officers. However, that's when Underwood interrupted Tyler with a truth bomb.
"You don't have to train the cops not to shoot white people, why you gotta train them not to shoot us?"
After an applause, Underwood let Tyler finish her point. When it was time to share her thoughts on the matter, Underwood became extremely emotional, but made points that every white person in America need to understand.
"Remember there are good police officers out there and the ones that are not, they need to go jail. Don't tell me this, we got to train! Y'all white and y'all drive all the time and don't nothing happen to y'all. And we Black and I'm afraid to drive my damn car because if they don't know who I am, I can could be shot!"
Pointing to the audience and even her white co-hosts, Underwood continued:
"Until ya'll feel that, this ain't never gonna stop! Until you all that are not black feel it and stand with us, this is not going to stop!"
She also urged for cops needing to be held accountable for their actions.
"You gotta make it a hate crime. You've gotta put people in jail. When you shoot somebody under the color of authority you need to lose your job, and you need to lose your livelihood and you need to lose your freedom like every other American loses their freedom. There needs to be consequences."
Though this shouldn't matter, what's interesting is that Sheryl Underwood calls herself a "God-fearing, black Republican." Though she supported Barack Obama in recent elections, she was also a staunch supporter of George W. Bush. Many conservatives have tried to deny there is a problem in the way officers treat people of color.
Nonetheless, Underwood was definitely doing some preaching to those white people. Hopefully her fellow white co-hosts and white viewers listen and stand with those fighting against police brutality and institutional racism.
Be the first to receive breaking news alerts and more stories like this by subscribing to our mailing list.