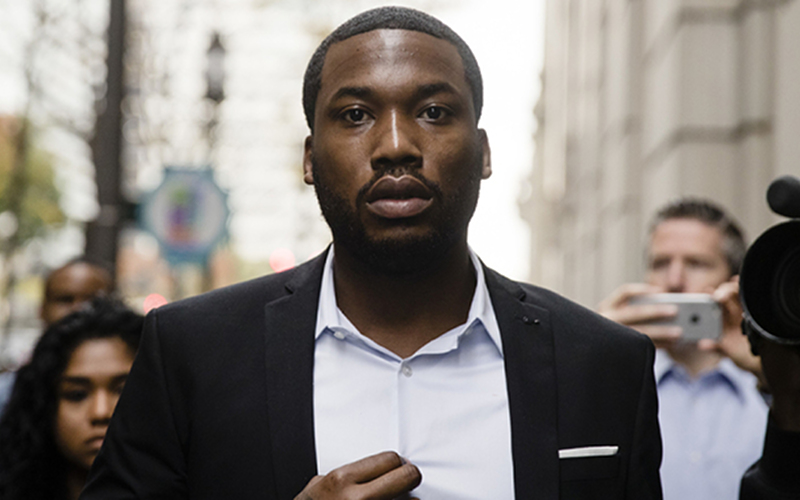 Well this is a very strange argument for appeal. Moments after Meek Mill was sentenced a minimum of two years in jail, his lawyer claims the judge has a "vendetta" against him because he refused to remake a Boys II Men song at her request.
Judge Brinkley of Philadelphia sentenced Meek 2-4 years behind bars on Monday (Nov. 6) for violating his probation by getting arrested twice earlier this year. Many noted the sentenced seemed harsh because even prosecutors didn't recommend jail time and the charges from the two incidents this year have been dismissed.
Joe Tacopina, one of Meek's lawyers, told TMZ that Brinkley has a grudge against his client because he refused to give her a shout-out in a song. Via TMZ:
Tacopina says the judge suggested to Meek — during a meeting in chambers last year — he do a remake of Boyz II Men's, "On Bended Knee" … and give her, the judge, a shout-out. Meek thought she was kidding and laughed.

Tacopina claims she said, "I'm not kidding," and when Meek refused to do it, she replied … "Okay, suit yourself."
Tacopina also added that Brinkley and Meek have a long history. They are both from the same part of Philly and have mutual acquaintances. Brinkley has presided over Meek's case since 2008, which is where is 10-year probation stems from.
Along with many on Twitter, JAY-Z and T.I. have also slammed the judge's ruling. Hov – whose Roc Nation manages Meek – described the jail sentence "unjust and heavy-handed," in a Facebook post on Monday. He wrote:
"The sentence handed down by the Judge – against the recommendation of the Assistant District Attorney and Probation Officer – is unjust and heavy-handed," Jay-Z said. "We will always stand by and support Meek Mill, both as he attempts to right this wrongful sentence and then in returning to his musical career."
T.I. shared an Instagram photo of his friend. "Was wit u then & WE STILL WIT U NOW," he wrote.
Meek's defense attorney Brian McMonagle fully intends to fight Judge Brinkley's decision. "You're goddamned right I am," he said when asked he would appeal the sentence.
Be the first to receive breaking news alerts and more stories like this by subscribing to our mailing list.