More than 20 people are dead and dozens more have been injured following a mass shooting at a church in Sutherland Springs, Texas Sunday morning (Nov. 5). Initial reports described the shooter as a man in full combat gear and dressed in all black who walked into the small country church and opened fire on dozens of parishioners.
According to police, the gunman—reportedly identified as 26-year-old Devin Kelley—left the scene in a vehicle and is now dead after a brief pursuit. It's not clear whether he killed himself or was killed by police, but officials say that he acted alone and there were no other active shooters.
Here's what you need to know about the Sutherland Springs church shooting:
A man in "full gear" barged into The First Baptist Church of Sutherland Springs and began shooting, according to reports.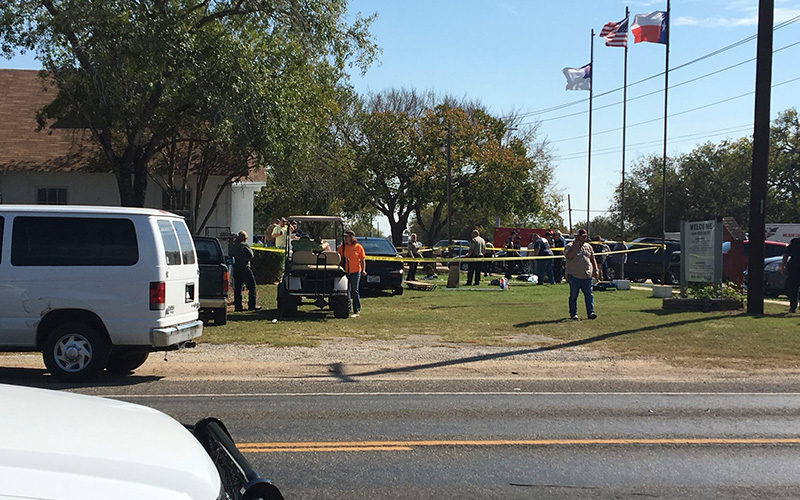 According to initial reports from the scene, a male suspect barged through the doors of The First Baptist Church of Sutherland Springs at around 11:15 a.m. and opened fire on dozens of parishioners, killing at least 26 and injuring around 30 others.
"A man in full gear came into the church and unloaded several rounds, and then took off in a vehicle," a KSAT-TV reporter said on Facebook Live.
A woman who said she works station across the street from the church told ABC News she heard rapid gunfire around 11:15 a.m. and congregants fled the church and ran to the station for cover.
As seen on their official YouTube channel, the church shares videos of its Sunday morning services every week on YouTube, which means that the shooting was likely captured on video, although this has yet to be confirmed.
If today's service was recorded, it's highly likely that the FBI (who is currently at the scene of the shooting) has obtained the footage and will be reviewing it as a part of their investigation.
The current death toll from the shooting is 26, excluding the gunman.
The shooter may have reloaded multiple times and was killed after a brief chase with a local resident.
#BREAKING: This is reportedly a photo of the Texas church shooter's vehicle. pic.twitter.com/9xerbfSF8I

— UA News (@UrgentAlertNews) November 5, 2017
KSAT-TV reporter Max Massey wrote on Twitter that "neighbors say they heard shooter may have reloaded multiple times, around 50 people usually at service." He also reported that at least six helicopters were called in to transport victims to nearby hospitals.
A woman wrote on Facebook that she saw the shooter flee the scene in his vehicle before crashing it not too far from her daughter's house in a neighboring county. She said the man then ran on foot and was pursued on foot by someone who she believed was a police officer.
Guadalupe County Sheriff's Office spokesman Robert Murphy confirmed the gunman was killed after the brief foot chase into Guadalupe County. However, the man chasing the gunman was NOT a police officer, but a local resident.
A rep for the Texas Department of Public Safety described in a press conference that the shooter was dressed in all black tactical gear when he walked into the church and used an AR assault-style rifle in the shooting. As the man attempted to flee the scene, a local resident shot at him with his own rifle and followed the gunman in his own vehicle.
The gunman was later found shot dead near the Guadalupe County line, where police say they found more firearms in his car.
FBI just arrived on the scene. The scene is getting pushed back. pic.twitter.com/vyIyNPZHou

— KSAT Max Massey (@MaxMasseyTV) November 5, 2017
It's unclear if the shooter killed himself or was taken down by the resident. The suspect, whose name was released as Devin Kelley, is dead and there is no longer an active shooter threat, police said. FBI is now on the scene and is currently investigating.
The pastor's teen daughter was killed and, according to witnesses, other young children and a pregnant woman were among the victims, whose ages range from 5 to 72.
Pastor Frank Pomeroy oversees the First Baptist Church of Sutherland Springs. His wife, Sherri, said that her husband was out of town at the time, but their 14-year-old daughter, Anabelle Renee Pomeroy, was inside and killed in the shooting. Pomeroy described Annabelle, his youngest daughter, to ABC News as "one very beautiful special child."
Pomeroy said he was in Oklahoma Sunday morning, a rare weekend that he wasn't at the church. He added that the victims in the shooting were all close friends of his.
Early reports indicated that a number of small children were among the victims. According to KEN5, "A witness at the scene reported a 2-year-old was also shot," though the child's condition wasn't immediately clear.
A 6-year-old boy named Rylan was also reportedly shot multiple times at the church and is now in surgery, according to his uncle who spoke to CBS News. According to The New York Times, a woman who is 8 months pregnant was also among the victims, whose ages range from 5 to 72.
Sutherland Springs is a rural community with a population of about 400-600 people.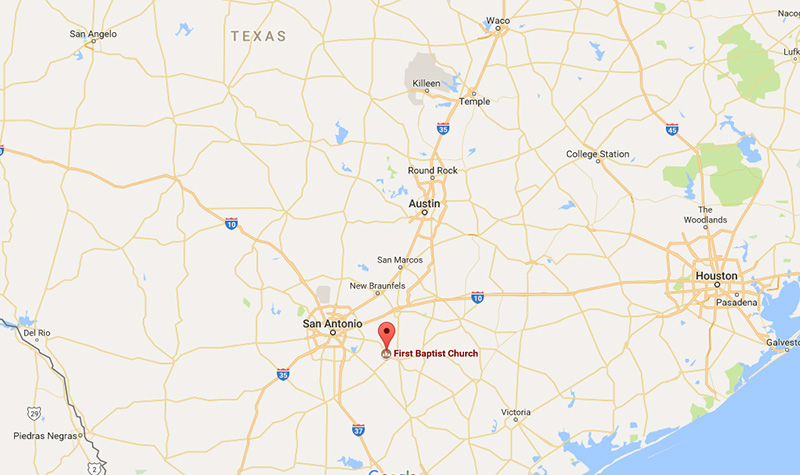 Sutherland Springs is a small community about 40 miles southeast of San Antonio. According to recent population statistics, about 400-600 people live in the town, which would mean that around 6-7% of the population lost their lives in the shooting.
Some residents feared that the gunman was someone they knew because their community is so small, but Texas Congressman Vicente Gonzalez said: "apparently the shooter was not from the area, he was from outside of that area."
Making the tragedy even worse, there aren't any medical facilities in Sutherland Springs, and the closest hospital is at least 30 miles away. Multiple helicopters were used to transport victims.
At least 6 helicopters called to transport victims pic.twitter.com/GTwwQfPx6L

— KSAT Max Massey (@MaxMasseyTV) November 5, 2017
Some local news reports indicated that the church may have lost at least half of its congregation, as only about 40-50 people typically attend Sunday morning church services. Because the community is so small, numbering only in the low hundreds, it's highly likely that almost everyone in Sutherland Springs knows someone who was either killed or injured.
"My heart is broken," Wilson County Commissioner Albert Gamez told CNN. "We never think where it can happen, and it does happen. It doesn't matter where you're at. In a small community, real quiet and everything, and look at this, what can happen." One woman told CNN the church was "your quintessential country church" in small-town America.
President Trump tweeted about the shooting from Japan.
May God be w/ the people of Sutherland Springs, Texas. The FBI & law enforcement are on the scene. I am monitoring the situation from Japan.

— Donald J. Trump (@realDonaldTrump) November 5, 2017
Be the first to receive breaking news alerts and more stories like this by subscribing to our mailing list.