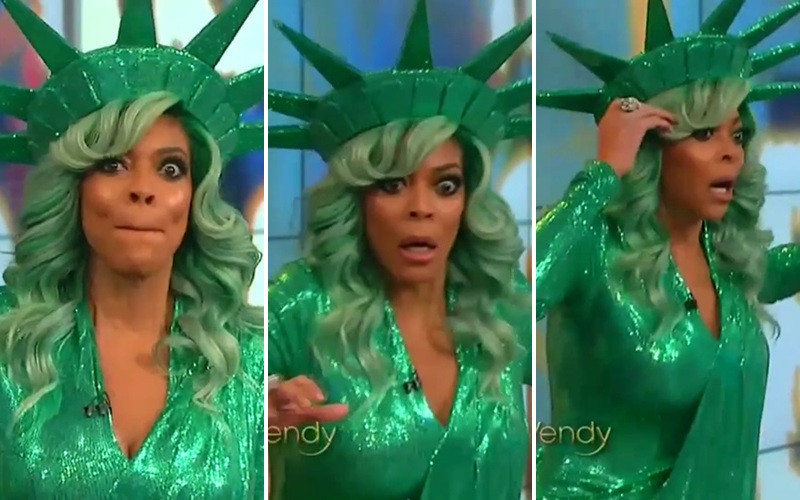 Wow! Wendy Williams gave her audience and viewers quite the scare during her Halloween show and it was most definitely NOT a trick! The host passed out live on air.
Dressed as the Statue of Liberty, Wendy celebrated Halloween with her "co-hosts" during today's live broadcast (Oct. 31).
However, mid-way through Wendy introducing her annual costume contest, "How You Booin'?" when she began slurring her words and noticeably began to shake. The host stumbled and fell to the floor as crew rushed to her aid and the director cut to black.
https://twitter.com/xosalxox/status/925399811402104832
Following the commercial break, a conscious Wendy explained to the audience that she "overheated" due to her costume. "That was not a stunt," she said trying to be upbeat. "I overheated in my costume and I did pass out. But do you know what? I'm a champ and I'm back!"
Wendy was able to complete the show and is reportedly expected to film shows for the rest of the week.
A rep for the show further explained Wendy overheated due to her bulky costume, heavy make-up and bright studio lights. But if her costume was the cause, why did she return still wearing the full Statue of Liberty costume?
Meanwhile, Ronn Torossian, a spokesperson for Wendy, says the host fainted because of dehydration.
"Ms. Williams fainted on-air this morning. She is dehydrated and is on her way home for a good day and night of sleep. She has been examined by medical professionals and is well. She is OK and will continue as shows as planned," Torossian said.
"She will address this on-air tomorrow. She has never missed a day of work and is looking forward on November 13th to her 1500th show."
We wish the talk show host a speedy recovery!
Here are a few Twitter reactions to Wendy Williams fainting on-air:
Prayers up for the Sister Wendy Williams!

— Queen Latifah (@IAMQUEENLATIFAH) October 31, 2017
Wait, Did Wendy Williams just fainted on live TV ? pic.twitter.com/n9IlswmDbp

— Othneil Stanton (@lovebyondegree) October 31, 2017
Wendy Williams was like pic.twitter.com/0CGqklcQxk

— TJ (@tj_gorham) October 31, 2017
Was Wendy Williams trying to say "our first guest"?? It came out as "our first caress". I don't want to jump the gun here, but it seems as though she just had a stroke. Sending positive thoughts her way.

— ?? angel nicole ?? (@ang_nic_) October 31, 2017
https://twitter.com/1942bs/status/925400100968566784
I watched that Wendy Williams faint like pic.twitter.com/DWMUlprmx5

— Kodak ??&?? (@ChixGawd) October 31, 2017
Honestly I tried so hard not to laugh at Wendy Williams fainting but after I found out she was ok, this was me.???? pic.twitter.com/c5IGTnIFNm

— Napturally_Breezy (@napturally17) October 31, 2017
Wendy Williams came back and said she just "overheated in her costume." Now I'm no medical expert but that didn't seem like over heating.

— Naw. That Aint It, Bruh (@AHitDogHolla) October 31, 2017
Wendy Williams back stage after passing out pic.twitter.com/51fWKHmrfi

— Agron (@Agronveliu97) October 31, 2017
Wendy Williams fainting while dressed as the Statue of Liberty is the perfect metaphor for 2017.

— Quinn Sutherland (@ReelQuinn) October 31, 2017
So who's gonna be the first to start the Wendy Williams challenge? pic.twitter.com/GrQ81NwcL2

— KOSHER (@JRAN_76) October 31, 2017
Be the first to receive breaking news alerts and more stories like this by subscribing to our mailing list.