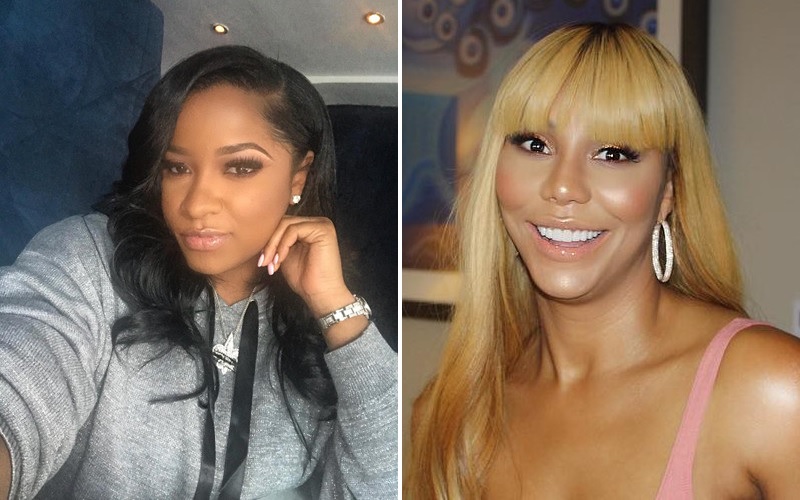 Toya Wright is offering an olive branch to Tamar Braxton. The pregnant reality star had nothing but kind words to say about her former friend during an appearance on Sister Circle.
Earlier this week, Toya addressed her feud with Tamar on Sister Circle. Though she previously has described Tamar as "the fakest bitch I know," Toya took the high road and admitted she has nothing but love for the singer.
"I would like to say that I wish Tamar Braxton the best. I have nothing negative to say about her. I think she's an amazing singer — very talented. I wish her much success."
She went on to address a larger issue at hand and encouraged black women in the entertainment industry to stop the "cattiness and pettiness" on social media in an effort to set a better example for young girls.
"And as far as Black women in the entertainment industry who have those conflicts, I just feel like they we use social media platforms to kind of air out a lot of cattiness and pettiness. And I myself…I'm a victim of it as well. But we have to do better.

"We have to start setting more positive examples for our youth who follow us and look up to us, because the girl fights, the Twitter beefs and Instagram shade throwing—it just needs to stop."
Toya and Tamar's friendship turned into a feud when Toya appeared on The Real after Tamar was unexpectedly fired from the show. More damage was done when Tamar threw shade at Toya in an Instagram apology to Tiny Harris. Toya responded by calling her fake, petty, and pathetic.
Fortunately, it seems Toya is ready to bury the hatchet. The reality star—who is expecting a girl—offered her olive branch before it was announced Tamar is divorcing her husband, Vince Herbert. With the two going through life-changing events, maybe they can squash their beef once and for all.
Be the first to receive breaking news alerts and more stories like this by subscribing to our mailing list.