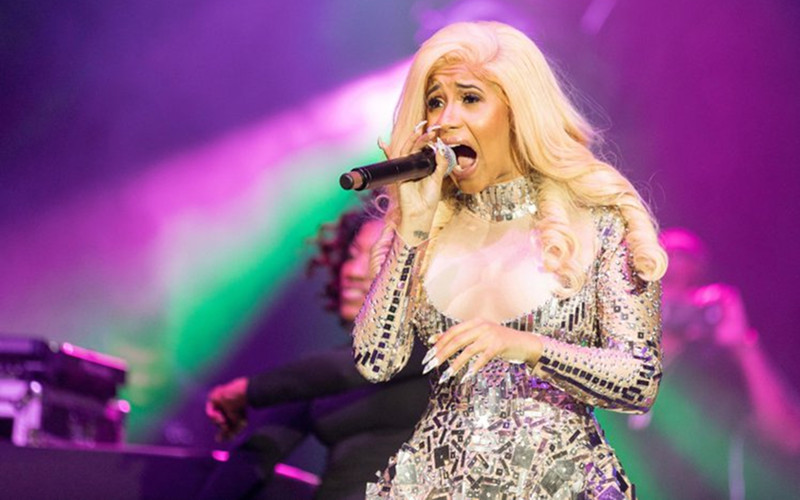 Cardi B had an unfortunate weekend. TMZ reported the rapper was thrown out of her Hilton hotel room shortly after she temporarily broke up with her boyfriend offset.
TMZ reported Cardi was thrown out of the Hilton Albany in Albany, NY early Sunday morning (Oct. 22). Apparently, the "Bodak Yellow" rapstress and her crew were getting a little too hype and guests began to complain around 1 a.m.
Police told TMZ there was "some sort of disturbance and when Cardi B was confronted by hotel security it escalated and she was ordered to leave."
In video footage of her walking out, a frustrated Cardi yells "racists motherfuckers" presumably to hotel employees. She also knocks drinks out of one of her companion's hands that said employees would have to clean up.
Cardi performed at the Times Union Center in Albany on Saturday night.
The Hilton hotel incident occurred shortly after Cardi seemingly broke up with boyfriend Offset of the rap group, Migos. "Single," she wrote on Snapchat.
Cardi B and Offset have broke up

— BLK. (@WEAREBLK) October 22, 2017
She followed up the cryptic post with a photo of herself giving the deuces. "Peace nikka," she wrote.
https://www.instagram.com/p/BaffjBshZOE/
Social media quickly understood the couple of a few months had broken up. However, Cardi later explained she was just having a moment and overreacted.
"So listen babes, I exaggerated a lil bit earlier cause I was really upset and the Bronx girl in me always have to go to the extreme. I came to me sense now. I'm sorry …waffle house on me?"
OKAY CARDI B AND OFFSET ARE BACK ON TRACK, life is good again???? pic.twitter.com/Wr24HQUdav

— Nana the Graduate (@Life_of_Nana) October 22, 2017
Interestingly, she still might have put Offset on notice because she posted one final message on social media. "Sometimes you gotta do sh*t the OLD you would do. so mfers know not o play with the NEW you."
https://www.instagram.com/p/BaigHIOBsF8/
So yea, Cardi B had one helluva weekend. But hopefully, she will really treat herself to some Waffle House. At least end on a good note.
Be the first to receive breaking news alerts and more stories like this by subscribing to our mailing list.