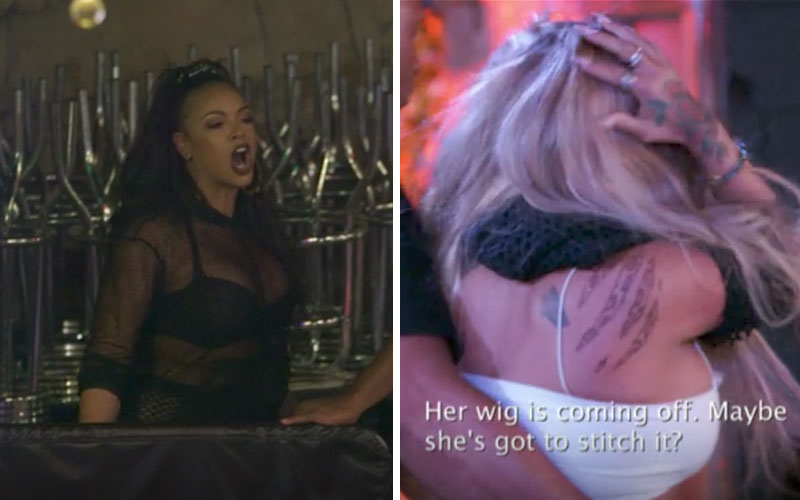 There's an old proverb that says, "Don't start none, won't be none." Apparently, Hazel E either hasn't heard of that or she just doesn't care, because she's always starting something with somebody, especially when it comes to her long-running beef with fellow Love & Hip Hop Hollywood castmate Masika Kalysha.
In case you're not familiar with Masika and Hazel (or, "Nasal," as Masika calls her because of her big nose), let's give you a quick backstory. On the first season of LHHH, the two women began to clash over their mutual interest over rapper/songwriter Yung Berg (who was on LHHH's inaugural season).
After both ladies moved on from Berg, tensions continued to grow between the women when Hazel E lied about having a song with Masika's baby daddy, rapper Fetty Wap. As the two women went back-and-forth everytime they saw each, Hazel E would call Masika's motherhood into question, and Masika has made it very clear that you can talk isht about her all you want, but you WILL NOT bring her child into it.
Well, to make a long story short, Masika's request to keep her child out of their beef has fallen on deaf ears, because Hazel E went as far as to post a photo of Masika holding Kari, her daughter with Fetty Wap, along with this caption: "You are a deadbeat, prostitute, porn star of a mother. I got your police records from being arrested in 2003 for prostitution."
She's since deleted the post, but VH1 showed a screenshot on last night's episode: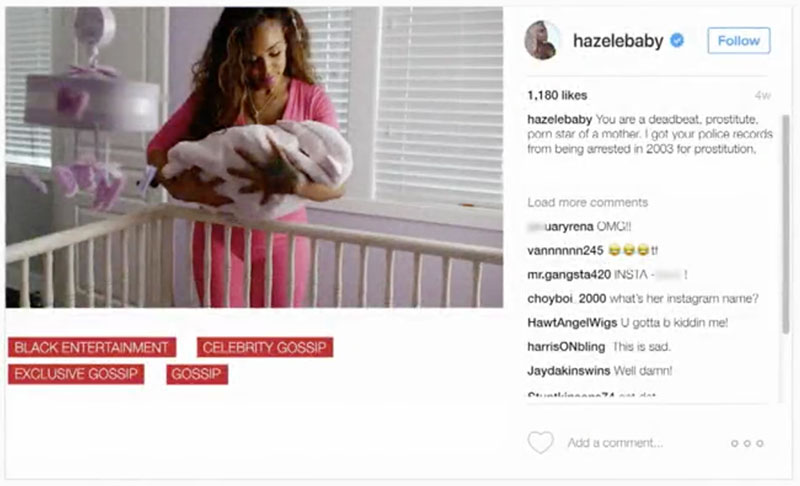 "You actually posted a photo of my child, and said something very disrespectful and disgusting about my daughter and me as a mother," Masika said to the camera in her confessional. "OK, it's time to check you boo."
And that's exactly what Masika did.
Later on in the episode, Donatella attempts to bring the women on the show together for a music showcase, and things go completely left when Hazel E enters the room.
From VH1.com:
Bridget Kelly opens this Love & Hip Hop Hollywood clip with her angelic vocals and she is excited because she is finally doing what she set out to, which is shine. Brooke has a strong side-eye towards her former friend but is refreshed to see a familiar face, Masika.

Back in the day, Masika did a video for Brooke which makes it easy for Miss Valentine to confide in her long time friend. She explains that Bridget has been moving real foul telling Marcus business he shouldn't be hearing from her in regards to Booby. Although Brooke isn't impressed with her performance, Donatella is and she asks Bridget to close to show.

As Donatella runs down the itinerary, Masika and Brooke are shocked to hear that Hazel-E is up next to rehearse. "Young man! Nosey-Nose! Nostrildamus!" Masika calls out trying to get Hazel's attention but because Hazel isn't coming to her, Masika goes after Hazel.

She isn't as slow as Hazel thinks because Masika grabs that blonde unit one time and gives it a good tug, damn near dragging her over the balcony. As brutal as it looked, Brooke does not feel bad because to her, Hazel had it coming.
The absolute best part of their brief scuffle comes at the end as Hazel is being whisked away by security and Donatella is in the background yelling, "Her wig is coming off! Her wig is coming off!" Then she hilariously throws in this shady question: "Maybe she's got to stitch it?"
Jesus be a needle and thread (or at least some strong gorilla glue).
Be the first to receive breaking news alerts and more stories like this by subscribing to our mailing list.