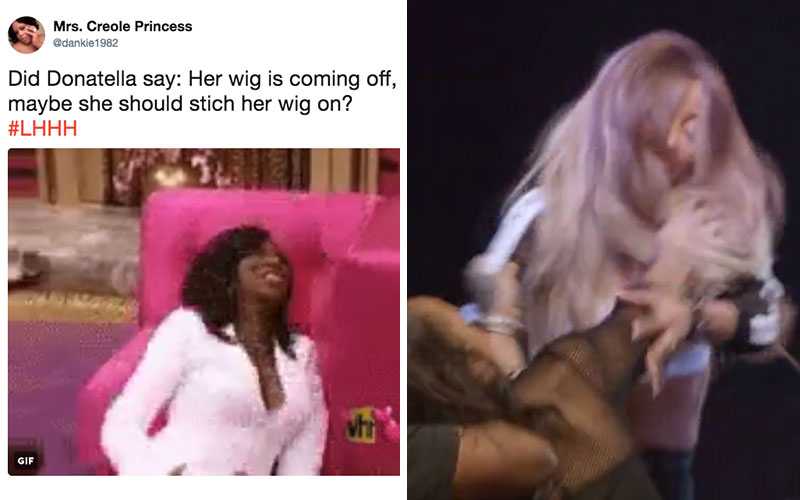 Among the many reasons we watch Love & Hip Hop Hollywood, the biggest would have to be the fights, because we all love a good fight, right?
In recent seasons, production has warned cast members that throwing hands will result in reduced checks and camera time, so instead of fighting with their hands, nemeses must use their words. And if that doesn't work, they're allowed to, at the most, throw drinks and grab wigs. And Masika chose to do the latter when she finally came face-to-face with Hazel E on Monday night's (Oct. 9) episode.
When Donatella asked Masika to be a part of a music showcase, she had no idea "Nazel E" was going to be a part of it. So when "Nazel" strolled into the room, Masika tried to get her attention by yelling a plethora of hilarious nicknames: "Young man! Nosey-Nose! Nostrildamus!" And when Hazel refused to come to her, Masika barreled through a number of bodyguards and grabbed her by her wig, nearly ripping the thing off and pulling her over a whole balcony.
"BOZO WITH THE BIG NOSE, THERE SHE GOES! ?" #LHHH pic.twitter.com/iWZEIuWyrf

— Jonathan (@badgalriri) October 10, 2017
Immediately after the tussle, Donatella couldn't believe her eyes as Hazel's wig was LITERALLY hanging on by a thread, and her reaction made the hilarious exchange even funnier: "Her wig is coming off! Her wig is coming off! Maybe she's got to stitch it?"
And apparently, I wasn't the only one who thought Donatella's "Her wig is coming off!" declaration (in her posh, British accent, no less) was not only hilarious, but also hella shady, because Twitter couldn't get enough of it.
Check out the best and funniest tweets below:
Her wig is coming off… Maybe she has to stitch it.. #LHHH #lhhhollywood pic.twitter.com/5RY2Xlukdf

— RebelliousSoul (@GaiaOsiris) October 10, 2017
Donatella: "Her wig is coming off… HER WIG IS COMING OFF!"
#LHHH pic.twitter.com/MDzN1RCwGD

— Dashawn Beyond (@dnice51891) October 10, 2017
"Her wig is coming off. Her wig is coming off." Help.

— Michael Arceneaux (@youngsinick) October 10, 2017
Donatella yelling "Her wig is coming off" during the fight #LHHH pic.twitter.com/RaaLlVUOlw

— ?MyselfBetterThanU (@Love2Lmfao) October 10, 2017
Her wig is coming off, maybe it need stitches ????? #LHHH pic.twitter.com/iRAFh7Zl6e

— missjackieg (@tanzanianbeauty) October 10, 2017
Donatella funny asf talking bout her wig is coming off?#LHHH

— Tati. (@ME1st_YouThird) October 10, 2017
?Her wig is coming off! Her wig is coming off. Hazel you gotta stitch it. ??Ahhhhhaaaa #Shady #LHHH

— ?rell rell? (@Rell_Nique) October 10, 2017
lmfaooooooooooo "Her wig is coming off, Her wig is coming off, she needs to snitch it back on" :British accent:

— ? (@offlinequeer) October 10, 2017
"Sir come here, young man". "Her wig is coming off". Hazel finally met her match. #LHHH #lhhhollywood pic.twitter.com/m4XvjuqU33

— Khadija ??? (@KayDee26) October 10, 2017
I don't know what's worst, Hazel's wig coming off or Donatello announcement that her wig is coming off & a recommendation to stitch It #LHHH

— TashP0intO (@TashP0intO) October 10, 2017
Wait, Dontella just shaded her omg. She said her wig is coming off. She should have stitched it down ??? #LHHH

— Jessica S (@diamond_of_sc) October 10, 2017
"Her wig is coming off" I am weaaaaak ?? #LHHH #LHHHollywood

— oh ? (@drethemisfit) October 10, 2017
Did Donatella say: Her wig is coming off, maybe she should stich her wig on?#LHHH pic.twitter.com/GzIbgN52v7

— Mrs.Creole Princess? (@dankie1982) October 10, 2017
"Her wig is coming off. Maybe she's got to stitch it?" —Donatella ???#LHHH

— K?L?I???????? (@AlterEgoSD84) October 10, 2017
That SNATCH tho!!! "Her wig is coming off" ?????? #LHHH #lhhhollywood

— VeraWalker (@mizfontella) October 10, 2017
Masika saying come here young man and damn near snatching Hazel off the stage had me ??????#LHHH #lhhhollywood pic.twitter.com/12b0MQbnQG

— RebelliousSoul (@GaiaOsiris) October 10, 2017
Donatella is slick messy.
You gotta be messy connoisseur to truly pick it up. #lhhh pic.twitter.com/usDocrh16a

— Quinine Chela (@aweirdo13) October 10, 2017
"Her wig is coming off, maybe we have to stitch it", I'm dead right now #LHHH pic.twitter.com/b7z85AY5Wt

— LENA ? (@_sdm26) October 10, 2017
Why did she announce HER WIG IS COMING OFF ????#LHHH

— iAm_ Cookies (@iAm_Cookies) October 10, 2017
Even before the episode aired, Twitter was ready for the wig-snatching:
Who's ready to see @masikakalysha drag nasel e ????#LHHH pic.twitter.com/H0vggDVs7v

— ? Jae ? (@jaeniptuck) October 9, 2017
the only scene in the episode I wanna see is Masika dragging Hazel by the roots ??? #LHHH pic.twitter.com/L2e1K15N0d

— lex ?? (@_heyimalexis) October 10, 2017
Lord. Please open up Mona's heart and let her show us the snatching of Hazel's life by Masika. Amen. ?? #LHHH

— ??itsrox?? (@itsrox) October 10, 2017
Watching today episode just to see Hazel-E get her wig snatched by Masika like this #LHHH pic.twitter.com/LQKCpeGpZm

— Jay Flo (@Americatv7) October 10, 2017
Me waiting to see Nazel get rat hair wig snatched like #LHHH pic.twitter.com/JMSLxWG968

— Tomesha Petty (@badbbwdiva504) October 10, 2017
https://twitter.com/_shantrelly_/status/917543679186915328
Can we fast forward to the part where Hazel gets snatched into the next dimension ?? Please and thank you. #lhhhollywood #LHHH pic.twitter.com/nJf6BlCipg

— ?Dark Brown Feng Shui? (@umbertoned) October 10, 2017
https://twitter.com/stonedblasian/status/917540470498168832
Wigs are flying on a NEW #LHHH TONIGHT at 8/7c! pic.twitter.com/bz7NcMqu0g

— Love & Hip Hop (@loveandhiphop) October 9, 2017
In the words of Brooke Valentine, "Welcome. To. Hollywood."