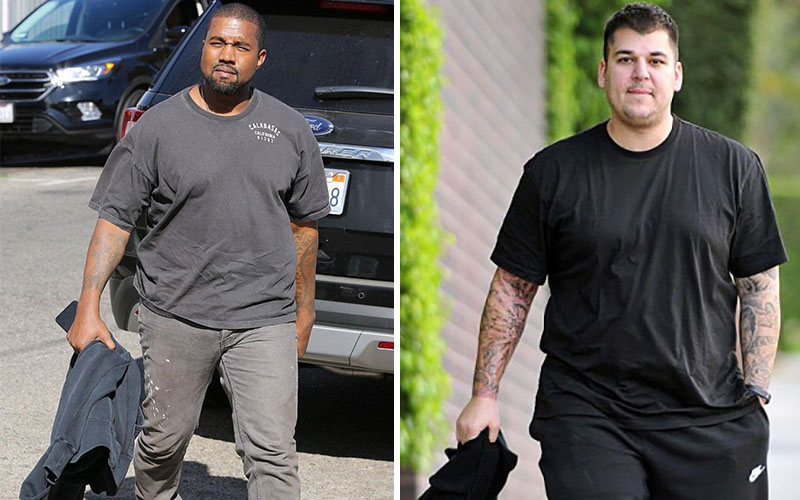 After THOROUGHLY embarrassing himself, his legacy and his fanbase with his meltdown and subsequent embrace of President Donald "Rancid Mustard" Trump, Kanye West wisely decided to take a time out and fall back for a while.
Or, more accurately, someone intervened and put Kanye in a corner.
Either way, we haven't seen or heard much from Mr. West in a while, which has honestly been a good thing.
But over the weekend, Kanye West emerged and there was, shall we say, a lot more of Yeezy to love than before.
Kanye West spotted in LA Yesterday..? pic.twitter.com/FthJskFbTe

— Outlander (@StreetFashion01) September 22, 2017
Snapped by his friends, the paparazzi, Kanye wore a horribly unflattering t-shirt and jeans combo that looked more like something he fished out of the lost and found section at a school cafeteria than anything a multimillion-dollar celebrity should be wearing.
But people immediately noticed that under the drab, gray garment, it appeared that Kanye now had grown moobs (man boobs) and a pot belly. It didn't help that the shirt, again, was horrendously unflattering, but… the man boobs don't lie, y'all.
Of course Twitter had mad jokes:
Father Stretch My Pants pic.twitter.com/NleGmKocSj

— Henry (@DeionGottaSTFU) September 22, 2017
RT @KingFavre: 808s and juicy steaks pic.twitter.com/k8hoKKctgi

— Dynamics • £ (@theDYNAMICS) September 22, 2017
My Beautiful Dark Twisted Frappacino… JihaD pic.twitter.com/Vkf2FN2kyZ

— ?Cre'Jawn LeBlanc, 1st of his Name? (@ZipSquad_JihaD) September 22, 2017
F.O.O.D. Music pic.twitter.com/F8X567bs5Z

— Holly?Holly?Holly (@HollyGoNightly1) September 22, 2017
Laaaaaaaaaaa, laaa, la-la, wait till I fill up my appetite. pic.twitter.com/bjJVUqus7W

— K. (@ThatPersianGuy) September 22, 2017
Kanye west has obviously gained weight due to the medication he's on. The number 1 side effect of anti depressants is weight gain

— Ms. Jackson (@sadonna_rae) September 23, 2017
Kanye west has that anti depression medication weight on

— SHADOW OF A DOUBT (@merkmerkmerk) September 24, 2017
https://twitter.com/purpplehazee/status/911767284762529792
Internet: Support mental health, it's not a joke! Also the internet: Haha, look Kanye West gained weight from his anti-depression meds! ?

— Whitney (@MissWhit83) September 22, 2017
While some people were quick to throw out theories saying that perhaps he was on anti-depressant medication that caused his weight gain, I'm gonna go with maybe Kanye wanted to let his brother-in-law, Rob Kardashian, know he's not the only one who eats away his pain. Or maybe God wanted to pay Kanye back a little by forcing him to walk a mile in Rob's shoes. If you'll recall, Kanye had a little fun at Rob's expense on the song "Highlights," from his Pablo album.
Blac Chyna fuckin' Rob, help him with the weight
I wish my trainer would, tell me what I overate
Rob Kardashian might have shed a few pounds here and there with Blac Chyna by his side and in his bed, but it didn't last (and neither did their relationship).
I don't know if Ye is counting on Kim to screw him silly till he burns enough calories or if he's hoping for a shot at Blac Chyna himself, but regardless, putting his mouth on someone else's weight loss struggles really seems to have bitten him in the ass, hasn't it?
Next time, Kanye, keep Rob's name out cho' mouth. Now that you're a plus-size man, here's a mantra to live by:
Be the first to receive breaking news alerts and more stories like this by subscribing to our mailing list.