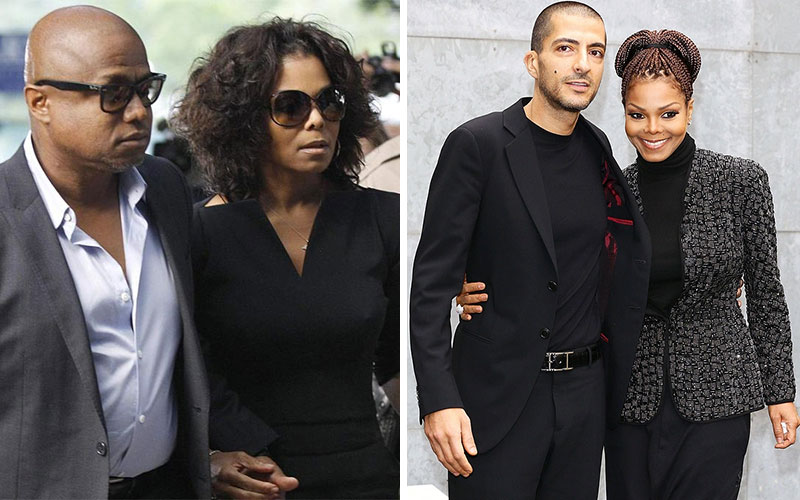 An unlikely person is giving us a glimpse into Janet Jackson's marriage and divorce to Wissam Al Mana and he does not paint a pleasant picture. Steven Randall "Randy" Jackson just revealed his baby sister was in an "abusive" marriage and the situation has taken a toll on the singer.
In an exclusive interview with People, Randy Jackson says Al Mana was "verbally abusive" towards Janet.
"It was quite an abusive situation. It came on later in the relationship, verbal abuse and being [made to feel like] a prisoner in her own home. No pregnant woman needs to go through being called a b*tch every day. There were things like that. That's what she went through."
Janet and Al Mana, a billionaire Qatari businessman, secretly wed in 2012 and Janet retreated from the public spotlight as the couple lived in London. Janet announced she was divorcing Al Mana in an April video to her fans with Randy by her side.
The couple split just three months after Janet gave birth to their first child, Eissa Al Mana.
It was reported that religion and cultural differences was a factor in the unexpected split. Al Mana is Muslim, while Janet is Christian. A source recently told E! News:
"Janet and Wissam don't see eye to eye on many things. One of the many divorcing factors was their religious beliefs. Wissam and Janet did not feel that they were on the same page when it came to this and the way they wanted their child to get raised. Janet is more of a free spirit than Wissam. Cultural difference and backgrounds played a major role."
However, Randy says Al Mana being Muslim wasn't the problem.
"I have a lot of Muslim friends and they don't act that way at all. It's a personal issue that he needs help with and I'm going to pray for him, too. But I'm not going to allow her to live in that abusive situation. She's my baby sister."
Randy, who lives near Janet and Al Mana's shared London home, witnessed first-hand the issues of Janet's marriage. Though he says it was never physical, he often urged her to leave.
"I told her, 'You've got to move in with me or I'm going to go over there and there's going to be hell.' She was really pissed off. I told her, 'I don't care anymore. I'm tired of it. It's too much.'"
The E! News source described Janet and Al Mana's relationship as "toxic" and said "it could not be saved," even though Janet tried.
"Wissam is a very strong minded individual and can come across being hard headed and judgmental at times. Janet started not to feel comfortable around her husband. While she was pregnant Wissam caused stress on Janet and it affected her stress level. They knew it was over before the baby was even born."
And, according to Randy, Al Mana is making things difficult for his sister. He tells People she cries "night after night" since kicking off her tour earlier this month. The singer recently broke down onstage in Houston.
"What you saw in Houston, it was her situation coming out, what she's been going through. The abuse is still going on. She has custody and he of course allowed her to bring the baby on tour, but it's constant harassment."
Attorneys for Wissam Al Man dispute Randy Jackson's allegations in a statement released to People.
"Mr. Al Mana is not going to dignify these particular and deeply hurtful allegations with a response. The breakdown of his marriage to Janet Jackson is a cause of great sadness to Mr. Al Mana, and it is the wellbeing and privacy of their son, Eissa, that remains his sole focus."
Randy's interview with People is shocking to say the least. We really didn't know Janet was going through so much. It's unlike the Jackson family to reveal such private details, but Randy obviously felt like the situation was too serious not to speak up. He will continue to support his baby sis during this trying time.
Be the first to receive breaking news alerts and more stories like this by subscribing to our mailing list.