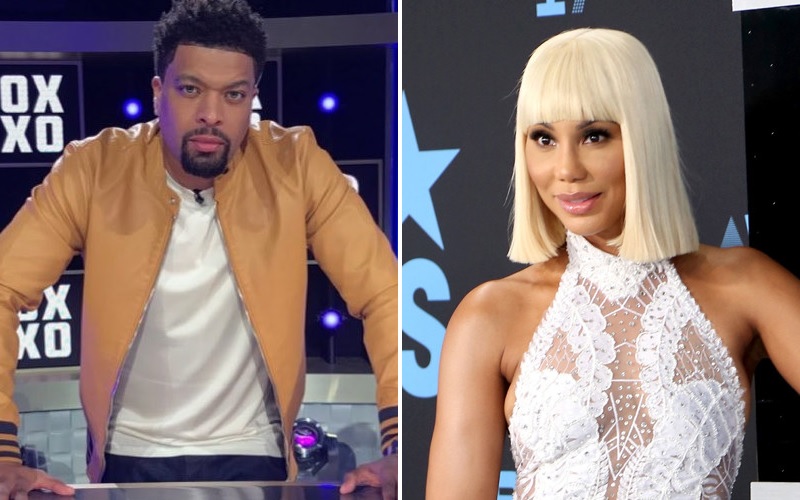 Things got heated on the set of Hip Hop Squares earlier this week. Tamar Braxton reportedly went all the way off on host DeRay Davis after the comedian made a joke at her expense.
Production sources tell TMZ the two got into an "explosive argument" during filming on Wednesday (Sept. 6). Making a joke—as comedians do—Davis accused Tamar of lip syncing her BET Awards performance of "My Man" in June.
Sources say Tamar didn't hear the joke at first, but noticed others on set laughing and asked what was so funny. Lil Mama then relayed the joke to the singer and that's when all hell broke loose.
Tamar didn't like being the butt of Davis' joke and confronted the host by "getting all up in [his] grill," as TMZ reported. Davis shot by back saying he didn't care who Tamar's sisters are and would get his own sisters to "beat her ass."
It got so bad that the two had to be separated. However, filming was able to resume once things cooled off. TMZ also reports Tamar and Davis squashed their beef after the show.
News of the on-set argument forced to Davis to address the rumors on social media. He posted a video with Tamar's sisters Towanda and Trina Braxton (also Hip Hop Squares guests) on Instagram on Friday. He wrote:
"These damn blogs. why y'all tryin to tear our family apart with bs? #VH1 #hipHOPsquares #weJoke #wePlay #weLove #WeFamily #tagEmAndLetemKnowYall"
https://www.instagram.com/p/BYyetT5ngmS/
Maybe all really is well between DeRay Davis and the Braxton sisters, but the post would have been more effective had Tamar been in the video as well.
Hip Hop Squares returns Monday, September 25th on VH1.
Be the first to receive breaking news alerts and more stories like this by subscribing to our mailing list.