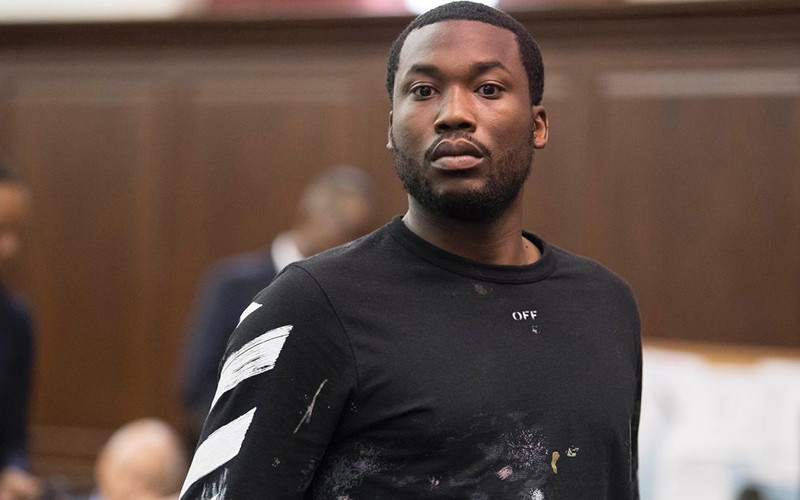 After surprisingly being arrested on felony charges on Thursday (Aug. 17), Meek Mill has been released from jail and let off with two misdemeanors.
Meek spent the night in a New York jail after being handcuffed and arrested late Thursday for reckless endangerment. He was released without bail on Friday (Aug. 18) and his lawyer was able to reduce the charges to two misdemeanor counts of reckless driving and reckless endangerment.
Following his Friday morning release, he told reporters that he had a "long night" and was in NYC to work, not to commit criminal activities.
"I'm a working man, I'm a family man, I take care of my family. I started off with a rough life. I'm at a point when I can provide for my family."
Meek must also complete a driver improvement program. However, he told reporters that he's already an "excellent" driver.
While shooting a music video on Wednesday (Aug. 16), the rapper was riding a dirt bike in an out of Manhattan traffic, popping wheelies, and disobeying traffic laws, all without a helmet. Police were alerted of the hazard, but Meek and his crew had already left when authorities arrived to the scene.
Investigators later found video footage of a live stream online and arrested the rapper Thursday night while he was attending a charity event for the Dyckman Basketball Clinic. Meek had also posted videos on Instagram.
Meek's lawyer, Joe Tacopina, was mystified by his client's arrest because he wasn't issued a traffic ticket even though there were police on the music video set. Meek was also the only person arrested despite "eight people doing the same thing" on the video shoot.
"This is a situation where they're targeting a young black entertainer," Tacopina said. He told the Daily News:
"If his name was John Smith, he wouldn't have even been arrested. You could go to 110th St. and Dyckman right now and you'll see 10 kids popping wheelies on their bikes. Nobody gets arrested."
According to Tacopina, nearly two dozen police cars showed up to arrest Meek at the charity event for kids. "They had 22 police cars there…I mean, I think, when John Gotti was arrested, there were about four police cars."
Meek's next court appearance regarding the matter is Oct. 11.
Be the first to receive breaking news alerts and more stories like this by subscribing to our mailing list.