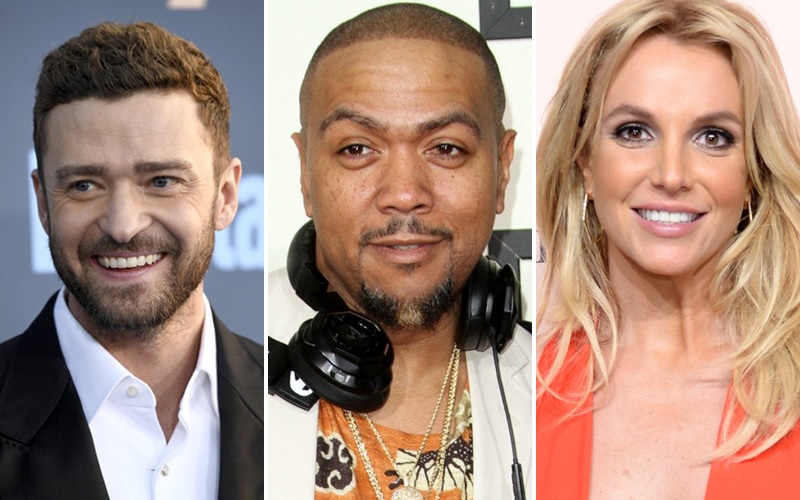 "Justney" still lives on?! This is apparently the nickname fans have given to 2000s super couple Justin Timberlake and Britney Spears. And now, rumor has it that Justney just might reunite! Musically, of course.
Timbaland got the rumor mill going Monday (Aug. 14) when he hinted that a Britney and Justin duet is in the works. The music producer was interviewed on the set of the new competition show he judges, Boy Band!, by hosts of the relatively unknown podcast, Pop University.
The hosts, Maddie Lazer and Hannah Rowston, asked if the long-rumored "Justney" collab would actually happen. "It's coming! New music 2018," he said.
Lazer and Rowston made sure the producer—who has worked extensively with Justin—understood they meant Justin and Britney. "Justin and Britney and you," the hosts said for clarification. "Yes, it's coming. It's coming," Timbaland repeated with his eyes wide open and excited.
Timbaland first sparked the duet rumors in April when he "liked" several photos of both Britney and Justin. The producer was already in the recording studio with Justin at the time. Shortly thereafter, Justin re-tweeted an old tweet of his giving Britney a shout-out.
While promoting her 9th album Glory last year, Britney stated in an interview that she would love to work with Justin again. When questioned, Justin said he would be open to the idea as well. "Sure! Absolutely, absolutely. I'm accessible. Give us a call!" he told E! News.
As one of Britney's biggest fans since 1998, I can inform you that Britney and Justin have already recorded a song together. Justin co-wrote, produced, and provided backing/additional vocals on the song, "What It's Like to Be Me," which was the last track on the pop princess' 2001 album, Britney.
Interestingly, Justin co-wrote and produced the track with Wade Robson, the man Britney allegedly cheated on Justin with and caused their abrupt break-up. However, this rumor has never been confirmed.
With all that being said, I am 100% here for a Britney/Justin duet produced by Timbaland! I'm suddenly very excited music in 2018.
You can listen to Timbaland's interview with Pop University below.
Be the first to receive breaking news alerts and more stories like this by subscribing to our mailing list.