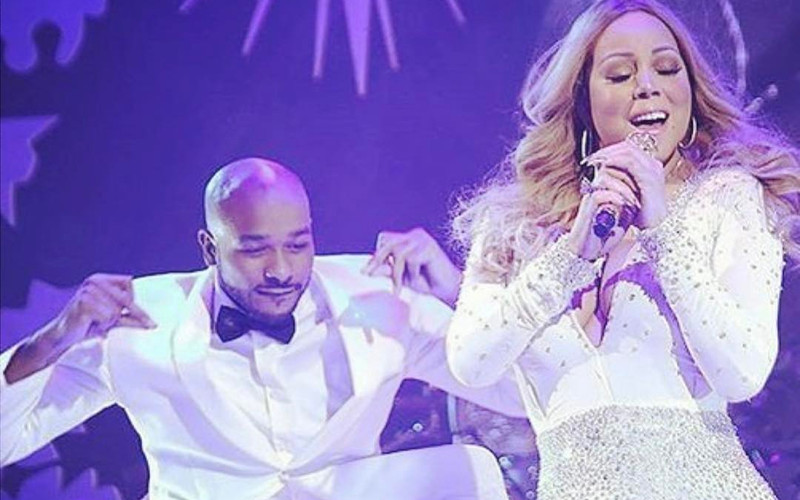 So, what's going on with Mariah Carey? By now, we've all seen the viral video of Mariah barely going through motions, let alone "Emotions." The diva's former choreographer is giving us a little insight as to why she's checked out during recent performances and he says Mariah just doesn't give a fuck anymore.
In an interview with Complex, Mariah's former lead choreographer and creative director Anthony Burrell—who has worked a number of big name artists like Beyoncé, Destiny's Child, Rihanna, Jennifer Lopez and Brandy, just to name a few—says his former boss' star quality is fading because she simply no longer wants to be onstage.
"It's just typical Mariah. Mariah is clear: when she doesn't wanna do something, she doesn't do it. She's performing with lackluster and no fucks given, and it's taking away her star."
Me doing the absolute bare minimum at work today #monday pic.twitter.com/KNHhaWBRns

— Halo Carterr (@Halocarterr) July 17, 2017
Burrell worked for Mariah for four years before abruptly being fired shortly after the singer's disastrous New Year's Rockin' Eve performance (if you can even call it that) in December 2016. He says it was somewhat of a challenge working the diva because she's a singer first and foremost, not a dancer. Yet, he attempted to push her out of her comfort zone.
"Working with an artist like Mariah, who's not a mover first, it's always a challenge to get them to think physically and not just vocally. You always have to keep in mind that they're a singer first. The priority is not teaching them 100 counts of 8, or endless routines.

"I wanted to give Mariah a modern push to revamp her, give her a fresher, more modern feel, make her more aware of her body and her lines, and not look like her feet hurt when she's walking."
Over time, Mariah came to trust Burrell and his creative/artistic vision. However, since parting ways in January, Burrell believes Mariah no longer has a team of people she can trust or that even has her best interests at heart.
"You're a legend, but you don't care, your team doesn't care. They're not guiding and directing her. She's back to where she was before. It's not like she's never looked this bad before; I just stepped her game up."
In fact, Burrell candidly revealed that Mariah's team has been failing her for quite some time.
"It felt like they were so new at their jobs, and had no direction. When you're green, you're playing things by trial and error, and there were a lot of errors. I was very vocal about things that weren't right.

When you try to take a shortcut and you don't know the clues, you're bound to get f**ked up or screwed, because you don't have the experience of running a tour or a billion-dollar empire. Some of the dancers her team hired are great dancers, but they're not choreographers or creative directors."
Mariah completed her Vegas residency at Caesars Palace over the summer and is currently embarking on her All the Hits tour with Lionel Richie.
Even in her prime, Mariah wasn't giving Beyoncé-type choreography, but what she did serve was vocals. Nowadays, it seems like she even phones that in and her Lambs definitely deserve more.
Mariah Carey really two performances away from just taking a nap on stage
pic.twitter.com/NSegIugTq8

— Y'all Won (@MrOhSoWreQless) July 26, 2017
If we take into consideration the tea Burrell just spilt, maybe our favorite diva hasn't lost the joy of performing, but just needs a better team to guide her. And a break to recharge wouldn't hurt either.
Be the first to receive breaking news alerts and more stories like this by subscribing to our mailing list.