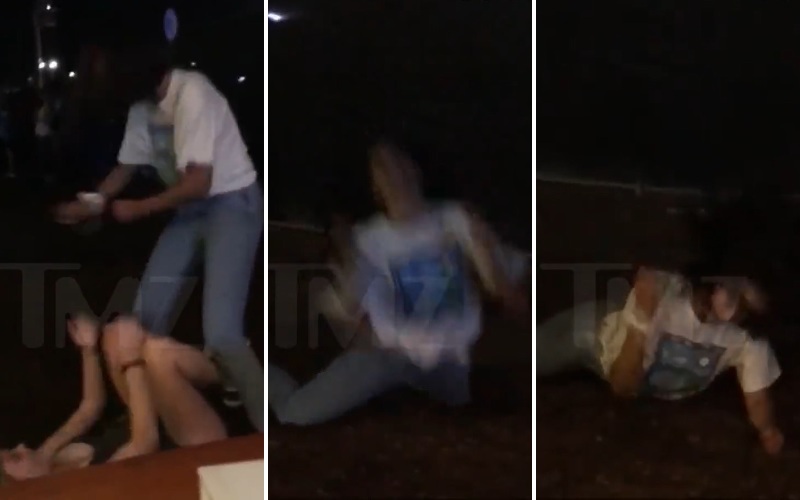 Carefree Malia Obama is back and I am living for it! The former first daughter of the United States is enjoying Lollapalooza and the girl is rocking out and dancing like nobody's watching – but of course somebody was.
Video obtained by TMZ shows Malia getting seriously turnt during The Killers' set on Friday night (Aug. 4). In her own zone, she was playing the air drum and headbanging to the music. Malia was feeling the vibe so much that, at one point, she just threw herself on the ground and began flailing in the grass like a true rock star!
Many on Twitter appreciated the 19-year-old's carefree dance moves, while others told her haters to back off.
Bruh why Malia Obama at Lollapalooza on the ground looking like this ????? pic.twitter.com/76Jlafbfo1

— Stephen Dacres (@SRDtv) August 5, 2017
im trynna be as turnt as malia obama at lolla today

— luis ? (@ferragamofaro) August 5, 2017
https://twitter.com/CelineCalpo/status/894009122131030016
Malia Obama is a carefree black girl. Stip criticizing her and let her live. pic.twitter.com/3nzZuCFFil

— k (@Bothsides_now) August 5, 2017
https://twitter.com/3wardkaisy/status/893962327418175489
Malia Obama just needs new people in her circle?? somebody that'll teach her how to dance AND not record her while she's having fun ?????

— A. ?? (@AT_Tunechi) August 5, 2017
I'm not sure wtf Malia Obama was doing I just know yall better leave her alone & let her do it. pic.twitter.com/J98eaLHseZ

— Kiara (@kiara__renee) August 5, 2017
malia obama is doing what you supposed to do at an concert: HAVE FUN.

— that damn kel (@Blvck_Picvsso) August 5, 2017
https://twitter.com/Tweetysweet10/status/893976665499545601
y'all gon leave Malia Obama alone and that's THAT. pic.twitter.com/hMF1y0kFtb

— jord ? (@chidoridory) August 5, 2017
Malia, who attended Lollapalooza with friends, reportedly spent most of The Killers' set backstage until she couldn't contain herself anymore. She was also spotted at Aminé's set.
10,000 PPL, LOLLAPALOOZA U WERE SO AMAZING ? MALIA OBAMA CAME AND I FAN GIRLD

— Aminé (@heyamine) August 5, 2017
This isn't the first time the incoming first-year Harvard student turnt up at the annual Chicago music festival. She made headlines last year for twerking (or at least trying to) during performances and a video surfaced of her allegedly smoking a joint.
Malia Obama is clearly just having fun like any young adult and doesn't care how anybody else feels about it. Live yo life, Malia!
Be the first to receive breaking news alerts and more stories like this by subscribing to our mailing list.