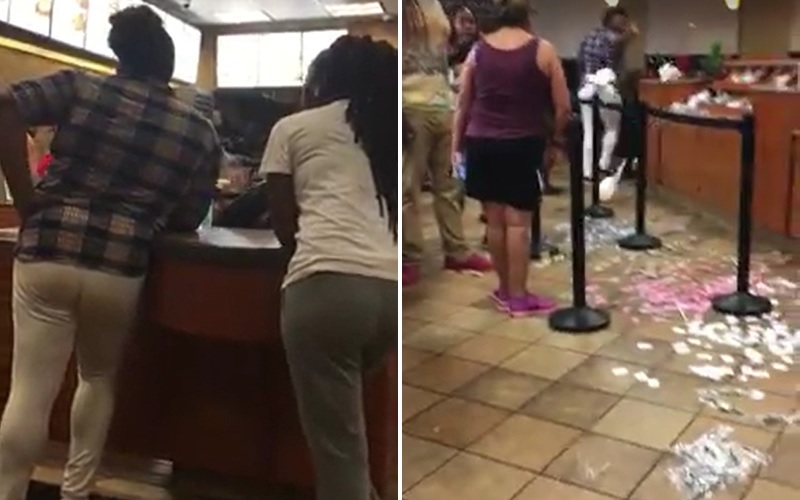 Chaos at Chick-fil-A! Two customers completely showed out on employees and disrupted other patrons at one of the fast food chain's Florida locations all because of some cold nuggets.
Part of the incident was captured on camera as two women entered a Chick-fil-A in Jacksonville and demanded a refund because their brother's chicken nuggets were cold. A manager told the women they had already given the boy a cash refund, and that's when all hell broke loose.
Though not completely captured on camera, the two women began trashing the store as they left, throwing straws, plastic utensils, and condiments all on the floor. Eyewitnesses also say they also broke the door handle and a glass vase. "You heifer!" a female customer yelled at the two women leaving.
The videos posted by Allison Music on Facebook have gone viral. The videos have received over 1 million views and Music's post has gotten 5.4K shares.
Music detailed what she witnessed and was absolutely disgusted by behavior of the two women, mainly because there were young children present. She wrote in part:
"There were kids at Chick-fil-A while this was going on and anyone should be embarrassed to act the way these two females did tonight. There were kids crying they were so scared. I hope you are satisfied with what you did, because I'm sure these kids will be scarred for life. You handled this situation the sorriest way a person could handle it. You are rude, you are a narcissist, and you shouldn't be proud of what you did. The only thing you accomplished was making a scene. Other than that you accomplished nothing."
Police arrived on the scene after the women had left. A police report says they caused $900 worth of damage.
Chuck Campbell, the restaurant's owner, released a brief statement regarding the incident: "We apologize for the disruption that took place at our restaurant. We are cooperating fully with the local police as there is a pending investigation."
Be the first to receive breaking news alerts and more stories like this by subscribing to our mailing list.