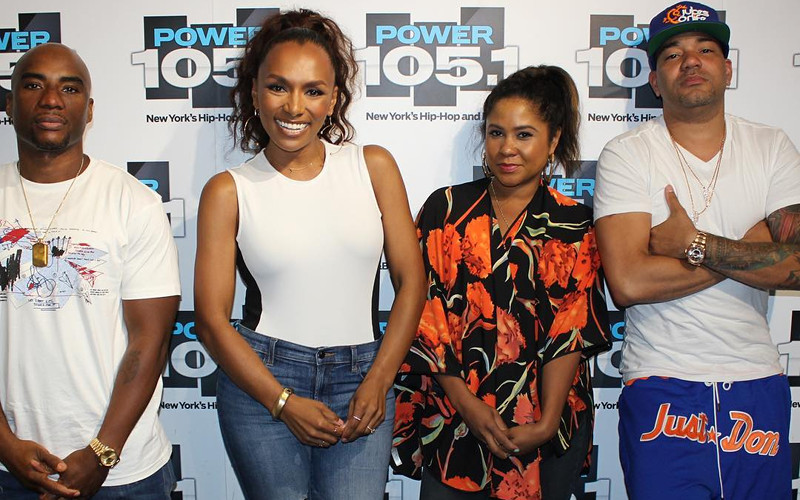 After being dragged on social media for laughing at violent transphobic comments made by comedian Lil Duval, and being called out by transgender activist Janet Mock, Charlamagne Tha God has publicly denounced violence against trans people.
On behalf of The Breakfast Club, Charlamagne released a statement Thursday (Aug. 3) condemning violence against transwomen. The statement reads:
"We don't condone those kind of hate crimes at all. Not even a little bit. And one thing…another thing I learned this week is that fifteen transgender women have been murdered in 2017 and thirteen of them have been women of color, that that number could be higher, but I do know the majority of them have been women of color.

"Like I think one, a transgender woman got killed this week in. Atlanta, if I'm not mistaken, so, you know, her name was TeeTee Dangerfield actually, so rest in peace to her, so, the Breakfast Club will continue to do what it always does and that provides a platform for the voiceless."
Breakfast Club hosts Charlamagne and DJ Envy faced heavy criticism for laughing during comedian Lil Duval's appearance on their show last week when he said he would have to kill a woman if he found out she was transgender after they had sex.
The transphobic comments, along with Charlamagne and Envy's laughter caused a Breakfast Club boycott campaign on social media. Charlamagne was even confronted by trans activists during his appearance at Politicon on Sunday (Jul. 30).
Today me & @OsopePatrisse disrupted @cthagod at Politicon for laughing at death threats to trans women made by @lilduval #MSNBC #Politicon pic.twitter.com/aKNFRS0PWq

— Ashlee Marie Preston (@AshleeMPreston) July 31, 2017
Author and transgender activist Janet Mock recently appeared on The Breakfast Club, and was disappointed by Duval's comments and how the hosts seemingly co-signed them. She called out the three men's "toxic masculinity" in an essay for Allure on Monday (Jul. 31).
She wrote in part:
The hosts laugh after using my image as a literal prop — just days after I was a guest on the same show — for laughs, vitriol, and a deeper call and justification for violence. Just so we are all clear: On a black program that often advocates for the safety and lives of black people, its hosts laughed as their guest advocated for the murder of black trans women who are black people, too…

Until cis people — especially heteronormative men — are able to interrogate their own toxic masculinity and realize their own gender performance is literally killing trans women, cis men will continue to persecute trans women and blame them for their own deaths.
Charlamagne's statement comes after facing criticism and being pressured for nearly a week. Is his apology enough or was he just a little too late to respond? This remains to be seen, but one thing that the controversy made clear to me is that there is still much work to do in the fight for acceptance and, at the very least, respect for the transgender community.
Be the first to receive breaking news alerts and more stories like this by subscribing to our mailing list.