Though the paternity results have yet to come in, Jasmine Washington is moving forward with her legal case against Kirk Frost. Court documents show she is requesting Kirk pay up $5,000 a month in child support and other fees.
Hollywood Life has obtained court documents Jasmine filed in a superior court in Georgia. The 27-year-old claims she has zero sources of income and is requesting Kirk financially contribute to the welfare of 1-year-old Kannon (who Kirk continues to deny), including medical/dental expenses and extra-curricular activities.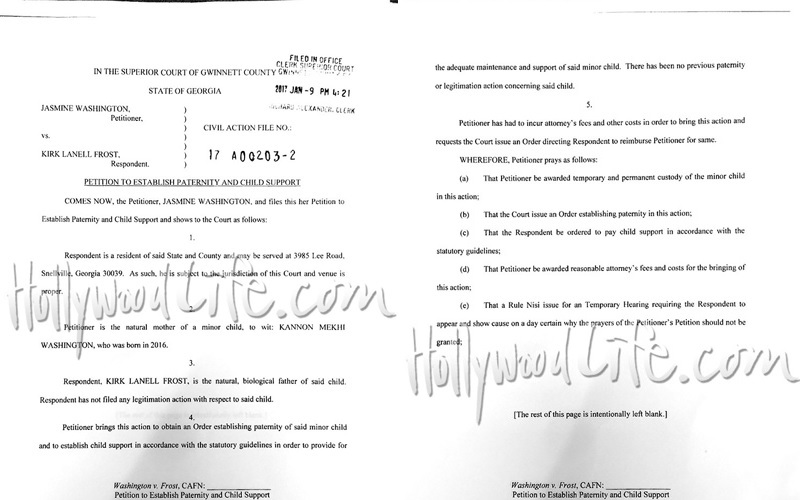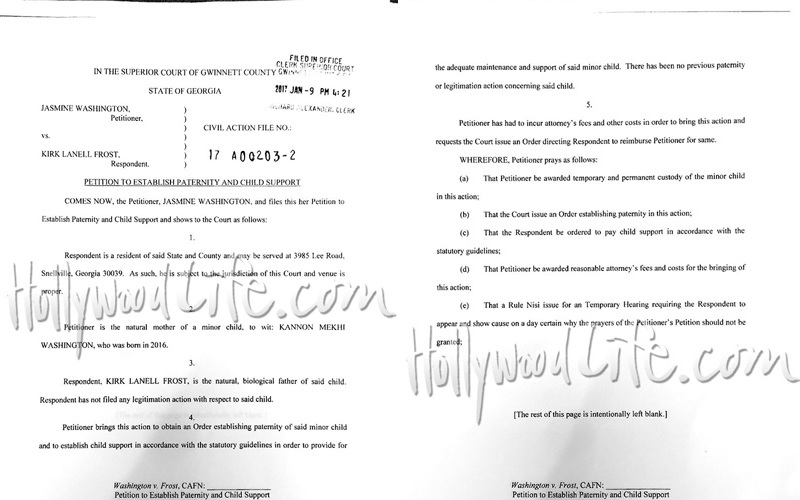 She is also petitioning for permanent custody of Kannon and that Kirk receives no court-ordered visitation in excess of 90 days.
Jasmine lists Kirk's monthly income as $10,000 and says he has the "financial capacity" to provide for Kannon. Jasmine is requesting Kirk pay $5,515 a month to cover child care, rent, her car, clothing, and diapers. The court documents show Kirk will be required to pay a minimum of $2,047.89 per month if DNA results prove he is Kannon's father.
Jasmine states that Kirk financially supported her (and Kannon) between Sept. 1, 2015 and Oct. 31, 2016. Kannon was born in July 2016. She says that the Love & Hip Hop Atlanta star moved her into an apartment, paid some of her bills, provided her money for personal use, and gave her a car.
However, this financial support stopped when she called off their secret relationship; he even took back the car. Jasmine says Kirk purposefully made her dependent on him and now she is currently unemployed, which causing a "severe disadvantage in her financial ability to protect her interests and the interests of her minor child."
According to the documents, Jasmine has no income and $4,059 in monthly expenses, plus an extra $1,456 per month to creditors. She lists a 2011 Range Rover ($25,000) and furniture ($3,000) as assets, but claims to still owe $40,000 on the luxury SUV.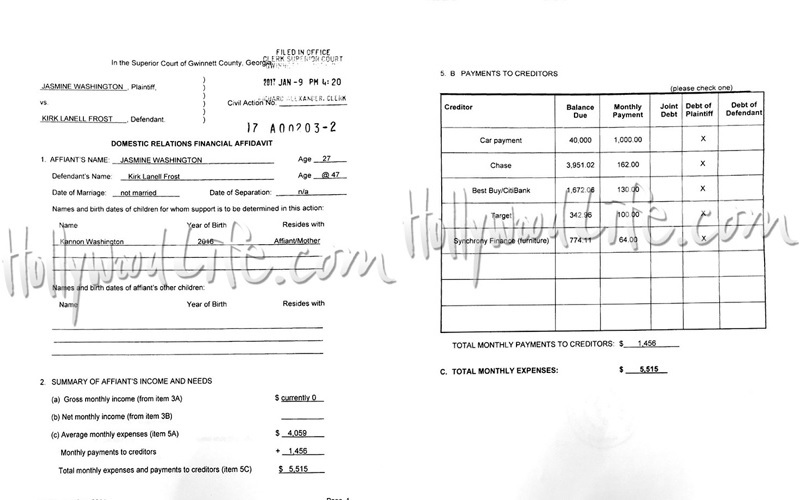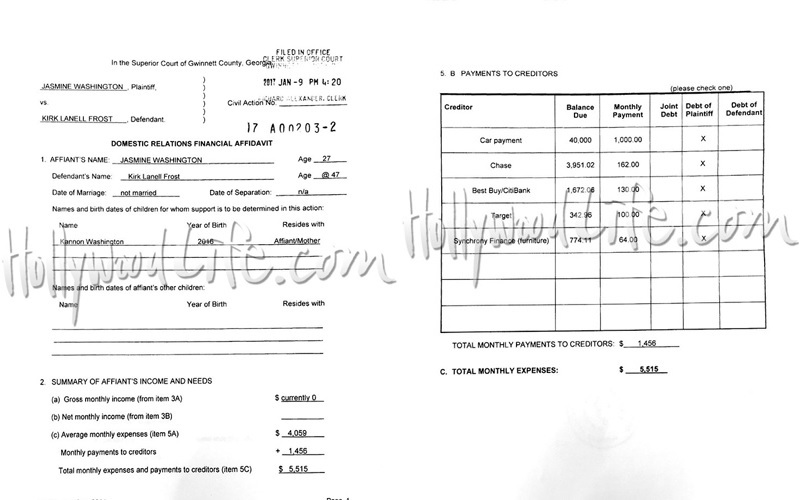 Jasmine also petitions Kirk pay $5,000 of her attorney fees so that she can continue to her child support case against him.
The court documents were originally filed back in January, however, Kirk repeatedly dodged being served. The case can finally proceed as he was officially served in July.
We reported that Kirk finally took a court-ordered paternity test last week. The results should come back within the next few days. Kirk and Jasmine are scheduled to return to court on August 16th.
Be the first to receive breaking news alerts and more stories like this by subscribing to our mailing list.