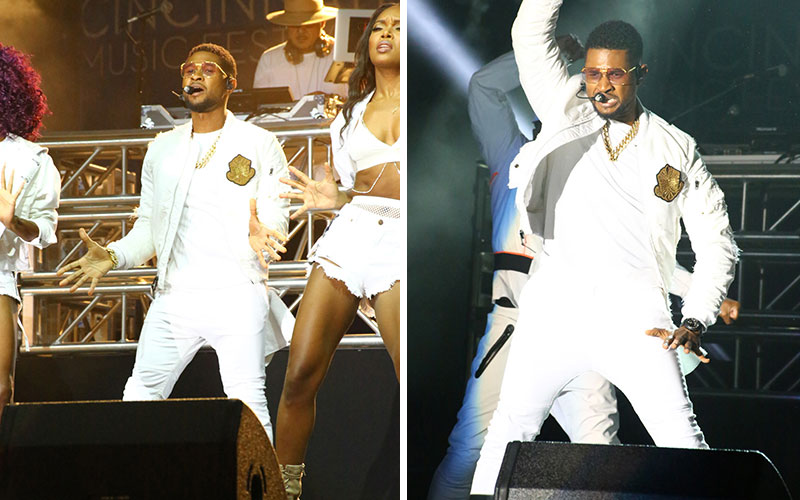 If you don't follow the blogs and gossip sites and you attended the 2017 Cincinnati Music Festival in Ohio over the weekend, you probably had no idea Usher was dealing with an alleged herpes scandal behind the scenes. That's because the R&B crooner put his game face on and PUT ON A HELLUVA SHOW.
According to festival goers, Usher was in rare form Saturday night (Jul. 29) as he headlined the annual festival and made people forget about those pesky STD allegations for an hour as he brought the house all the way down.
As the festival's headliner, "Ursha Baby" delivered an energetic performance, singing and dancing to a large number of his hits from the past two decades (and there are A LOT of them) much to the delight of the sold-out crowd of nearly 70,000 at Paul Brown Stadium.
"Cincinnati, Ohio, I have a lot to be thankful for," Usher said in his first public appearance since the STD allegations were made public thanks to a couple of lawsuits. Without explicitly mentioning the herpes scandal, Usher thanked his loyal fans for their undying support.
"First and foremost for all of the support of my fans, the ones who have been by me since day one," he said. "All of y'all are my day ones. In addition to that, the culture, man, of this incredible city and this incredible state. I mean I had to make my way back here one way or another."
Usher commanded the stage, running through a long list of hit singles like "OMG," "U Remind Me," "You Make Me Wanna," "Nice & Slow," "Love in This Club" "Party," "I Don't Mind," "U Got It Bad," "U Don't Have to Call," "Confessions" and many others.
He was also joined by his frequent collaborator Lil Jon for performances of "Lovers & Friends" and "Yeah."
And yes, he even sang his now infamous hit single "Burn" (cue the herpes jokes) and asked the crowd to sing-a-long and light up the stadium with the flashlights on their smartphones.
Paul Brown Stadium doesn't have a roof, but if it did, Usher certainly would have blown it clean off with his performance.
Check out the photos below:
Photos & HD Video Footage: Michael Walker (Umeek Images) for Gossip On This
Be the first to receive breaking news alerts and more stories like this by subscribing to our mailing list.