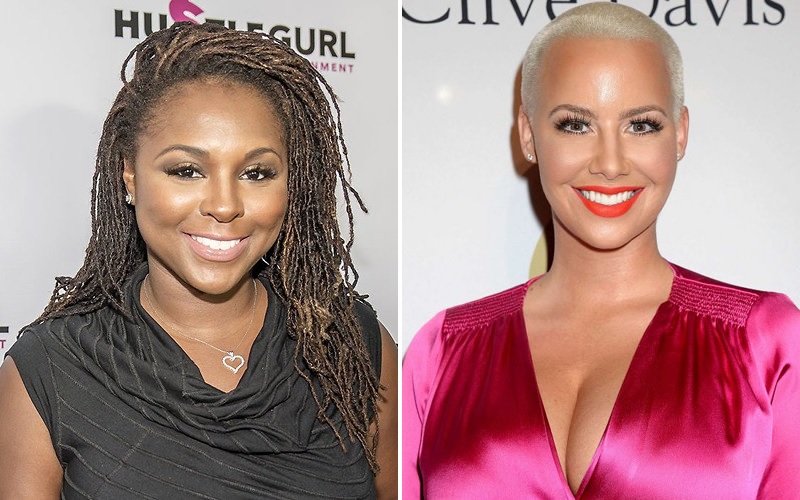 Who would have thought we would ever witness an Amber Rose vs. Torrei Hart beef? Hart got Rose all the way together after she claimed that women from South Philly are not "traditionally attractive."
Amber Rose appeared on N.O.R.E.'s Drink Champs radio show earlier this month and the South Philly native made a statement that rubbed many the wrong way. And what makes it worse is that she knew she was going to dig herself into a hole from the moment she opened her mouth.
"I don't know how I could say this without sounding f**ked up. A lot of the people where I'm from aren't traditionally attractive people. Me, being blessed with beauty—as beautiful women know—is a blessing and a curse."
Torrei Hart is from North Philly and had some words for Rose. First, she wanted clarification of when Rose became "traditionally attractive, pre or post plastic surgery?
"Is Amber Rose speaking about pre-surgery or post-surgery? That's the question. Because if she's talking about post-surgery, of course she's not going to look like anybody that's in the South Philly area or North Philly, West Philly, any part of Philly, because she's got enhancements. So, she's not gonna look like, you know, the everyday girl."
But Hart didn't stop there. She went on to wonder if Rose was feeling herself a little too much because of the male attention she gets.
"I think Amber, she got it a little twisted, too. She's let these men gas her up a little bit. She forgot that men are gonna tell you whatever they need to tell you to get into the drawers, okay?"
It wasn't all hate, though. Hart admitted that she actually likes Amber Rose, but advised her to take the platform she has a little more seriously.
"It's plenty of naturally beautiful people in Philadelphia. And I think the platform that she's on, she has to be more responsible with the word choices, because there's a lot of young girls that's out there that looks up to her. You know, they're taking her words, they're taking everything that she says, and they're holding on to those words.

"So, for her to say something like that, there's young girls with self-esteem issues… You know, I'm gonna take it there, people commit suicide every day because of self-esteem issues."
Rose eventually responded to the backlash regarding her statements by saying that the comment was taken out context. However, she didn't try to clarify what she actually meant either. Instead, she told her followers that she "finds beauty in everyone."
"I know that people really want me to be a superficial bitch, but I'm just not that person. I find beauty in everyone. Unfortunately, it's not easy doing interviews and, you know, always saying things the way you really want to articulate."
https://twitter.com/IamAkademiks/status/890717399015673856
The beef between Amber Rose and Torrei Hart is probably squashed (for now), but Rose, who is currently leading a feminist movement for her fans, certainly dug herself into a hole that might take her while to climb out of.
Be the first to receive breaking news alerts and more stories like this by subscribing to our mailing list.