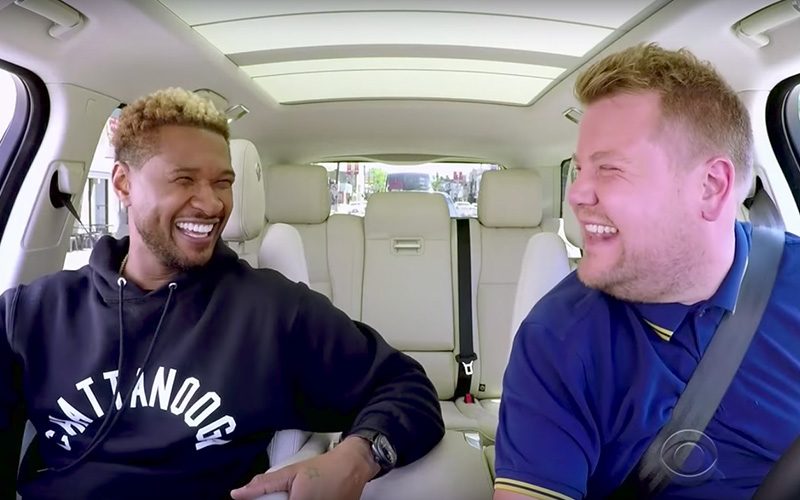 Depending on how you look at it, Usher's appearance on "Carpool Karaoke" couldn't have come at a better (or worse) time. On Tuesday's (Jul. 25) episode of The Late Late Show, the R&B singer became the latest artist to join James Corden in his famous car to sing along to their hit singles.
Usher is currently embroiled in one of the year's biggest scandals after a settled lawsuit in which he paid $1.1 million to a woman he allegedly infected with herpes went public. And in the time since, another woman has sued him for at least $20 million after she too discovered she had contracted the virus after having sex with him.
That being said, Usher's hits such as "Burn" and "Caught Up" have totally different meanings now, and knowing what's going on behind the scenes, you can't help but feel a little … awkward as he and James Corden sing them. (FYI: This episode was likely filmed weeks before the herpes scandal surfaced.) In addition to those two songs, the duo also sing along to "Yeah," "I Don't Mind," and "OMG."
In between singing, Cordon pulls over so that Usher can show him the proper way to "step up in the club," they clean off Usher's star on the Hollywood Walk of Fame ("I find it odd you work so hard over the years, only for people to walk over your star," Usher says) and they even help a group of guys push their car through traffic.
"I had no idea when I got in your car I'd end up pushing cars and cleaning my star," Usher noted.
Be the first to receive breaking news alerts and more stories like this by subscribing to our mailing list.