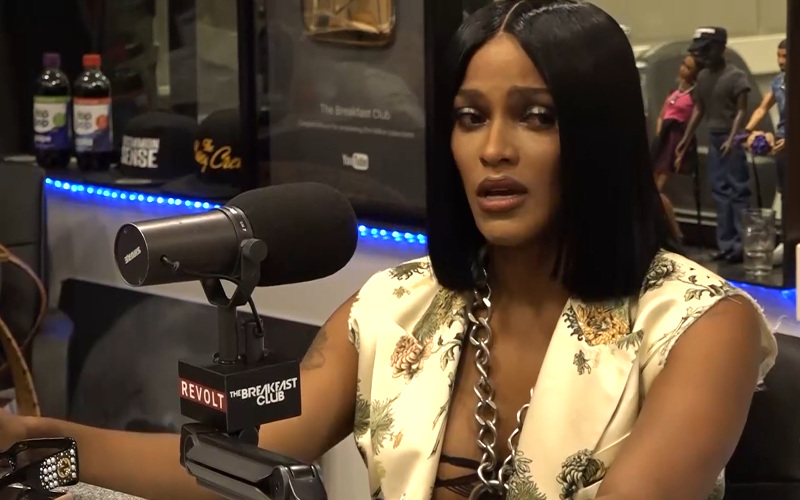 Joseline Hernandez is holding nothing back. The Puerto Rican Princess discusses her relationship with Stevie J., how motherhood, and revealed she was hurt by Love & Hip Hop producers in a candid interview with The Breakfast Club.
Joseline sat down with Charlamagne Tha God, Angela Yee, and DJ Envy on Friday (Jul. 21) for a 30-minute interview. The crew jumped right in by asking the former Love & Hip Hop Atlanta star if she was hurt that Stevie J, who initially denied their now-6-month-old daughter, Bonnie Bella.
"I wasn't bothered because we were separated already. And so we just happened to have sex and I got pregnant. And so, even though we were separated, I wanted a baby and I wanted to take care of my responsibilities and I'm like damn, I was 29, why not?"
The question naturally segued into Charlamagne asking Joseline if she was sleeping with other men at the time she got pregnant. She said she was with Stevie for 7 years and revealed that she's more into women than men anyways. "I play with girls, but not guys. Guys, it's really hard to get in my panties."
Though Joseline still has the over-the-top, extra persona that we all love, she admitted that being a mother changed her.
"She changed my life completely… I really just think about the things that I do. And I think that everything that I do now, is for her. And I just want to really show her that whatever she wants to do in life, whatever she dreams of, whatever she desires, she can accomplish it. And I want to show her that that can be done. I've been doing pretty good at it. I executive produced her delivery special for VH1."
Joseline and Stevie are not currently together, and in fact, she briefly talked about her new relationship with another man. But in regards to her relationship with Stevie, she denied ever accusing him of molesting his daughter or insinuating he was gay. However, she did apologize for anything negative that occurred during their relationship.
"Stevie and I have been through some things. I really feel bad about that. I apologize to him about everything we've done to each other or said about each other. I'm in a good place now. Whatever happens in the past, that's just where it is."
One thing she didn't apologize for was calling Stevie's 21-year-old daughter, Savannah, a "nappy headed hoe" on social media.
"Listen, here's the thing if you're 21 and you come for me, I'm coming for you. Sorry. Cuz guess what, the judge is going to tell that b*tch, you're grown enough to know what's coming out of your mouth. And I'm going to give respect where respect is due. And she should respect me, I'm the mother of her sister.

"F*ck her dad. Her dad should also be talking to her about respecting the mother of his child."
Things got emotional when the Puerto Rican Princess revealed why she quit Love & Hip Hop Atlanta. She was hurt that the show intentionally portrayed her in a negative light, despite her growth over the past few years.
"Me walking away from the reality show, I just really feel like the way that they were showing me, it was like 'how do you show me like this?' You just gave me a $500,000 budget but this is how you show me. I didn't like that sh*t. That sh*t really bothered me. You gave me a budget to do a show for my daughter but then you turn around and do this to me?

"I feel like sometimes you gotta respect certain things, especially a person like me. I've been with the network for seven years and if you allow me to do something better, allow me to do that. Don't turn around and try to show something I did four years ago. I feel like walking away, I feel like I needed to explain. I was like 'Damn, I did that sh*t four years ago. It's just not fair.'"
Joseline says she has not spoken to creator/executive producer Mona Scott-Young since she quit, but would be willing to come back to the show if it's what the fans really wanted. She also hinted that since she's now living in Miami you might be able to catch her on Love & Hip Hop Miami, which is coming soon.
You can watch Joseline Hernandez's full Breakfast Club interview below:
Be the first to receive breaking news alerts and more stories like this by subscribing to our mailing list.