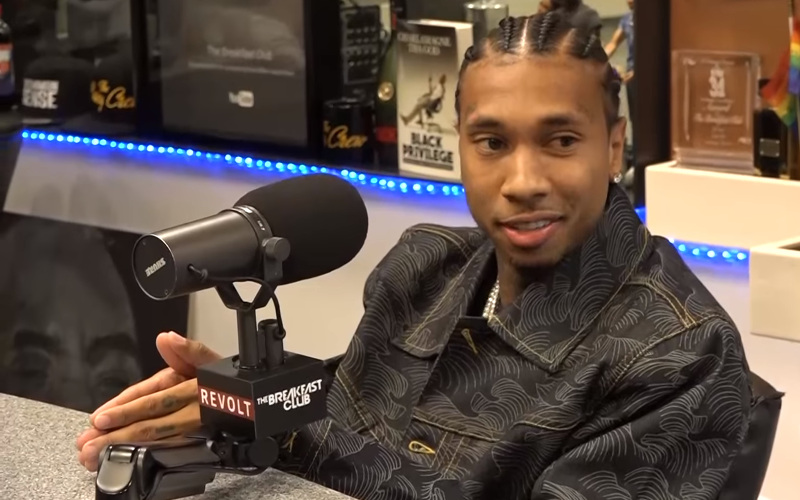 Tyga is making the rounds promoting his upcoming mixtape, B*tch I'm the Sh*t 2. The rapper stopped by The Breakfast Club and was very candid about his former relationship with Kylie Jenner and gave his two cents on the Blac Chyna/Rob Kardashian mess.
Tyga appeared on the Power 105 radio show today (Jul. 20). Within 3 minutes of the 27-minute conversation, host Charlamagne Tha God asked about his relationship with Kylie Jenner. He admitted the nearly 3-year relationship, which ended in April, was not always blissful.
"I have love for her, but I'm not in love no more…When you're with anybody that first year, it's magic and then after that you start realizing a bunch of sh*t. I think the main thing was a lot of people—a lot of outside influences.

"And…she's younger than me and she's dealing with perception. I'm older so I can deal with perception. But for her, growing up how she grew up, image and perception was everything. I like to keep mystique, but I knew that's how she made her money."
The rapper also doesn't miss being part of the Kardashian-Jenner circus. "It's not for me, bro. I mean, when it was good, it was good. When it was bad, it was really bad."
Tyga goes on to say that he believes their relationship was mutually beneficial career wise. "I got with Kylie and she super glowed up," he said.
Being with Kylie also introduced him to middle America. "She definitely helped me [with] women. In middle America, there's way more women at my shows. [There's] younger girls and stuff."
However, there was a downside. The rapper believes being with a white woman immediately after dating Blac Chyna turned off some of his black fans and it hurt his image.
"I was with a black girl before that. So, to the world it looked like…okay, I left her. Had a baby with her, I left her. Then I got with this young white girl. So like, that was already kind of a hit on my image, but for me, I was just like, I'm gonna just deal with it. We gon' rock and make the best out of it."
Interestingly, he thinks that someone was planting negative press about him because of his relationship with Kylie. "For the last seven months we ain't been together, has there been any negative stories out on me?" he asked the hosts.
Charlamagne asked if he thought Kris Jenner or the Kardashian family was intentionally planting stories and trying to sabotage his image. "I don't know, maybe," Tyga responded.
"I'm saying look at the proof… All I'm saying is, whoever controls that type of media, doesn't like seeing rappers with these type of women, especially young white women, and it's just how it is."
Tyga also briefly discussed the drama surrounding the mother of his child, Blac Chyna, and her ex-fiancé Rob Kardashian, Kylie's older brother. "I just knew a n**ga like him ain't gonna be able to handle a girl like her," he said.
In retaliation to Chyna cheating on him, Rob exposed her in an extended social media rant, even going as far to post nudes of her. Chyna responded by seeking a temporary restraining order against him, which was granted.
Tyga says he warned Rob about Chyna:
"I told him what the play was. When I told him what he was going to deal with…I told him, 'Bro, I was just with her for three or four years and like, this is what you're about to deal with.'"
Even though he didn't want to get involved, the rapper goes on to explain why knew the relationship wouldn't work from the start.
"Chyna just got a different mentality. She really is a good person, but she's been through a lot in her life, and she really didn't have people to help guide her. He's coming from a whole different world. He don't know how she moves and how she thinks.

"When you're in love and when you don't care what nobody else thinks, love, like, blinds you. I told him, but I'm not going to intervene in what they got going on. That's not my business. That's their relationship."
You can watch Tyga's full Breakfast Club interview below:
Be the first to receive breaking news alerts and more stories like this by subscribing to our mailing list.