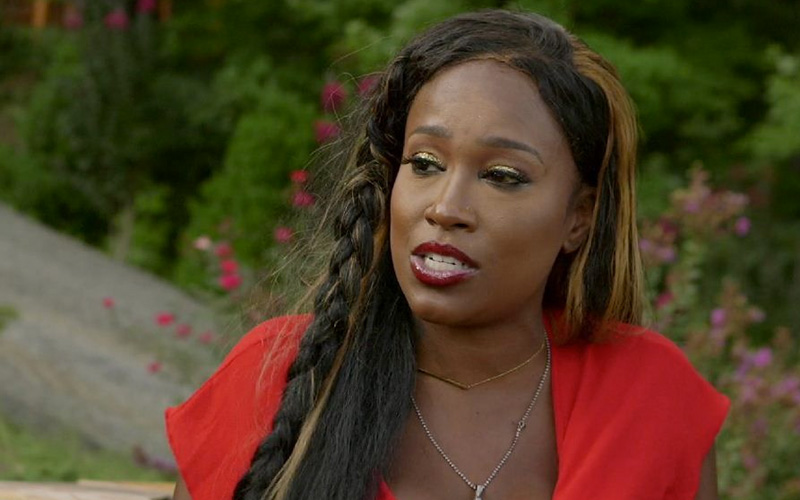 Maia Campbell has had a helluva week.
On Saturday (Jul. 8), we saw her begging for crack in Atlanta. The following Sunday, LL Cool J made an attempt to reach out to her only to be shunned by his former "In the House" co-star, who said she didn't need his help.
WATCH: Maia Campbell Spotted in Atlanta Begging for Crack
And by Monday evening, the actress had supposedly been checked into a rehab facility at the Dekalb County Jail in Georgia for a mental health evaluation.
SEE MORE: LL Cool J Is Looking for Maia Campbell After Seeing Viral Video
A woman who goes by the name Rose reached out to the blogs via Instagram Monday night to give us an update on Maia Campbell's whereabouts.
WATCH: Maia Campbell Says She Does NOT Need LL Cool J's Help
Rose, who describes herself on IG as an educator, success ambassador, philanthropist and life coach said that she had a hard time getting Campbell to check herself into the facility, but she was "safe" for the night.
"I'm exhausted, but Maia is with Dekalb County right now, and she's being held for psyche evaluation until we can get a team of intervention [specialists] together in order to get her assessed," the woman said. "I will keep you updated, and it's been hectic… We've gotta become one with this situation in order to understand it. It's not an easy thing… I do what touches my heart and this young lady needed my assistance."
She wrote on IG:
It's been a hectic negotiating day, It's not easy #maiacampbell is being held by #DekalbCounty for #Evaluation while her family and intervention team can find a way. She's safe for tonight. Thank you for all the inbox and support I'll do it from my heart I also have children and I pray if the going through someone stand with them like a angel on a mission. There's no shame just be loving and present and listen to the dynamic of the story. We all have them some hidden some obvious but noone is perfect especially with mental illness is real. Love your children and love one. #Stop glamorizing negative behavior and expecting more but when we get what we painted embrace it too.. #God is love #Intervention is caring. #Nooneisfamous but we all our human so imperfect.
But in spite of all of that, it seems like Maia is still refusing the help that people are willing to give her.
According to an update on Rose's Instagram page, by Tuesday afternoon (Jul. 11), Maia had left the treatment facility and her whereabouts were unknown.
"She's left the facility, so she's no longer with Dekalb," Rose said in a video update. "And, at this point, she's an adult, all we can do is pray and help her to see that she needs the help. But we cannot force her to do anything, she's an adult, and I'm trying to collaborate with her family and see what can happen. But, at this point, we just have to keep her in our prayers."
She shared in the video's caption:
Information on #maiacampbell thank you for all the support but she's a adult and I can only do but so much.. Let's keep her in our prayers for healing and guidance during this time.. I'll keep you updated if something change. Thanks again #Positive energy and #Love..
Hours before being admitted into the Dekalb County Jail rehab facility, Maia was seen on video in a barbershop refusing LL Cool J's help:
"Hey Todd, look bro… I love you! I don't need help. I just need a benefit concert for mental health… Don't TMZ me! It's really me… This is Darrell [the guy behind the camera recording]… And this is the shop that I camp at, or whatever. We're good! I'm good. I'mg doing property, I have investments, I'm a real serious person. And my show is called From the Bottom Up Season 2."
In the video, when Darrell—the guy behind the camera and who apparently owns the barbership/hair salon she's in—asked her how LL should get in touch with her, she snapped back, saying "Uhm… don't call me, I'll call you… I really don't want it to go down. I don't know, pray to God I don't start rapping. OOPS!"
When the cameraman pressed further, she threw a tantrum like a child, jumping up and down, screaming, "I DON'T KNOW! LEAVE ME ALONE!!!"
And as of right now, that's exactly what LL Cool J is doing. "You can't help someone who doesn't want your help," he tweeted late Monday.
You can't help someone who doesn't want your help.

— LLCOOLJ. (@llcoolj) July 11, 2017
Hopefully one day Maia Campbell will come around and actually accept the help that people are trying to provide to her.
Be the first to receive breaking news alerts and more stories like this by subscribing to our mailing list.