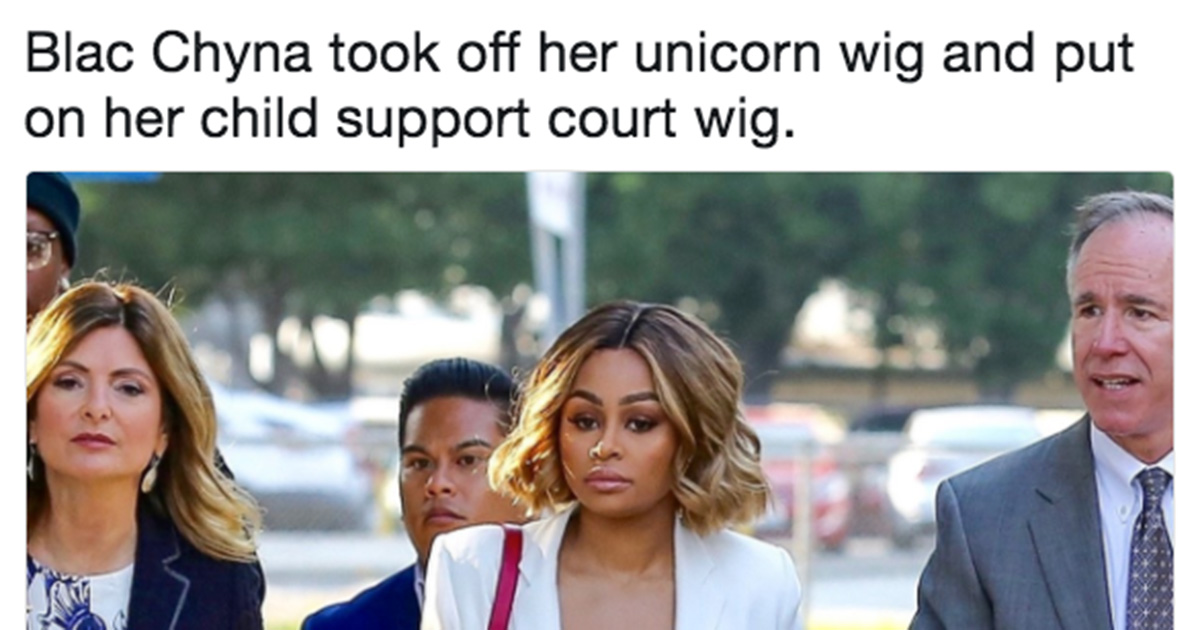 Blac Chyna is known for wearing a variety of wigs, often colorful and playful. However, while playing victim to Rob Kardashian's cyberbullying and revenge porn antics, the reality star has opted for a more serious look.
On Monday (Jul. 10), Chyna appeared on Good Morning America in a pre-taped interview to discuss her issues with Rob wearing a long blonde wig with loose waves. Appearing in court, that same day, seeking a restraining order against Rob (which she was granted), Chyna debuted a short bob wig with honey highlights.
Social media definitely noticed that Miss Angela White was serving us her best "legal action wigs" as she was fighting for justice and responded with hilarious memes and comments.
Can't wait for Blac Chyna's seeking legal action wig line to hit the market. pic.twitter.com/gcmZmt5H1T

— Sylvia Obell (@SylviaObell) July 10, 2017
Blac Chyna has a sad wig, a mad wig, a I'm finna get Kris's house in Calabasas wig.

— Cute Christmas Sweater (@unicorninkk) July 10, 2017
Blac Chyna took off her cotton candy trick wig and put on her 2013 beyoncè / suburban housewife wig. She's going for blood. pic.twitter.com/8ozfQofprv

— Token Black Guy (@MurseErnie) July 10, 2017
Blac Chyna wore the good wig for this GMA interview. Get money sis ? pic.twitter.com/4ZCUTROfEg

— FREEISH (@freeishmedia) July 10, 2017
Blac chyna put that Sunday's best wig on and she was able to get the judge to rule in her favor

— Relax…Lakers got this ?? (@kingRayle) July 11, 2017
https://twitter.com/qiaraJayy/status/884580008743796736
Blac Chyna's "May I please speak to the manager" wig is giving me LIFE right now.

Draw strength from it this morning. And enjoy your day. pic.twitter.com/eHknVTQrjF

— Princess of Nkandla (@Sisi_Sasha) July 11, 2017
https://twitter.com/fabdp__/status/884481772016349188
Blac chyna went on Good morning America with her blonde wig on like the Joanne the scammer she is.

— Deborah Lynn (@DeborahlynnPR) July 10, 2017
Chyna gave y'all fun and flirty on the weekend. Damsel in distress this morning. Now she's giving you Legal Locs.

Y'all can't take! pic.twitter.com/W9UrhwAmnQ

— Globethotter ? (@BrianMcLight) July 10, 2017
Why Blac Chyna put on that Lifetime courtroom drama wig? She means business. Coming for ya Rob! @WendyWilliams pic.twitter.com/zry63jZA4x

— Michael Wright (@MrWrightNow_1) July 11, 2017
The trend also sparked best "legal action wigs" worn by other celebrities.
Sway the jury wig pic.twitter.com/ZLNo7frDaR

— shar (@SharSaysSo) July 10, 2017
??? RT @CreoleCornbread: @itsKARY_ When its a hung jury… https://t.co/J8eEjVO79n

— LB ?? (@DaRealestLav110) July 10, 2017
The "ion fee like dealing with this shit today" shake n go wig pic.twitter.com/OwGGVoCSX4

— Rudy (@TweetsbyMont) July 10, 2017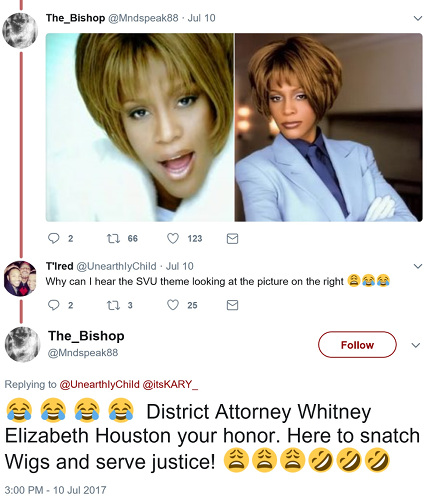 now THIS is a legal action wig pic.twitter.com/2w4qJ0h3og

— Iyanla Trampzant (@ZahOutLoud) July 11, 2017
RT @itsKARY_ Twitpic your legal action wig. pic.twitter.com/02sl667JhL

— Illiterate Black Heathen. (@RPinHD) July 11, 2017
Though Chyna was granted a temporary restraining order against Rob, who is said to be facing serious legal repercussions for possibly violating California's revenge porn law, we can always count on the internet for finding humor these kinds of situations.
Be the first to receive breaking news alerts and more stories like this by subscribing to our mailing list.