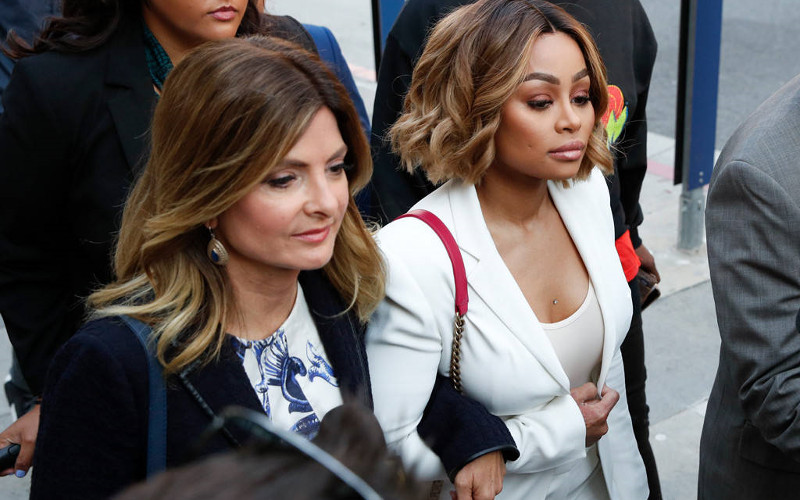 The nasty social media feud between Rob Kardashian and Blac Chyna has officially become a legal matter. Chyna has been granted a temporary restraining order against Rob.
Along with her attorney, Lisa Bloom, Chyna appeared in a Los Angeles court today (Mon, Jul. 10.) A judge granted a protective order that says Rob must stay 100 yards away from Chyna at all times. He also been ordered to refrain from cyberbullying Chyna, including posting photos, videos, or making personal statement about her online.
Following the judge's ruling, Chyna spoke briefly outside the courtroom with her lawyers:
"I will like to first and foremost thank the judge for granting me this restraining order to protect me and I'm just going to get back to co-parenting Dream."
It's unclear how long the TRO will remain in place.
Although Rob did not appear in court on Monday, his lawyer, Rob Shapiro spoke on his behalf and did not contest the order during the hearing.
According to Chyna, she and Rob have been broken up since December. However, she claimed that Rob's actions last week caused her great concern, particularly because of his past violent behavior.
"Rob has been violent with me in the past and I am afraid to be around him," Chyna said in the restraining order request filed on Friday (Jul. 7). She then recounted an alleged violent incident that occurred in April.
[Chyna] said that in April, Rob began berating her in front of her son King Cairo, 4. She said that when she asked him to stop, he screamed, "I can say whatever the f–k I want!" then grabbed her phone and pushed her to the ground, "aggressively shoving me by the side of my arm and hitting me on the thigh." She says she fell to the ground and was bruised and could barely walk.
Sources tell TMZ that Chyna hid in a bedroom and broke the door opening during this alleged incident. The sources also claim Chyna has photos and videos to support her claims.
Chyna's granted restraining order comes nearly a week after Rob went off on her in an extended explicit rant on social media. He also posted and deleted several nude photos of her, which could have violated California's "revenge porn" law.
In response to his outburst, Chyna claimed on Snapchat Rob beat her during their relationship.
"Rob u did all this but u beat me up and try to act it never happen! U put hand on me I swear on god! On my kids but I'm supposed to be quiet because you're a Kardashians"
She deleted the snap, but clearly her allegations were serious enough to warrant a restraining order.
Be the first to receive breaking news alerts and more stories like this by subscribing to our mailing list.