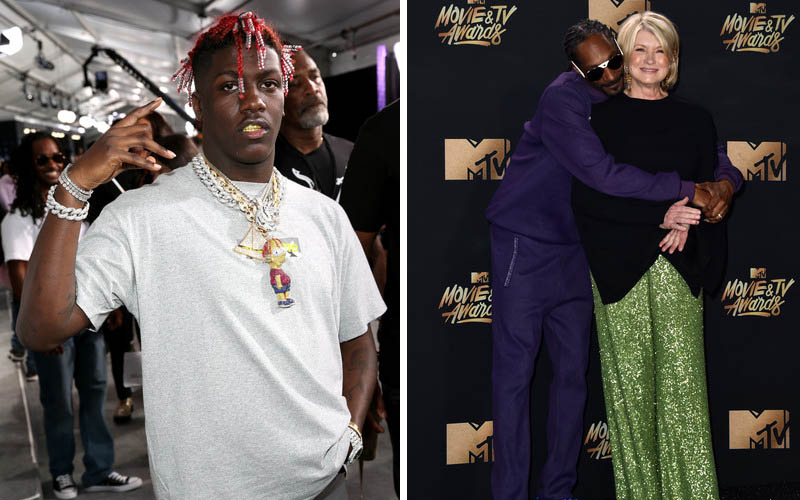 I'm convinced that Martha Stewart's spirit animal is that of a cat, because this old lady truly has nine lives.
After a successful run as a home and lifestyle media mogul and a stint in prison, Martha Stewart is paying her bills these days by hamming it up on VH1 with Snoop Dogg in her fish-out-of-water, ghetto cooking show.
While Snoop and Martha have built a close and comfy relationship, Martha's time spent with Snoop might have made her a little too friendly with black folks. A recent profile of Lil' Yachty in FADER revealed how Martha Stewart felt comfortable enough to ask Yachty if he was comfortable with Snoop using the n word to refer to him in front of their production crew and a live audience.
It was clear the only prep Martha received about him was that he didn't drink or smoke, so she talked to him like an innocent child. When it was time to discuss the Teenage Emotions album cover — an artistic exercise in inclusion — the image was not available. The network hadn't gotten the image cleared. Taping stopped and the Doggfather stood up, chastising the powers that be for never getting stuff cleared. In a very loud, swear-filled finger wag, Snoop appropriately referred to Yachty's album cover as "this nigga's shit." So Martha, sitting at a table with her co-host, Yachty, comedian Gary Owen, and actress Laverne Cox, leaned over — while wearing a sari for their Indian food-themed episode — and, both maternally and ignorantly, said, "Yachty, does it upset you when Snoop says 'nigga shit?'"

The room filled with every imaginable reaction: anger, horror, embarrassment, laughter, joy, pain. Throughout the exchange, Martha Stewart did not seem to understand what the big deal was. Yachty's reaction: a huge smile. It had been a long morning of sitting and waiting, following a day of interviews that involved a great deal of sitting and waiting. Once he finally made it on stage, he was charismatic, but seemed to be running on fumes. When Martha had her record scratch moment, though, Yachty came alive. By the end of the show's taping, he was playfully running around the stage with Snoop, avoiding a crew of belly dancers that had just brought out a giant yellow snake, in this, a wildly appropriative episode of television.
Now, in my opinion, while it's somewhat shocking that Martha repeated what Snoop said, I also feel like Martha's old and old people's filter falls completely to the wayside the older they get. Plus, Snoop was blatantly using that word in front of white folks to refer to his fellow black man. Make better choices and don't bat around problematic language like that in front of white folks' company.
The good news is happy-go-lucky Yachty, like many in his generation, was unfazed by Martha using the n word, so I guess she got lucky. Cause let that had been a Kendrick Lamar or a J. Cole and I don't think things would've ended so pleasantly for Miss Martha.
Be the first to receive breaking news alerts and more stories like this by subscribing to our mailing list.