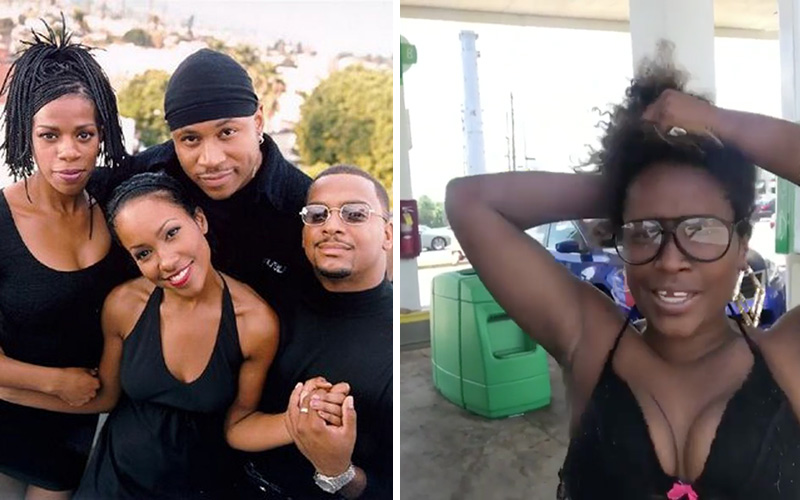 It's been a minute since we've seen or heard from Maia Campbell, and it doesn't look like she's doing too good these days.
The "In the House" actress was spotted at a gas station in East Atlanta Saturday afternoon (Jul. 8) looking disheveled and apparently strung out on drugs.
UPDATE: Rapper Who Posted Video of Maia Campbell Begging for Crack in Atlanta Responds to Internet Backlash
Someone posted two video clips on Instagram with the following caption:
oh nooooo… it's been a minute since we've heard from #maiacampbell, she stopped taking her bipolar meds & went ape sh*t a few years ago, but our yung bro @hatershatethood found her in #eastatlanta today and she's still f**ked up as ever… stay off drugs, kids
It also looks like she's missing some of her front teeth, and in the video footage, Campbell — wearing nothing but a black bra and grey panties — can be heard literally begging for more drugs.
"I want some crack!" she says after claiming she was raped by a guy who called himself Bill Cosby.
WATCH HERE:
Wow… This is SO sad!!!
Maia Campbell is best known for starring on the 90's sitcom "In the House" with LL Cool J, Debbie Allen, Alfonso Ribeiro and Kim Wayans. She was diagnosed with bipolar disorder in 1998 after acting out on the set of the show. After giving birth to her daughter in 2000, Maia stopped taking her medication for her mental illness and lost custody of her child.
She then turned to drugs and has been arrested several times over the years. She also spent some time at a mental health facility after being arrested in 2010 for theft.
In 2012, Campbell made an appearance on "Iyanla: Fix My Life," but it doesn't seem like Iyanla fixed anything, because just three years later, in February 2015, the actress was arrested at a Waffle House in Riverdale, Georgia for disorderly conduct.
The 40-year-old, who has a history of criminal offenses, was also arrested in January 2015 when she went crazy at a Burger King in Atlanta.
Be the first to receive breaking news alerts and more stories like this by subscribing to our mailing list.