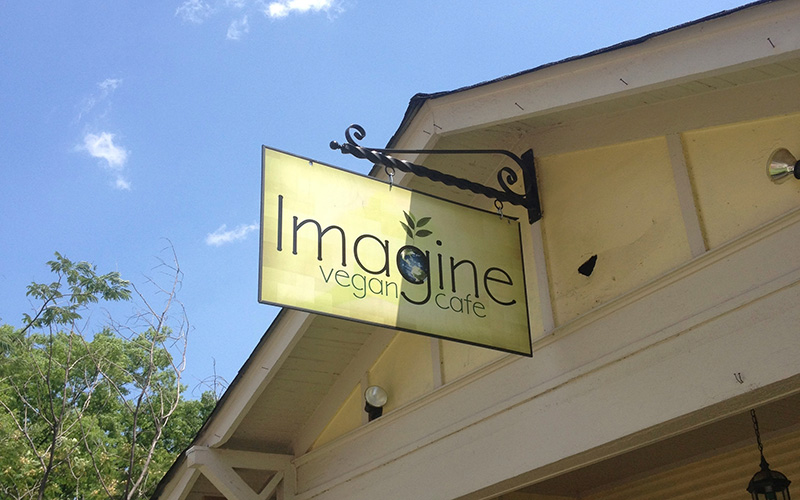 Children are often seen as a blessing, but those toddlers, man. Those toddlers can be absolute hell on wheels.
A diner at the vegan establishment Imagine Vegan Cafe, which is based in Memphis, Tenn., took to Google to leave a two-star review after she was assaulted by the hostile view of a naked toddler's butthole while dining.
It's one thing to be provocative, but to confronted with a bare anus while you dine is really beyond the pale. The diner's review is a riot in and of itself, so please go ahead and read it below, which Wonkette captured and recapped in all of its glory: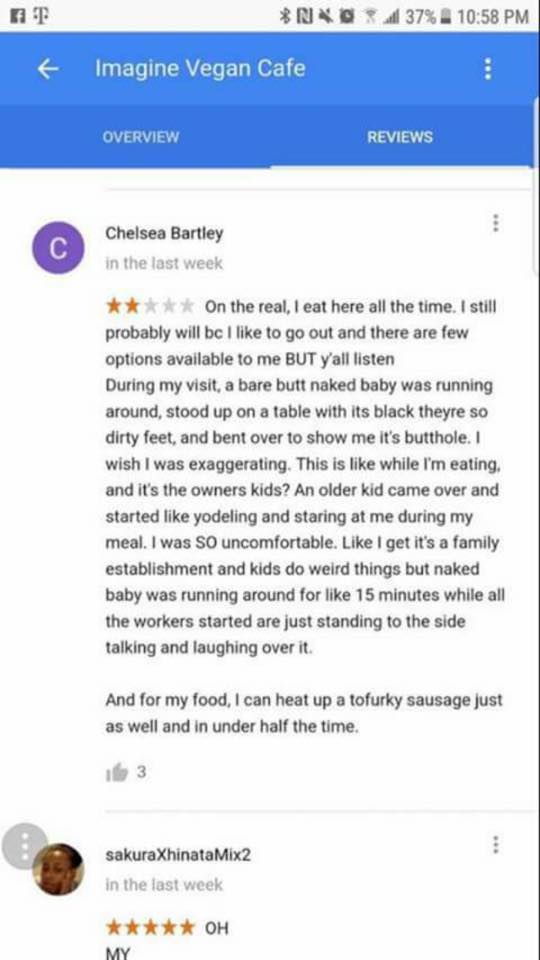 While this is an absolutely cringeworthy review, it's not something that would be completely insurmountable for the small business to recover from. If they apologized for the offense and comped a meal or something, all could've been well.
Instead, the restaurant owners took the hostile route and decided to get their Ja Rule on and clap back at customers on social media.
Here's one of their angry retorts: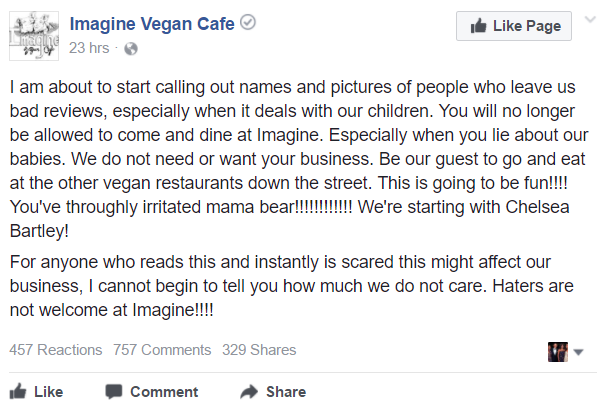 Aw, nah, baby! What is you DOING?
Eventually, the restaurant owners did cop to their baby running around the restaurant naked (no confirmation about the baby airing out its butthole under the nostrils of their patrons though) but they felt like because they're a "family restaurant" that customers should expect this sort of behavior to go on.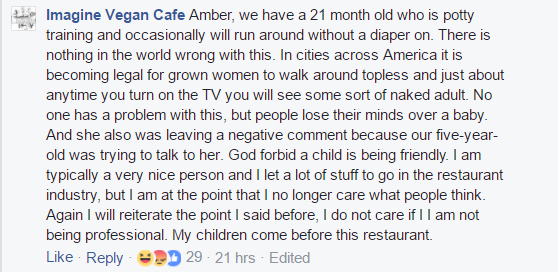 Now, see, maybe it's just me. But MY interpretation of a family restaurant is a coloring book, some crayons and endless breadsticks and salad. NOT a butt-naked baby running around the restaurant airing out their anus and dousing the restaurant with a whiff of feces like it's a can of Febreeze. But hey, maybe that's just me.
What the hell is going on at Imagine Vegan Cafe pic.twitter.com/diuOrEKNkZ

— ? (@patiencesosweet) July 6, 2017
Check out the local news' recap of this very viral incident as well and see how feisty and stubborn the restaurant owners are being:
Good luck with that attitude, Mrs. Jeffrey. You won't be in business for much longer.
Be the first to receive breaking news alerts and more stories like this by subscribing to our mailing list.