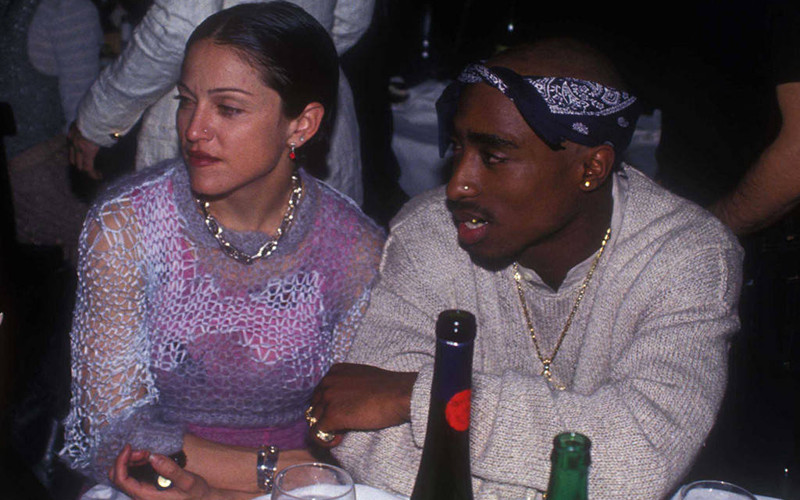 Tupac Shakur's rumored romantic relationship with Madonna in the early 90s was confirmed a few years ago. However, the reason why the two didn't work out was just revealed by Tupac himself.
A handwritten letter by Tupac set to go up for auction later this month reveals Tupac ended his relationship with the "Material Girl" because she was white. The letter was written January 15, 1995 at 4:30 a.m. while Tupac was in jail for sexual assault. TMZ obtained a copy of the letter, but redacted several paragraphs.
While soul searching behind bars, the iconic rapper writes that he knows he hurt Madonna and wanted her to know why he made the decision to end their relationship, "just in case anything happened 2 me."
"For you to be seen with a black man wouldn't in any way jeopardize your career. If anything it would make you seem that much more open & exciting. But for me at least in my previous perception I felt due to my 'image' I would be letting down half of the people who made me what I thought I was. I never meant to hurt you."
Tupac adds that he had matured since their time together and hoped they could become friends again. He even invited her to visit him in prison if that was something she was open to doing.
"In the time since, as u can see, I have grown both spiritually and mentally. It no longer matters how I'm perceived. Please understand my previous position as that of a young man with limited experience with an extremely famous sex symbol…

I offer my friendship once again this time much stronger & focused. If you are still interested I would like to further discuss this with you but some of it couldn't wait. I felt compelled to tell you… just in case anything happened 2 me."
Madonna and Tupac first met in March 1993 at the Soul Train Music Awards and were introduced by actress Rosie Perez. Madonna confirmed the relationship in a 2015 Howard Stern interview and Tupac's brother, Mopreme Shakur, seconded the romance later that year.
"I would take him to her house and sh*t when we got back to L.A. Yeah, they were a thing for a minute," he told Vlad TV.
Tupac's letter to Madonna will be up for auction July 19-28 at Gotta Have Rock and Roll. The staring bid is $100K however is expected to sell at a much higher price. The last letter by Tupac sold at 170,000.
Be the first to receive breaking news alerts and more stories like this by subscribing to our mailing list.