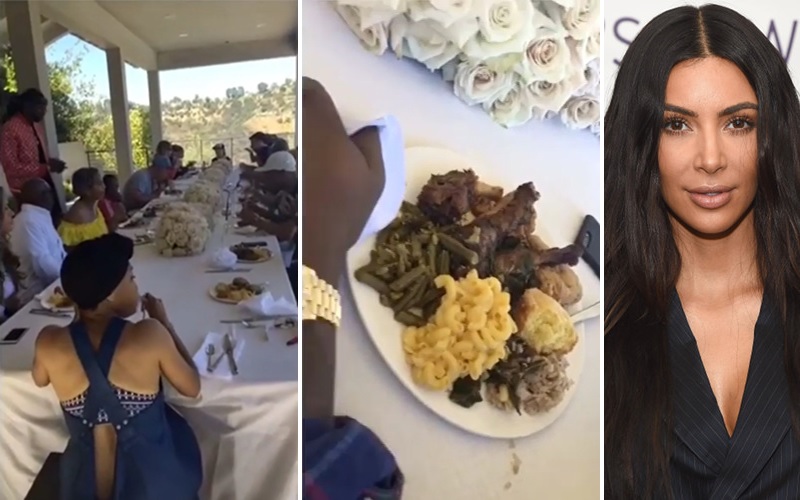 Oops, she did it again! In preparation for the Fourth of July, Kim Kardashian, once again, showed of her cooking skills for one her "Soul Food Sunday" meals.
The Kardashian-Wests threw a backyard barbecue for family and friends on Sunday (July 3). Among those in attendance were 2 Chainz, his wife Kesha and their kids, music producer L.A. Reid, and Kris Jenner. They all feasted on Kim's home-cooked soul food.
Kim flaunted her versions of soul food on Snapchat, which included collard greens, macaroni & cheese, green beans, and rice & beans. "It's going down today," she said as she shows off her food to her followers.
She also revealed that her Jamaican nanny has taught her how to cook jerk chicken, jerk pork and ox tails. And if you're like me, you just went from laughing to yelling "OMG!"
As you may recall, this isn't the first Soul Food Sunday Kim has hosted. Around this time last year, Kevin Hart and Terrence J feasted at the Wests' hoouse. And just like last year, Black Twitter, again, clowned Kim's attempt at soul food.
Kim K on snap chat with her "Soul Food Sunday" shit again

— ash ? (@ForeverTruee_) July 2, 2017
I swear the only time Kim Kardashian shows us she's cooking on Snapchat is when she's making soul food ??????

— Court Court. (@Courtsieee) July 2, 2017
kim k is gonna have to stop showing us her "soul food" if it aint up to par. them greens dry as hell. and idek how you can have dry greens

— Rae (@birdgang_rae) July 3, 2017
Whenever Kim "makes" soul food she always makes sure she shows us niggas eating it ? why does she seek approval from strangers ?

— chubs (@chubsaid) July 3, 2017
Kim K tries to cook soul food for Kanye and calls over random black ppl so she can post them on snap eating it. ? whole family nuts

— beezus (@rosaSPARKS___) July 3, 2017
When y'all said kanye wouldn't be having mental breakdowns if he had a sista that made him soul food.. kim said imma show yall???

— Mikäél My?rs (@CaliforAnia) July 2, 2017
I love that Kim keeps doing her soul food Sunday's on snap even though it looks nasty lmfao same sis!!!

— Adrianna (@stylesbyadri) July 2, 2017
Kim kardashian making me wanna go make real soul food just to revive the culture from her misfortunes

— BIG HOMIE SUE (@suesobad) July 2, 2017
Despite what we may assume, it seems everyone enjoyed the food and had a good time. 2 Chainz posted several photos of the barbecue, including a family pic of the Wests and the Eppses (FYI: 2 Chainz' real name is Tauheed Epps)
Kanye even looks happy, just days after being dissed on JAY-Z's 4:44 and splitting from Tidal.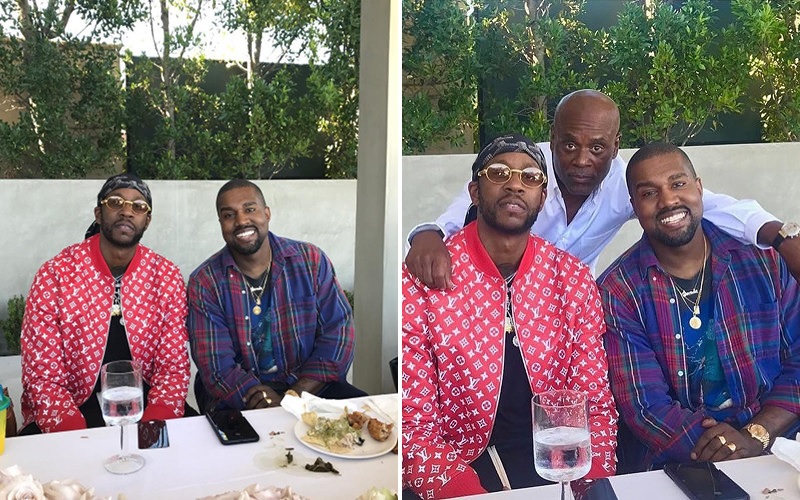 Given the happy faces of her guests, is Kim Kardashian invited to the cook out or nah? Notice she hasn't tried to make potato salad yet (at least not that we know of). That should definitely factor in your decision.
Be the first to receive breaking news alerts and more stories like this by subscribing to our mailing list.