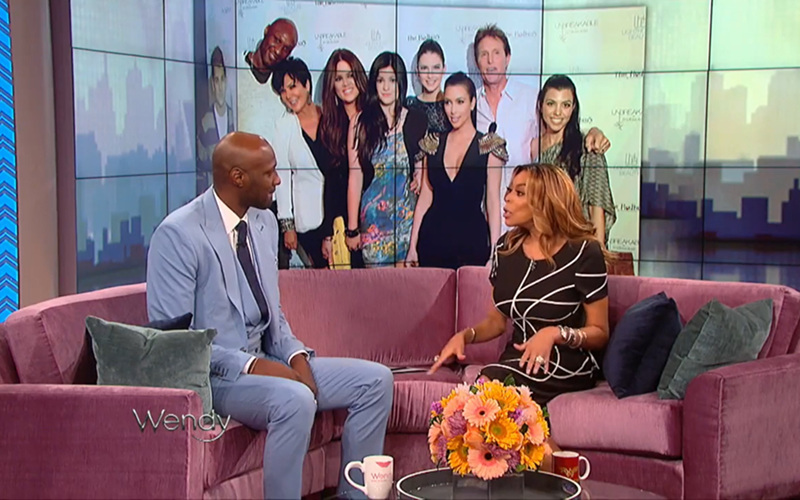 Lamar Odom is opening up about his life since his 2015 coma. The former NBA champion discussed how he's coping with sobriety and revealed to Wendy Williams he no longer speaks with the Kardashians.
In a Wendy Williams interview that aired Tuesday (Jun. 28), Odom said he is no longer doing drugs, but admitted he does continue to consume alcohol. He says battling addiction is a slow process, but focusing on his relationship with his children motivates him to remain sober.
"I'm working hard on rebuilding my relationship with them. I lost a lot of time with them from being high, so I'm trying to work on getting that time back, reestablishing those relationships, especially with my son."
He reflected on the events leading to his coma in 2015. "I think that was God just trying to talk to me and get me to stop doing whatever I was doing," he told Williams.
Despite a toxicology report that stated he had cocaine in his system at the time of the incident, Odom maintains that he did not do drugs before falling into a coma. He emphatically denied the report's results when the host brought it up. "OK, but I didn't," he said matter-of-factly.
Taking an extended pause, Williams proceeded with the interview by discussing his recovery once waking up after his four-day coma.
He also says he didn't have sex with the two women that were also in his room and bed at the Nevada brothel.
Lamar's ex-wife, Khloe Kardashian, and her famous family was also a prominent topic of discussion during the 16-minute interview. Even though he was a successful NBA star when meeting Khloe, he admitted that being involved with her catapulted him to a level of fame he wasn't used to.
"A million miles per hour, so many things happen that you're not accustomed to, especially with women. It's overwhelming a little bit, overwhelming for me and even for the people that were close to me I think it was overwhelming."
Williams began to ask if he would ever get back together with Khloe, but before she could even get it out, he said "No."
"I say that with no offense to her—that would be the best for both of us you, know what I'm saying? We have to keep our distance."
Odom also revealed he hasn't spoken to Rob Kardashian, someone he used to consider a brother. He hasn't even men Rob's infant daughter, Dream. "I guess it's maybe because I hurt his sister too much," he assumed. "I would have a problem with me too… I mean if she was my sister."
In fact, he said it's been a minute since he's talked to anyone in the Kardashian family, including Scott Disick, who also struggles with substance abuse. "It is the way it is," he concluded.
Be the first to receive breaking news alerts and more stories like this by subscribing to our mailing list.