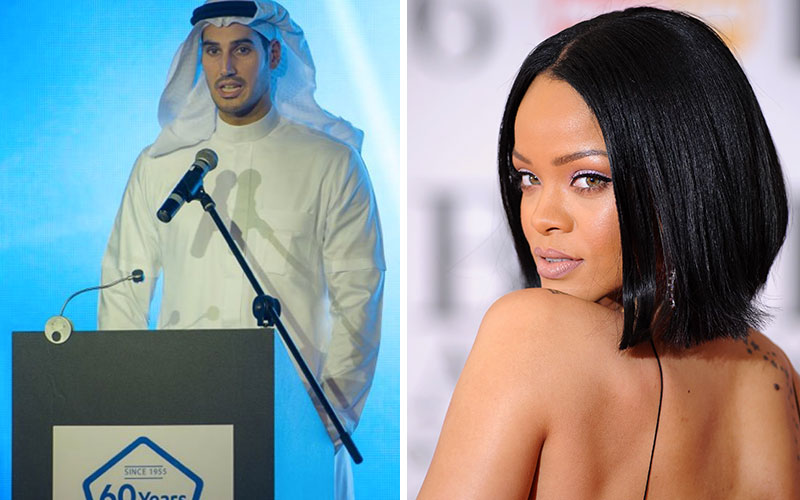 The Nancy Drews of Twitter cracked the case. We now know the identity of the mystery man Rihanna was caught getting hot and heavy with in Spain. And the man is quite the catch!
Here are a few things you need to know about Saudi billionaire Hassan Jameel, Rihanna's new man.
Hassan Jameel is heir to his family's $1.5 billion fortune and company, Abdul Latif Jameel Domestic, the sole Toyota distributor in Saudi Arabia.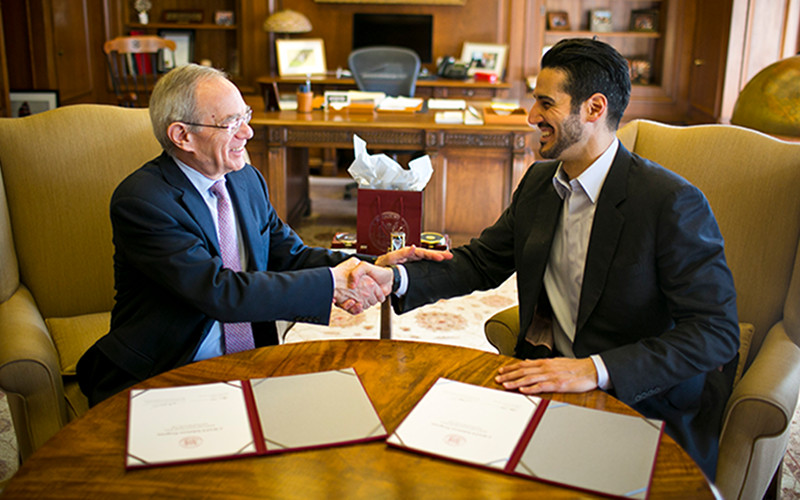 Hassan is the heir to one of the largest car companies in the world. The 29-year-old is currently the deputy president and vice chairman of Abdul Latif Jameel Domestic.
The family business is the largest Toyota distributor in Saudi Arabia. The company is reportedly worth $1.5 billion, and in 2016, Forbes ranked the Jameel family as No. 12 on the list of richest families in the Middle East.
The company has had the exclusive rights to distribute Toyota cars in Saudi Arabia since 1955. Guinness World Records honored the company in 2014 noting that "the name Toyota Corolla has appeared in more cars than any other win an excess of 37 million produced world-wide."
At the time, Abdul Latif Jameel Domestic had also reportedly sold 14.1 million cars dating back to 1966.
The Saudi Arabian Prince of Toyota could be aiming to break the Guinness World Record for largest Toyota car parade.
Speaking of Guinness World Records, Hassan is apparently prepared to break another one. In 2013, he accepted the challenge to break the record for largest Toyota car parade.
However, a Guinness rep told TMZ that no applications to break such a record has yet been from Saudia Arabia, Hassan, or Abdul Latif Jameel Domestic. The rep did state that Colombia and South Africa had filed applications, though.
The current record was set in 2015 by Toyota Cyprus with 742 cars.
Though not a pro soccer player as suspected, Hassan does own Saudi Arabia's professional soccer league.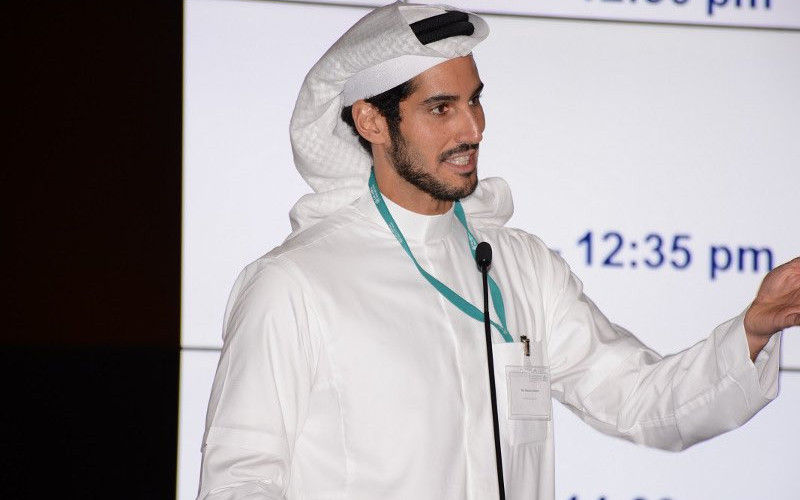 When photos of Rihanna's poolside makeout session with the mystery man first surfaced, it was suggested he was a Spanish soccer player, given Rihanna was vacationing in Spain. While he's not a pro soccer player, Hassan does have ties to the sport. His family actually owns Saudi Arabia's soccer league.
Currently comprised of 14 teams, the Saudi Professional League is the premier soccer league in Saudi Arabia. It's owned by Hassan's wealthy family and is actually officially known as the Jameel League (for sponsorship reasons).
The 29-year-old businessman was previously linked to Naomi Campbell and is possibly the cause of the current rift between Naomi and Rihanna.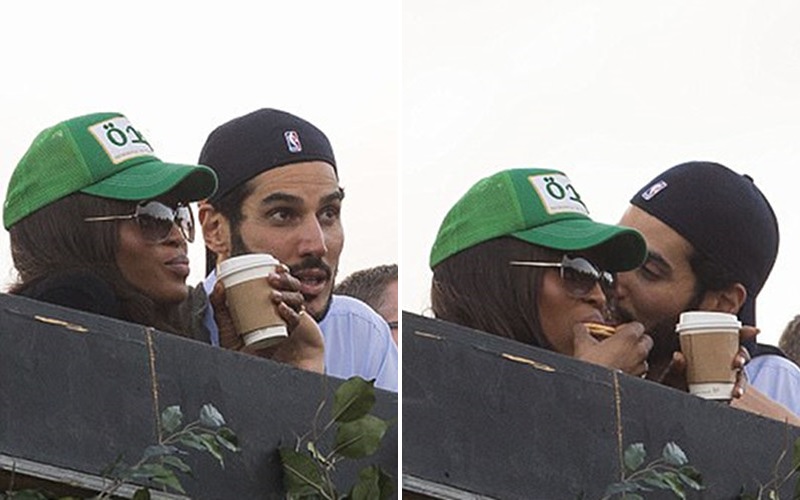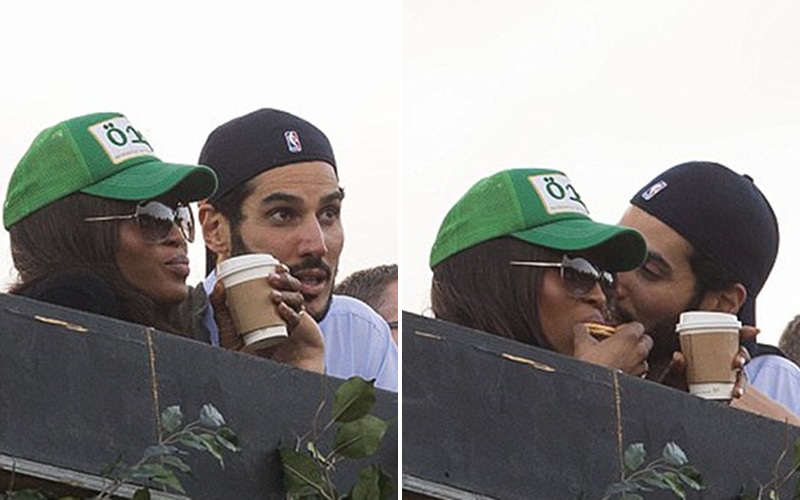 Hassan is no stranger to dating celebrities. He was linked to supermodel Naomi Campbell in 2016. Campbell brought Hassan as her date/plus one to several events.
Though it was never confirmed if they were romantically involved or just friends, the two looked rather comfortable with each other at the British Summer Time Festival in London in July 2016.
This may also explain the sudden rift between Rihanna and Campbell. The two former friends are rarely seen together and recently unfollowed each other on Instagram. Campbell addressed the issue during a March episode of Watch What Happens Live! but gave a shady answer.
"Everything's fine. Of course it's fine," she said. But when host Andy Cohen caught the shade, the model added, "I'm an actress now, Andy."
Could Hassan be the reason Rihanna and Naomi no longer see it for each other?
The relationship between Rihanna and Hassan is not only hot, but is reportedly getting very serious.
It's currently unclear when Rihanna and Hassan started dating or how they met. However, a source told The Sun the relationship seems to be getting serious.
"This relationship is the real deal. Rihanna has told friends she's in love with him and seems completely smitten."
The two had been keeping their romance private until they were snapped by the pool at their luxury villa in Spain earlier this week. The Sun source added:
"They've been spending a lot of time together away from prying eyes and are really serious. They're really enjoying each other's company."
Rihanna and Hasson were also spotted in Ibiza looking very happy.
While she's had her fun, the singer has not exactly been lucky in finding love. Maybe she's actually found Mr. Right or at least, Mr. Right Now. The billion-dollar fortune doesn't hurt either.
Be the first to receive breaking news alerts and more stories like this by subscribing to our mailing list.