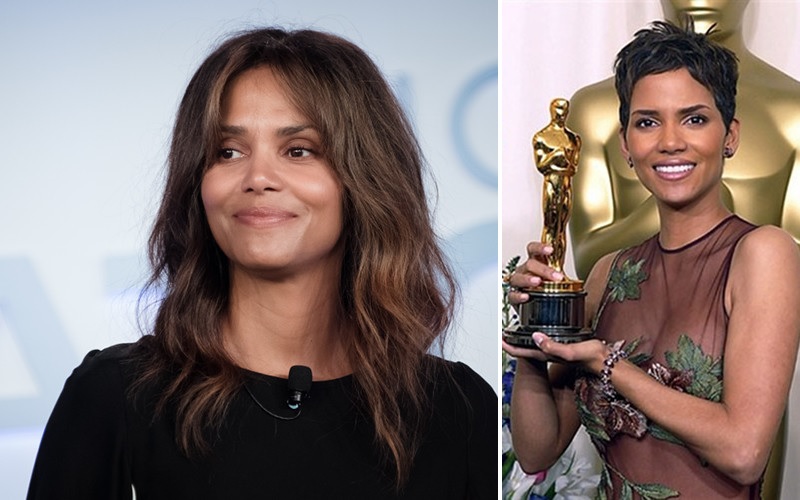 Flashback to 2002: Halle Berry becomes the first black woman to take home the Oscar for Best Actress.
Acknowledging the greats, Dorothy Dandridge, Diahann Carroll, Lena Horne and her peers, Jada Pinkett (Smith), Angela Bassett, and Vivica A. Fox, Berry says "[This moment is for] every nameless, faceless woman of color that now has a chance because this door tonight has been opened."
Unfortunately, it seems the door is still closed. 15 years after her win, Halle Berry remains the only woman of color to hold the Academy Award for Best Actress and this fact has left her "profoundly hurt" and "saddened."
The actress opened up to Teen Vogue's editor-in-chief Elaine Welteroth to discuss race and diversity in film. The two briefly talked about her historic Oscar win and because of the lack of progress, not only within the Academy voting process, but also in the industry, Berry says her shining moment was basically meaningless.
"Wow, that moment really meant nothing. It meant nothing. I thought it meant something but I think it meant nothing."
She was also disheartened by the Oscars "blackout" in 2015, when out of 20 nominations, no person of color was nominated in the acting categories. "It was probably one of my lowest professional moments," Berry said.
However, the veteran actress is becoming more proactive in making a change. She has conversations with other Academy members to contemplate ways to increase diversity. She also wants to serve as a producer more and try her hand at directing so that she can personally create more opportunities for people of color.
Most importantly, she says more stories centering people of color need to be told.
"Black people, people of color only have a chance to win [an Oscar] based on how much product that we're allowed to put out. So, that says to me, we need more people of color writing, directing, producing, not just staring.

We have to start telling stories that include us. And if stories don't include us, we have to start asking 'Why can't that be a person of color?' 'Why can't that white male character be a black woman?' 'Why can't it?' We have to start pushing the envelope and asking these questions."
While there is clearly more work to do, changes are already starting to be seen. In 2017, Moonlight became the first film featuring an all-black cast to win Best Picture. Mahershala Ali and Viola Davis both took home trophies in the supporting categories and five other actors of color were also nominated.
Be the first to receive breaking news alerts and more stories like this by subscribing to our mailing list.