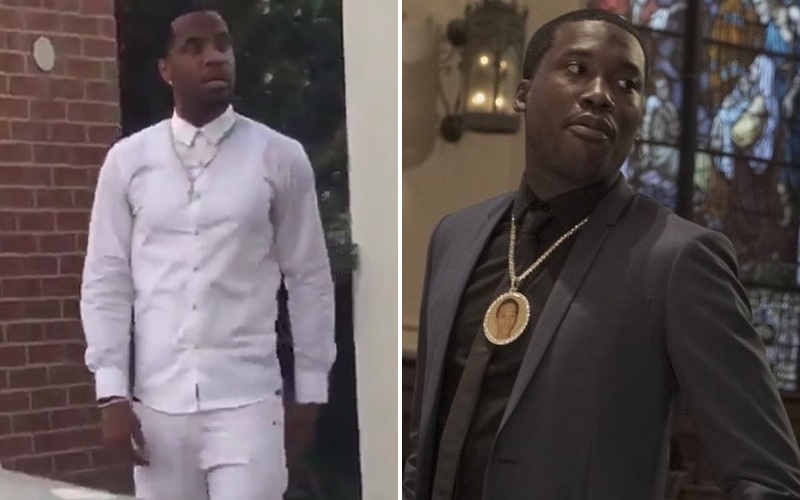 The beef between Nicki Minaj's exes may have just reached epic proportions.
If we take Safaree's word for it, the Love & Hip Hop: Hollywood star was just jumped by Meek Mill's crew on the streets of LA.
In a now-deleted Instagram video that has gone viral, Safaree claims he was jumped by Meek and his crew after attending at a BET Awards weekend event hosted by DJ Khaled in Los Angeles on Friday (Jun. 23).
"I hopped out the whip, saw Meek, he hopped out and then I just got snuffed. N***as jumped me… Meek, you are the biggest p*ssy on this planet. You saw me, you ain't do sh*t, you had your n***as jump me. One-on-one you can't f*ck with me, so that's why you had to do that."
https://twitter.com/TheShadeRoom/status/878452487606353920
Safaree says he was jumped by multiple guys from all directions. He said Meek was too scared to step to him himself, so Safaree challenged him to meet one-on-one at some point during BET Awards weekend.
Another video, recorded after the alleged altercation, shows a fuming Safaree on the street shouting, "That guy's a f*cking p*ssy!" The woman recording the video from a car explains, "He just got jumped! Damn!"
https://twitter.com/TheShadeRoom/status/878451957844787200
The viral videos got people talking and caused "Safaree" to become trending topic on Twitter. However, many questioned if a fight even went down, because at the time, video footage of an altercation was missing. And Safaree came out with no visible signs of being jumped, which he even noted in his IG post. "All white, I'm still clean, and I still got all my sh*t on," he said.
Me trying to figure out how Safaree got jumped but his outfit looks like it was just pressed by the cleaners pic.twitter.com/diJsDnf8xe

— Jemele Hill (@jemelehill) June 24, 2017
A live footage of Meek Mill team jumping Safaree pic.twitter.com/FKUkuh055R

— Mr.Gemini? (@RonnieThaGreat) June 24, 2017
So nobody got the meek and safaree fight on video pic.twitter.com/j67K6jPpY9

— ??J.Brazil™ ?? (@KingJon100) June 24, 2017
https://twitter.com/Kinglurch_23/status/878462998871814144
They're asking Meek if he threw at least a punch when his crew jumped Safaree pic.twitter.com/9v4aDjmrfT

— Hot Boy Rough? (@_RoughHouse) June 24, 2017
safaree got jumped by meek mill's people? pic.twitter.com/M69wPHmNq2

— amanlicious (@RoadKillAman) June 24, 2017
So, Meek Mill had his boys jump Safaree & Safaree had not one scratch, rip, or wriggle on him? pic.twitter.com/mHX4xO8Ici

— Where Is Yo Scoota? Where Is It?! (@AshleyShyMiller) June 24, 2017
https://twitter.com/Eazy_Alli/status/878463349503275008
Safaree and Meek mill at home like pic.twitter.com/F7FjgJ7sZM

— The Surreal One (@stayreallovemy) June 24, 2017
Not surprised Safaree ain't have a scratch on him after getting jumped, because this is how Meek fights smh https://t.co/7R638XjwgI

— Rita Louise Watson! (@_CoolStoryCori_) June 24, 2017
Later on in the day, The Shade Room shared shaky video footage from the alleged "jumping" incident. It's hard to tell exactly what's going on in the clip, but from the looks of it, Safaree was definitely "touched" by someone, though it's not clear who grabbed him. You can also clearly see Meek Mill exiting his car before a group of men rush towards Safaree.
Check it out below:
Meanwhile, Meek doesn't seem too pressed over Safaree and his claims. The rapper doesn't confirm or deny that his crew jumped the LHHH star, but he did seemingly address the situation on IG soon after Safaree's initial post. He dismissed the accusations by writing:
"I wish I would pay attention to these homeless n#%gas"
https://www.instagram.com/p/BVtQuYVgwBn/
Safaree and Meek and gone back forth with each other on social media for years due to their romantic connections to Nicki Minaj. Safaree has even claimed Meek was one of the main reasons the two broke up.
Maybe their beef finally came to a head (and blows). However, no one really knows what exactly went down.
Be the first to receive breaking news alerts and more stories like this by subscribing to our mailing list.