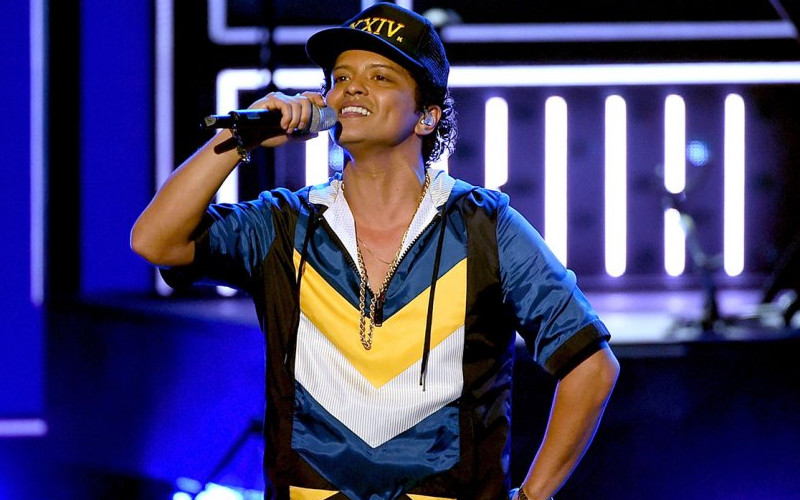 It has been announced that Bruno Mars will be bringing his 24K magic to the 2017 BET Awards and opening the show with a performance. The announcement is probably no surprise given that, with five nominations, he will be the most nominated artist in attendance.
(Though she has 7 nominations, Beyoncé's new twins will most likely keep her away from this year's ceremony)
However, the news that the pop/soul/funk singer would be opening the show did not sit well with one Twitter user. In a series of several tweets, @JennMJack accused Bruno of appropriating funk music and opined that the non-black singer shouldn't open an awards show meant to celebrate black artists.
WATCH: Bruno Mars Sweats Out His "Perm" During 2017 BET Awards Opening Performance
He is a non-Black person of color (POC) who has recently decided that singing Funk music is economically productive.

— Jenn M. Jackson (@JennMJack) June 25, 2017
Yes, he gives "credit" to Funk artists on occasion. He also has a primarily white audience which has no memory or care for Black artists

— Jenn M. Jackson (@JennMJack) June 25, 2017
In Bruno's case, 'bringing Funk back' essentially means, "Funk was a Black thing and now I gave it to white people." That's appropriation.

— Jenn M. Jackson (@JennMJack) June 25, 2017
Taking our shit and repackaging it for white people is not innovation. Even if these non-Black ppl sing well, it's appropriation. Period.

— Jenn M. Jackson (@JennMJack) June 25, 2017
These are just a few of her tweets. The entire thread (which is quite the read) can still be found on her page.
@JennMjack's Bruno Mars criticisms did not go unnoticed or unchecked. In this "woke" state we're all in right now, she probably thought many would be in agreement that Bruno was appropriating black music. But, she thought wrong!
Several people defended Bruno's artistry and noted the non-black singer understands the history and roots of the music he produces and often shows appreciation to the ones who came before him.
One super fan had time today and practically went tweet-by-tweet explaining why @JennMJack was wrong.
Jenn M. Jackson this whole thread is false. let me tell you why: https://t.co/gwW6ies6gS

— kai (@expensivefabric) June 25, 2017
are we really going to blame Bruno because his audience demographic? he just wants to make music. my god https://t.co/Yzxk6CbD6U

— kai (@expensivefabric) June 25, 2017
he didnt repackage anything. hes stated that hed be nothing without black artists
hes appreciating not appropriating https://t.co/eXOnsi2mIR

— kai (@expensivefabric) June 25, 2017
some of y'all really need to learn the difference between APPROPRIATION & APPRECIATION. because the ignorance isn't cute.

— kai (@expensivefabric) June 25, 2017
Bruno Mars is a woke legend that understands that American music is black. find another artists to fit your agenda. pic.twitter.com/A9knNZGuAi

— kai (@expensivefabric) June 25, 2017
@Hyperbruno gathered the "woke" hater quickly and made it clear she needed to put respeck on Bruno's name.
But @Hyperbruno wasn't the only one. Black Twitter was also not having any Bruno Mars slander on their timelines.
Bruno Mars is one of the most appreciative, respectful, non-black POC that gives credit to black people and culture constantly for his work

— Preschae (@aniseLovesYou) June 25, 2017
Bruno Mars minds his business, makes his music and gives credit to black music legends consistently. I'm not tolerating this slander. pic.twitter.com/ErPNntcHhZ

— Quwn ?? (@Q_Corleone) June 25, 2017
Bruno Mars is a colored man. Yall not gon treat him like some lily white, blonde haired blue eyed imposter. pic.twitter.com/XGihTmfEPp

— Bey Phi Bey, Philly Chapter President. (@brownandbella) June 25, 2017
Random chick: "black twitter, let's be mad at Bruno mars!"

Black twitter: pic.twitter.com/NXn1nxz2mK

— flew'd out (@Mark_Jayy) June 25, 2017
https://twitter.com/cametogiveIove/status/879026325075271680
https://twitter.com/NigerianCocoa/status/879011566481547264
Y'all better stop with trying to cancel Bruno Mars. It's just not gonna happen ?? worry about other people who are WAY more problematic pic.twitter.com/49PXuEBae4

— #1 Giving Me Life Stan ? (@Katyxmimi) June 25, 2017
How do you wake up at 10 AM and the first thing you do is make a thread hating on Bruno Mars of all people

— ??? ?????. (@drizzyxcole) June 25, 2017
Bruno is of mixed heritage, including Filipino, Hispanic, Puerto Rican, Asian, Hawaiian, and several others. Though he is not black, he does often credit black artists as the creators of the popular music we hear today.
In a January 2017 interview with Latina magazine, he said:
"When you say 'black music,' understand that you are talking about rock, jazz, R&B, reggae, funk, doo-wop, hip-hop, and Motown. Black people created it all. Being Puerto Rican, even salsa music stems back to the Motherland [Africa]. So, in my world, black music means everything. It's what gives America its swag."
Yeah, this definitely sounds like appreciation (not appropriation) to me.
Bruno Mars is extremely talented and his BET Awards will be fire. The 2017 BET Awards airs tonight (Jun. 25) at 8 p.m. on BET and other Viacom networks.
I'm sure even @JennMJack's will be watching.
Be the first to receive breaking news alerts and more stories like this by subscribing to our mailing list.