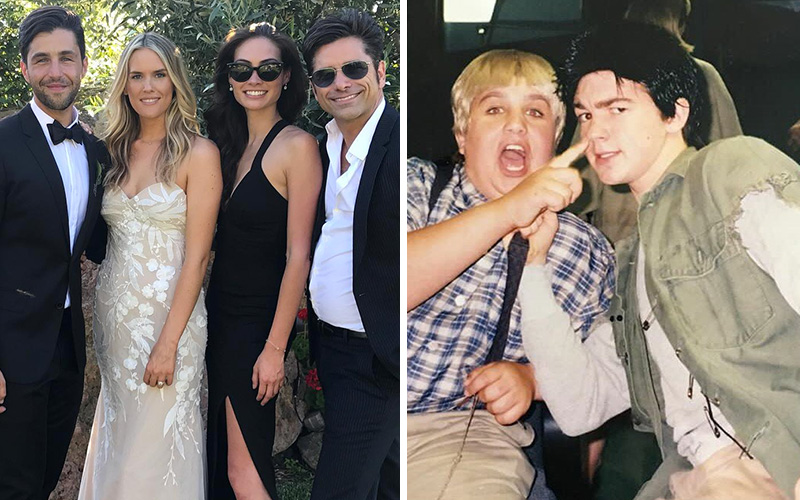 Josh Peck — who represents one half of the famous Nickelodeon duo Drake & Josh — married his longtime girlfriend Paige O'Brien in Malibu over the weekend. But apparently, he did not invite his TV brother Drake Bell to the wedding, which has saddened the internet (and Drake bell, of course).
Adding to the burn of not being invited to his friend's wedding was the fact that Josh's Grandfathered co-star John Stamos was front and center at the ceremony, as revealed by this photo Peck posted on Instagram:
And this photo from actress Nicole Golfieri's IG:
Taking to Twitter to air out his frustrations over not scoring an invite to the ceremony, Bell tweeted, "When you're not invited to the wedding the message is clear…" The self-proclaimed 'eccentric billionaire' added in another tweet, "True colors have come out today. Message is loud and clear. Ties are officially cut. I'll miss you brotha."
Drake has since deleted the tweets, but they live on in the form of screenshots (see below):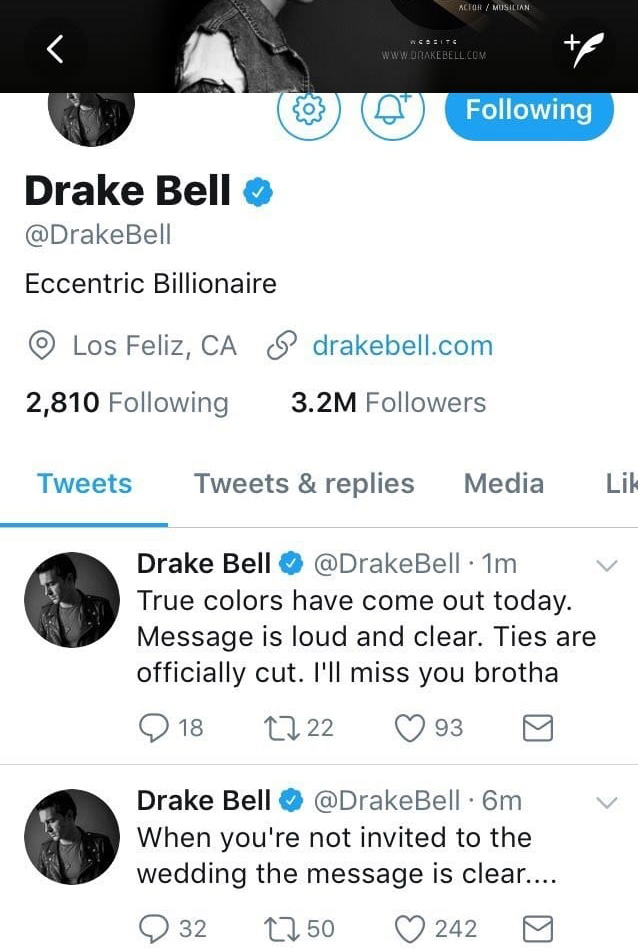 According to E! Online, Drake Bell also tweeted, "Loyalty is key… ALWAYS remember where you came from," which he also deleted.
WHAT HAPPENED?! It was all good just a week ago. No, seriously, both Drake and Josh posted the same throwback photo recently:
Studs!! pic.twitter.com/AMW0xuev5k

— Drake Bell (@DrakeBell) June 17, 2017
https://www.instagram.com/p/BUzs4bCBhIQ/
Naturally, the internet has reacted to Drake being left off the guest list of Josh's wedding, and the general consensus was R.I.P. to our childhood and lasting friendships:
josh peck didn't invite drake bell to his wedding pic.twitter.com/vcsYKStWz2

— laur ? (@haylordes) June 18, 2017
Josh Peck just got married and Drake Bell wasn't invited. That's just sad.

— Marielle Lubo ?? (@akoaymaylubo) June 19, 2017
My dad is sad today because Josh Peck got married this weekend and didn't invite Drake Bell and he thought they were supposed to be brothers

— T-Ray (@TaylorRDarneal) June 18, 2017
Drake Bell not being invited to Josh Peck's wedding made me lose faith in lasting friendships. ?

— ???? ? •?•? (@jdmartinb) June 19, 2017
This ain't how Drake & Josh was supposed to end pic.twitter.com/8RBvvuTErL

— Nyohohold the fuck up (@StaticVoicings) June 19, 2017
https://twitter.com/trinityrinker/status/877041803471585280
After four seasons on Nickelodeon, Drake & Josh went off the air in 2007, and the guys had a mini reunion in 2016 when Drake guest starred on an episode of Fox's Grandfathered.
Drake told MTV at the time, "It was completely like old times. When we got on set, we were both a little worried. We had hung out and stayed in touch over the years, but we hadn't worked together or tried to be funny together. So we were kind of nervous about whether we were going to be able to pick it up. But honestly, the first scene we sat down to do, it was like BAM. It felt like we were together yesterday. We just fell right back into it."
Drake also talked about a potential revival of Drake & Josh, which would also involve co-stars Miranda Cosgrove, Jerry Trainor (aka Crazy Steve), Yvette Nicole Brown and other faves from the show.
"We're like a family," he said. "So we would love to come back and reprise the characters and see where they are. Josh could come home to visit the parents with his kids and his wife, and he's got a great job, and Drake comes downstairs and he's wearing the same clothes and still living with his parents. I think that would be pretty awesome."
Bell added, "We're all just waiting for that call. It would totally make sense to bring Drake & Josh back — and the fans would just love it. People would go absolutely crazy if we were able to play Drake Parker and Josh Nichols one more time."
Looks like we won't be getting that Drake & Josh reunion after-all, you know, since "ties are officially cut" and everything. Be the first to receive breaking news alerts and more stories like this by subscribing to our mailing list.