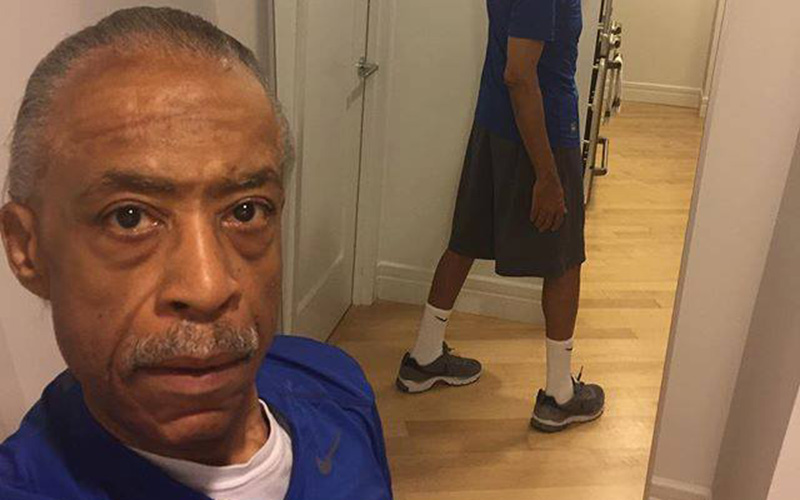 Al Sharpton kicked his Father's Day off by taking a workout selfie in the mirror, which resulted in him being roasted endlessly all over the internet.
The famous civil rights activist and political commentator shared a photo of himself on Facebook and Instagram rocking a compression shirt and basketball shorts along with his plans for the day:
Happy Father's Day!! Headed to workout at dawn, then I'm live on Politics Nation w/Al Sharpton at 8 am/et on MSNBC, then on my national radio show from 9-10 am, and then I preach the 9 30 and 11 30 am services at Metropolitan Baptist Church in Newark, NJ. Thank God for energy and purpose as I celebrate another Father's Day.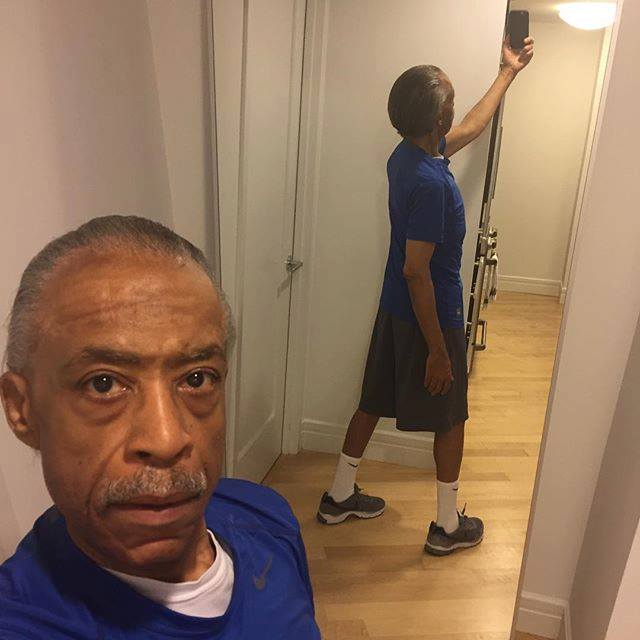 As you can see in the photo, Sharpton made sure he gave us a full view of his workout gear, and that's what inspired the impromptu roast on social media:
https://twitter.com/RealLifeKaz/status/876459363023675394
https://twitter.com/Serd_97/status/876471989262798848
You telling me Al Sharpton not only showing u men over 60 how to keep it tight but ALSO showing u women how to do a press and curl I'm shook pic.twitter.com/RFIdNq0t1v

— Corey Gustavis (@CoreyGustavis) June 18, 2017
Al Sharpton made sure you go the whole fit & both sides of the perm pic.twitter.com/PF6WOP4vsf

— Charles J. Moore (@charles270) June 18, 2017
Al Sharpton look like a 12 year old in his P.E clothes for 3rd period. pic.twitter.com/tpRgUiZkvv

— Rebranding ….. (@MikeyMoree) June 18, 2017
Al Sharpton look like he showing his progress through his physical therapy visits pic.twitter.com/6ggcJwH2tt

— Rudy (@RudyRay85) June 18, 2017
Al Sharpton got a wingspan like Durant. I'm HOWLING pic.twitter.com/j6MAl0YOHN

— Joanna Gaines's Side Nigga (@TwanTargaryen) June 18, 2017
?? This looks like a 12 year old is wearing Al Sharpton's face for Halloween pic.twitter.com/R0J4BhpMFs

— Soff (@Dan_Soff) June 18, 2017
Al sharpton look like an emaciated version of the jumpman logo pic.twitter.com/rZC46t2g8b

— ?return of the maccabee ? (@rwxoxo) June 18, 2017
https://twitter.com/getchar/status/876459010781839361
Also, let the records show that this is NOT the first time Al Sharpton has used a mirror to make sure his selfie is juuuuust right:
look at Al Sharpton birthday selfie?????? somebody need to take his phone. he didn't even use the front camera??? pic.twitter.com/wqRalw5W0R

— tracy. (@_tracyrae) October 4, 2015
Can someone please tell Uncle Al that our phones have cameras on the front for this very purpose?
Be the first to receive breaking news alerts and more stories like this by subscribing to our mailing list.