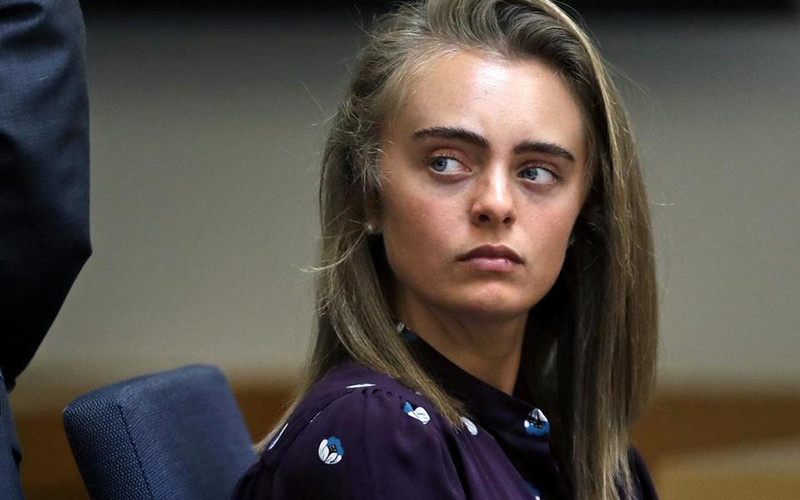 Reckless text messages caused a man's death and are sending a woman to prison. Michelle Carter has been found guilty of her boyfriend's death by encouraging him to commit suicide via text message.
On Friday (Jun. 16), a Massachusetts judge ruled that Carter, 20, was guilty of involuntary manslaughter due to her "wanton and reckless conduct" that contributed to the death of her 18-year-old boyfriend.
Conrad Roy died from carbon monoxide poison produced by a gas-powered water pump while locked in his truck. At one point, Roy — who had previously attempted suicide — got out of the truck and texted Carter that he was "scared." However, Carter responded "get back in."
Carter waived a jury trial and Judge Lawrence Moniz found her recklessness unintentionally lead to Roy's death. Moniz stated:
"[Carter] instructs Roy to get back in the truck knowing of all the feelings he has exchanged with her; his ambiguities, his fears, his concerns. She admits in a subsequent text that she did nothing — she did not call the police or Mr. Roy's family. Finally, she did not issue a simple additional instruction: 'Get out of the truck.'

"This court finds that by instructing Mr. Roy to get back in the truck constitutes wanton and reckless conduct by Ms. Carter, creating a situation where there is a high degree of likelihood that substantial harm would result to Mr. Roy."
Carter, who was 17 at the time, was charged as a youthful offender, meaning she will be charged as an adult. She faces a 20-year maximum sentence. Though she remains out on bail until her August sentencing, Moniz prohibited Carter from leaving Massachusetts, using Facebook or Snapchat, and texting.
Prosecutors argued that Carter "used Conrad as a pawn in a sick game of life and death for attention," while her lawyer's claimed Roy was "on the path to take his own life" due to his untreated mental illness.
However, text messages Carter sent to friends on the day Roy died and weeks and months after his death show that she understood what was happening, didn't try to stop him, failed to contact help, and even admitted she told him to get back in the truck.
She even became worried when police started obtained Roy's belongings, writing to a friend:
"They have to go through his phone and see if anyone encouraged him to do it. I'm done. His family will hate me and I could go to jail."
Text messages between Carter and Roy were also revealed in court. The two often discussed suicide and, at first, she encouraged him to seek help. However, she seemed to become frustrated as Roy continued to battle with his inner thoughts, but took no action.
Here's a chilling text conversation Carter and Roy had on the day he died:
Carter: "So I guess you aren't gonna do it then, all that for nothing. … I'm just confused like you were so ready and determined."

Roy: "I am gonna eventually. I really don't know what I'm waiting for … but I have everything lined up."

Carter: "No, you're not, Conrad. Last night was it. You keep pushing it off and you say you'll do it but u never do. Its always gonna be that way if u don't take action. You're just making it harder on yourself by pushing it off, you just have to do it. If u don't do it now you're never gonna do it."
Criminal law professor Laurie Levenson says Moniz's ruling does not set a legal precedent in this muddy cyber bullying/social media era, but it does send a message that "there are new means of committing old crimes."
Essentially, Carter was whispering "kill yourself, kill yourself" to Roy, Levenson concluded.
Be the first to receive breaking news alerts and more stories like this by subscribing to our mailing list.