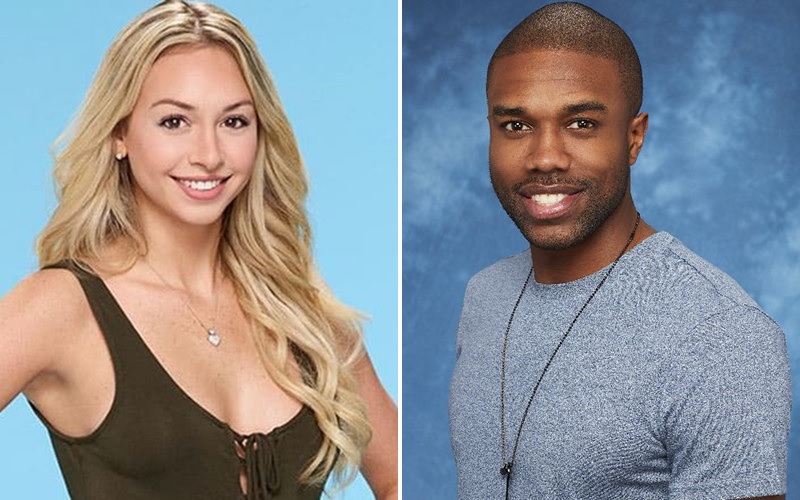 Two of the Bachelor in Paradise contestants must have forgotten they were shooting a show for network television instead of pay-per-view. A hook up session reportedly got so raunchy that it shut down production.
Season 4 of the ABC show has only been filming for a week in Sayulita, Mexico. However, production was abruptly suspended Sunday (Jun. 11) due to "allegations of misconduct." The contestants were flown to Houston while producers have launched an investigation into the matter.
Here's what we know so far:
The alleged incident reportedly involved Corinne Olympios (The Bachelor, season 21) and DeMario Jackson (The Bachelorette, season 13). The two were consuming alcohol and getting real close at the bar. They began making out with "intense rubbing." Things then moved to the pool and got naked and that's when the hook up turned X-rated, including licking and fingering.
TMZ is reporting DeMario's version of events. However, his account has been disputed, thus the need for an investigation. Here is the booted Bachelorette's version of the hook-up:
DeMario Jackson and Corinne Olympios were told by producers one of the storylines would be the 2 of them hooking up… We're told the 2 met at the bar and the alcohol was flowing. DeMario says Corinne jumped in his lap and started making out with him. We're told there was lots of "intense rubbing."

DeMario says Corinne then suggested they retreat to the pool, with the cameras rolling. They took off their clothes, started making out and "rubbing, touching and fingering." He says she put her genitals in his face and he began licking, but we're told this allegation is a big point of contention and others disagree with his account. He says he was not able to engage in intercourse because of the alcohol.
According to Los Angeles Times writer Amy Kaufman, a female producer was "uncomfortable" by the footage that was shot. She did not come to work the next day and filed a third-party complaint against the network for misconduct.
According to my source, this producer went on to sue the production for misconduct over what she witnessed between DeMario and Corinne.

— Amy Kaufman (@AmyKinLA) June 11, 2017
Warner Bros. released this statement:
"We have become aware of allegations of misconduct on the set of "Bachelor in Paradise" in Mexico. We have suspended production and we are conducting a thorough investigation of these allegations. Once the investigation is complete, we will take appropriate responsive action."
Corinne and DeMario were first dismissed from production. The full cast was then transported back to the States as a full investigation was launched. Neither Corinne nor DeMario have publicly commented on the situation.
There's also no word if the show is still slated for an August 8 premiere.
Be the first to receive breaking news alerts and more stories like this by subscribing to our mailing list.