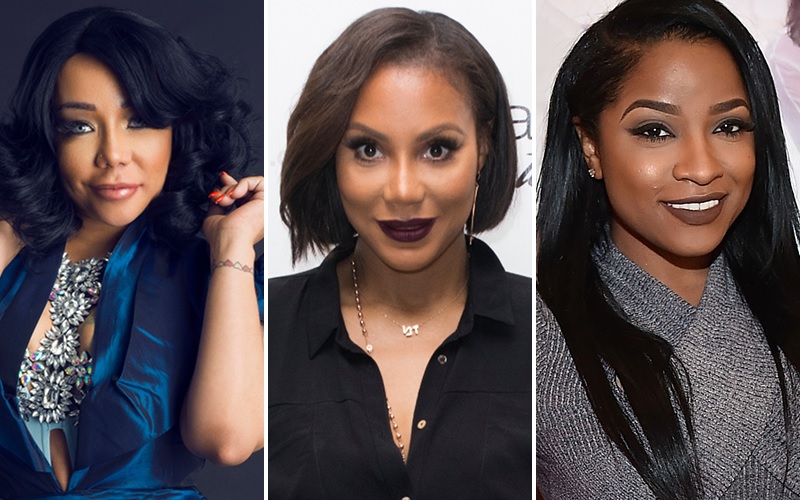 The feud between longtime friends Tamar Braxton and Tiny Harris may finally be coming to an end. Meanwhile, another one of Tamar's many feuds may be heating up.
Tamar has been to known to throw lots of shade without offering much detail or context. Lately, friends like Tiny and Toya Wright have been the target of the singer's petty jabs. However, Tamar attempted to squash the beef and offered to make amends with Tiny.
On Wednesday (Jun. 7), the singer penned a seemingly-sincere note addressed to her son's godmother, Tiny. She wrote that despite their recent disagreements, she still has love for Tiny (and T.I.) and suggested they sit down to talk things out. She apologized for hurting Tiny in any way and is ready to forgive.
Tamar wrote in part:
I love you and all my God babies (all the kids) with all of my heart and you know this. I also love your husband @troubleman31 because he is my family also. How about we ALL sit down and talk and declare our new Love and mutual respect for each other… Life is too short and I'm ok with ignoring single, miserable hateful friends who WANT to see you and I at odds and instigating feuds with you and your husband…

[W]ho said it will be easy but Love and forgiveness is easier than being mad and full of hate. So with that all being said @majorgirl I'm sorry for my part in the hurt and want to have my best friend AND her family Including all of our kids and TIP all back together again.
https://www.instagram.com/p/BVDXSiRl-6F/
Tiny commented on the post and was receptive to Tamar's apology. She expressed her love for one of her closest friends and wrote that it was "time to kiss & make up."
While that friendship might have just been saved, Tamar only made matters worse with Toya Wright. In case you didn't catch the shade, in her note to Tiny, Tamar referenced "paperback Toya" and accused Toya of spreading lies.
Toya clapped back though. She went all the way off on Tamar in an Instagram rant. She called the former talk show host fake, petty, and pathetic.
Toya wrote in part:
Paperback Toya? Really B*tch?? What does your non-sincere apology and fake ass public outreach have to do with me?? You are THE fakest bitch I know. You wrote all of that pathetic, attention seeking bullshit but you conveniently forgot to tell them why ur REALLY mad??

… I'm sick of you popping off on everybody and then playing victim with yo over the top under the table ass. You talk shit about your own sisters! U a disrespectful, disloyal, jealous attention fiend…

F*ck You all days and all ways Tamar!
Ouch! Toya clearly ain't playin' with Tamar.
And, of course, Toya's outspoken daughter, Reginae Carter, jumped in to defend her mother:
Tiny added her two cents regarding Tamar/Toya in the comment sections and urged Tamar to reach out to Toya as well, but off of social media.
For context, Tamar's issues with Tiny and Toya are supposedly related to The Real. Toya appeared on the talk show and Tiny congratulated singer Monica for guest co-hosting the show all after Tamar was shockingly fired. It's believed Tamar felt betrayed by her friends during the trying time.
However, she stresses The Real has nothing to do with her beefs with the two women.
Be the first to receive breaking news alerts and more stories like this by subscribing to our mailing list.