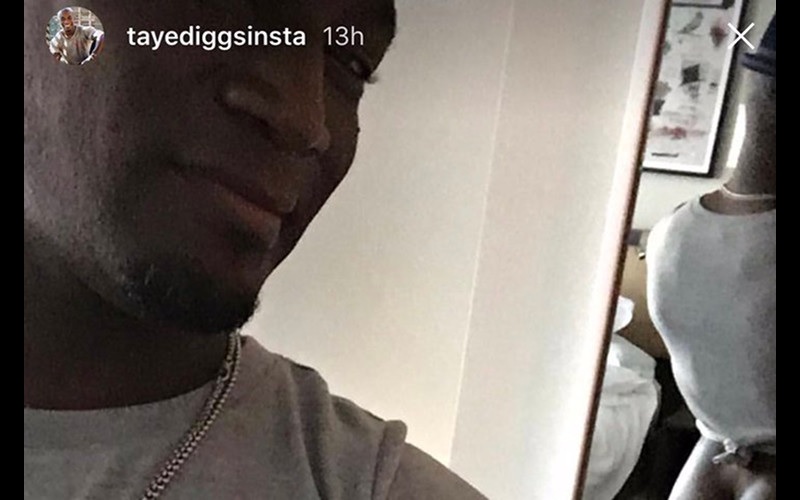 Taye Diggs must have really been feeling himself or something. The Empire star recently posted a NSFW photo on Instagram and actually revealed his bare chocolate cakes to the world!!
The attempted thirst trap was part of an Instagram Story and the actor has since deleted the pic (check it out here). But you know nothing never disappears from the internet, especially once it finds its way to Twitter.
"Taye Diggs" became a top 10 trending topic on Twitter as the photo went viral, leaving many users confused and pondering questions.
Taye Diggs out here cutting up ?.

— CARD CRACKING LEGEND. (@infamousRIOT) May 26, 2017
Taye Diggs out here doin the Young Thug & lil Uzi vert fan club pose for the gram!

— MarioLinton (@mariolinton) May 26, 2017
Taye Diggs trending lemme se…..

Oooooooo pic.twitter.com/qk4AMuxP8U

— PplLitUndertheStairs (@Blacknform) May 26, 2017
Taye Diggs been having a 10 year midlife crisis

— Babyface Killah? (@foxybrownstan) May 26, 2017
Who tied Taye Diggs shirt tho. WHO?

— Kasey (@bastylefilegirl) May 26, 2017
Taye Diggs really outchea trynna win the Who Mans Is This sweepstakes.

— Phonte (@phontigallo) May 26, 2017
Taye Diggs pic.twitter.com/eMsfnjRXnj

— Michy's Lyric?? (@Michydoe27_) May 26, 2017
Taye Diggs is a mess…

— Elle Shiree (@BourgeoisBrowni) May 26, 2017
I have so many questions about that Taye Diggs pic. Like why is his ass on the gram and his shirt tied in the back lmaoo ????

— Jazz ?? (@Jazzy_GotYou) May 26, 2017
Damn..Taye Diggs is out here bussin' it open for the gram. And dude tied his shirt up in the back to get extra booty arch. #moist

— Tariq Nasheed (@tariqnasheed) May 26, 2017
I thought Taye Diggs was trending bc he's finally dating a Black woman.

*sees the real reason* pic.twitter.com/hMyD8Zhrpe

— Elle Hoodz (@PixieBakes) May 26, 2017
That's why I choose Morris Chestnut over Taye Diggs any day.

— Brandi (@Bnlovely) May 26, 2017
I lose 20 more lbs and I may do a Taye Diggs my damn self. ??

— Nina Parker (@MzGossipGirl) May 26, 2017
Lmaooo.. Taye Diggs out here being a bad b*tch.. ?

— noire (@pinkdreamsZ) May 26, 2017
https://twitter.com/royaltyruiz/status/868162985772146688
Diggs doesn't seem to be too pressed about his viral photo and social media attention. He has not commented on the photo and his most recent IG post is a photo of he and model girlfriend, Amanza Smith Brown.
Be the first to receive breaking news alerts and more stories like this by subscribing to our mailing list.