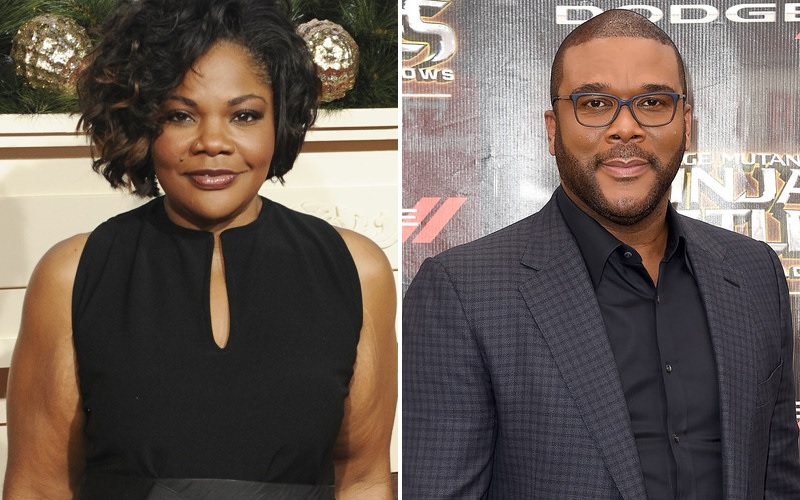 One of Mo'Nique's foes may be scratched off her hit list. Tyler Perry called the comedian following her public outburst against him and the two seemed to have begun the process of mending fences.
A bit from Mo'Nique's comedy routine, in which she accused Perry, Lee Daniels, and Oprah of conspiring to sabotage her career and told them to "suck my d*ck," went viral last week. She further explained her grievances with the trio in a TMZ interview and hour-long podcast.
Perry got word of the viral rant and watched the podcast and personally called Mo'Nique and her husband, Sidney Hicks. "I wanna give that brother credit where credit is due," she told her audience during another stand-up routine. "We did get a call from Tyler Perry last night."
"When he called up, he said, 'I watched your podcast and I saw your pain.' I said, 'N*gga that's not pain, that's called honesty, don't get it confused.' Then he wanted to start talking to me and my husband like he was a billionaire I said n*gga we don't give a f*ck about your money, let's start talking one-to-one and let's start talking some real sh*t."
Mo'Nique joked that when she felt the wealthy producer started throwing his money around, she asked to speak to his alter-ego Madea.
"See, when he called us up and tried to be the billionaire I said 'N***a, put Madea on the phone, let me speak to that real b**ch because you f**king this up right now,' and to that n***a's credit he got Madea on the motherf**king phone!"
It's unclear how the rest of the conversation went. But she told Perry she would address it onstage and was appreciative of him calling. She also noted that Daniels and Oprah have yet to reach out.
Though clearly she is, Mo'Nique shouldn't be too pressed about waiting on those phone calls. Her relationship with Daniels is too strained and Oprah is too busy and probably unbothered. I doubt either are eager to make a move.
At least Mo and Perry can work out their differences. Maybe's she'll appear in the next Madea movie.
Be the first to receive breaking news alerts and more stories like this by subscribing to our mailing list.