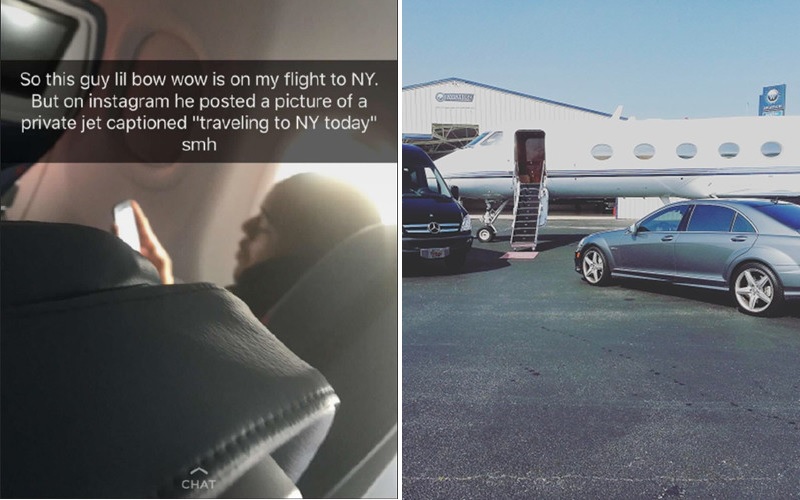 Once upon a time, you could outwardly stunt while secretly frontin' and no one would be the wiser, at least for a while. Unfortunately, now, thanks to social media, the internet is quick to expose you with receipts. Bow Wow had to learn this the hard way.
The rapper, a.k.a. Shad Moss, is currently on a press tour promoting his new reality show, Growing up Hip Hop. Traveling to New York on Monday (May 8), Moss posted a photo on Instagram of the VIP service and private jet he was boarding in Georgia.
But, here's the problem: Bow Wow was spotted in the economy section on a commercial flight that very same day.
Lmfaooooo who's mans is this @smoss?! pic.twitter.com/MHDvIcMppG

— Osama Bin Drinkin'? (@Al_Khee) May 9, 2017
But wait, it gets worse! Twitter came with receipts and discovered Bow Wow used a stock photo from a Florida company that actually does provide VIP transportation.
https://twitter.com/mamacrimz/status/862007474504609792
There's no hiding from this. The 30-year-old was epically busted for flexin' on the 'gram. Twitter clearly couldn't pass up the chance to clown the former child hip hop star.
Bow Wow when he gets off the flight and sees TMZ waiting by baggage claim pic.twitter.com/7COfVx5bMC

— Matthew A. Cherry (@MatthewACherry) May 9, 2017
Bow Wow like pic.twitter.com/8XIX8RluqJ

— ?one?? ga?e (@gibgabe) May 9, 2017
Bow Wow: Post pic about flying in private Jet.

Passenger on Southwest: Bow Wow is that you?

Bow Wow: pic.twitter.com/aYr855NebH

— JamakeComedy (@Jamake0602) May 9, 2017
Bow Wow: Boutta hop on this private jet… pic.twitter.com/1adcOmckhF

— RobDaRuler (@RobDaRuler) May 9, 2017
Twitter took the memes to the next level as the incident sparked the #BowWowChallenge. Twitter users faked situations of themselves enjoying luxury items and pleasures.
https://twitter.com/BowWowChalleng/status/862492548887138304
With my man ? #bowwowchallenge pic.twitter.com/NyaUQXJaot

— Patrice Pannell (@patricepannell5) May 10, 2017
Gotta to spoil myself every now and then ??#bowwowchallenge pic.twitter.com/4rHRsGolhw

— Lucy Richardson (@SweetestTabboo_) May 10, 2017
When you ballin! #bowwowchallenge pic.twitter.com/s3X1QhNVf6

— chodoi (@icanteven7009) May 11, 2017
https://twitter.com/Xclusive_HipHop/status/862480740843442176
Hella Bottles For Tonight ?? #Bowwowchallenge pic.twitter.com/i9F65tmBJr

— ?K.Fox ? (@PrinceKFox) May 10, 2017
This is the original #bowwowchallenge. pic.twitter.com/YHA0ZPIMFp

— philip lewis (@Phil_Lewis_) May 10, 2017
gotta get that paper ???#BowWowChallenge pic.twitter.com/1shbfRfYKG

— a6dul (@young_abuudhabi) May 11, 2017
Blessed ? My new ride at the car wash. #BowWowChallenge pic.twitter.com/unoT3kQWeU

— Blessed ? (@antologies) May 10, 2017
Stuck in traffic in my Lexus ?#BowWowChallenge pic.twitter.com/Xf1wz8ZuiZ

— Papi (@papichulllllllo) May 10, 2017
Shockingly, this isn't the first time Bow Wow has been caught flexin' on social media. During Grammy weekend in 2014, the rapper posted a pic of himself driving a Ferrari. It turns out he rented the car just to arrive for the red carpet.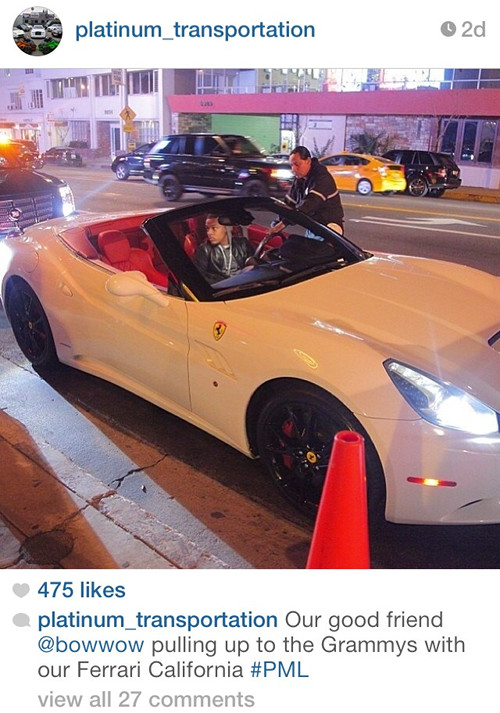 The rental company saw Bow Wow's post and posted their own photo of Bow Wow driving the car accompanied with a shady caption. "Our good friend Bow Wow pulling up to the Grammys with 'our' Ferrari California."
In 2016, Bow Wow did it again. An Instagram user and self-proclaimed millionaire stock trader accused the entertainer of stealing a photo of a large bundle of cash he posted months prior to Bow Wow's own post.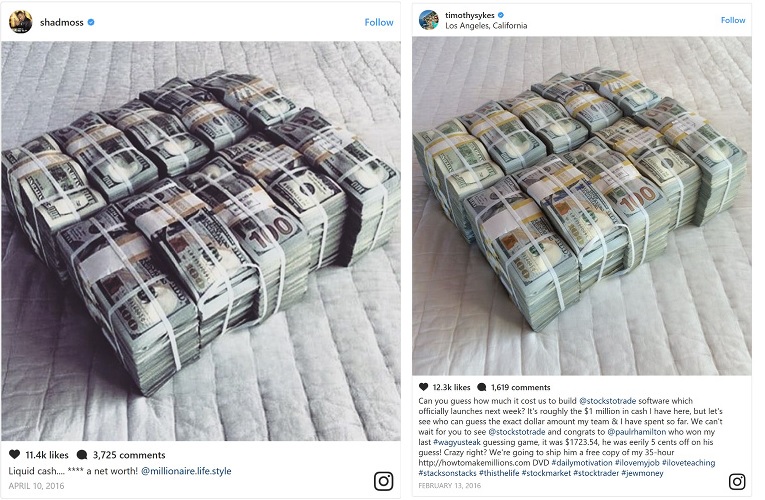 Will Shad Moss learn from these L's? Probably not. It's surprising that he hasn't taken down the stock photo of the private plane given the social media attention it has received. Expect another flexin' moment in the near future.
Be the first to receive breaking news alerts and more stories like this by subscribing to our mailing list.