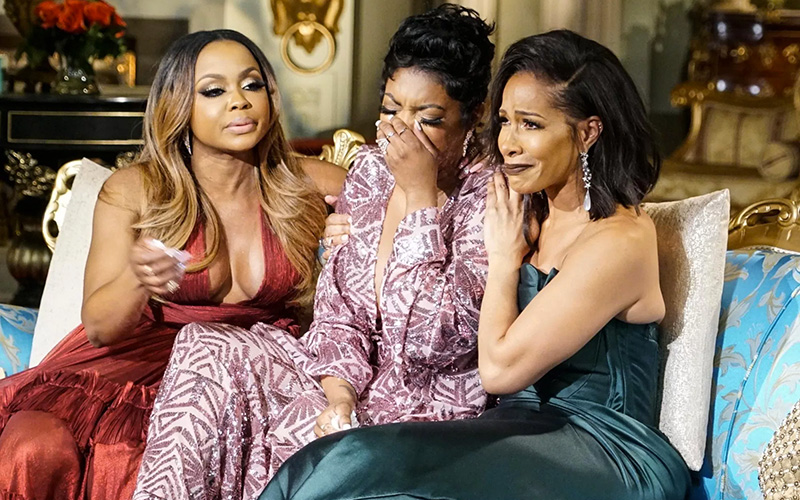 "Frick & Frack" or "Fake & Fraud" — whatever you like to call them — is over! Dunzo! Kaput! Finito!
Porsha Williams says she has not spoken to Phaedra Parks since her RHOA BFF betrayed during the season 9 reunion.
Rumors that Kandi Burruss and husband Todd Tucker wanted to drug and take advantage of (aka date rape) Porsha dominated season 9 of The Real Housewives of Atlanta. It was revealed during the reunion that Phaedra was the source of the dangerous allegation and lead Porsha to believe the falsehood was truth.
She even went as far to claim Kandi told her firsthand what she had planned to do to Porsha, which was also a lie.
During her Tuesday (May 9) appearance on Dish Nation, Porsha says she feels betrayed by Phaedra and has not spoken to her since the reunion.
"You know, my uncle passed a couple of weeks ago and [Phaedra] did text me and offer her condolences. Besides that, I haven't talked to her."
She explains that Phaedra has tried reaching out, but Porsha is not in a space to talk with her Bravo buddy.
"[Phaedra] was like my best friend. Someone I talked to on the phone every single day, and for me to feel like she had betrayed me like that, and the fact that I was sitting right there and watched her continue to lie on me about it, that's the part I can't get past and I don't know if I ever will. Right now, I just can't talk to her."
"I, of course, have a soft spot for Phaedra, [but] it's where you don't want to be manipulated anymore. I just don't want to hear any more of it right now. I may get to the point where I'm strong enough to where I can talk to her and maybe we can work it out. Right now, it's still so new to me."
Porsha added that she has, in fact, apologized to Kandi for believing and perpetuating Phaedra's malicious lies. However, she's not looking to mend that broken relationship either.
"Some people you want to be friends with them again. Some people you're just like, 'I'm going to let that stay where it's at.' So I'm not really looking for a friendship with her."
This might be a good move for Porsha because Kandi, whose name and reputation was dragged through the mud this season, has contemplated taking legal action against Frick & Frack.
"[My Attorneys] had told me that I should sue Porsha, at first. And when it came out at the reunion that you know Porsha got the information from Phaedra, I was like, 'You know what, let's just hold up until you guys get to see this whole thing and I will get their opinion on how they think I should handle it and go forward from there."
Who could honestly blame Kandi if she decides to follow through with a lawsuit? Phaedra essentially accused Kandi of being a sexual predator. That is a serious accusation and Phaedra, attorney at law, should know such libelous statements can result in legal repercussions.
It has been speculated that Phaedra was fed the date rape allegations against Kandi by RHOA producer Carlos King. However, Bravo has denied this claim. Nonetheless, King and Phaedra reportedly will NOT return for season 10 of the reality show.
Be the first to receive breaking news alerts and more stories like this by subscribing to our mailing list.