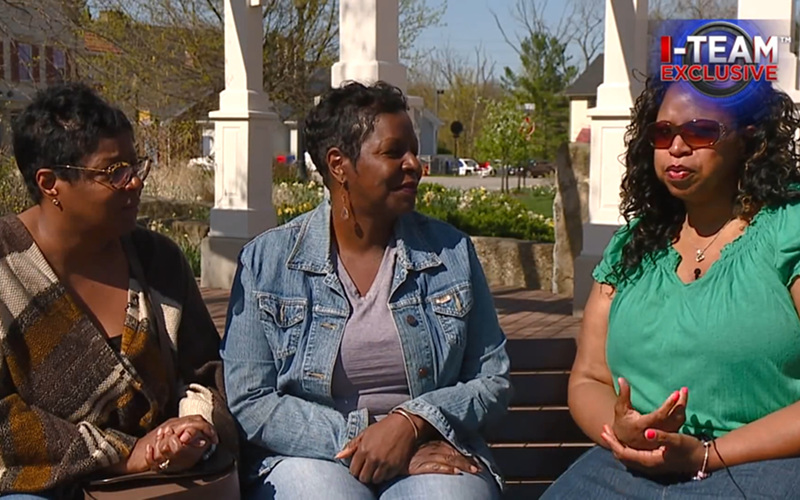 The ex-girlfriend of the "Facebook Killer" — who killed in her name — met the victim's family. Joy Lane met with two of Robert Godwin Sr.'s children and they let her know they do not blame Lane for their father's death.
Lane, Tonya R. Godwin-Baines and Debbie D. Godwin met on Tuesday (Apr. 18) and the three embraced in a hug, prayed and cried together. "I feel bad. The last thing that he would have said was my name and didn't know me or why he was saying it. And that's been difficult," she told the sisters.
Steve "Stevie Steve" Stephens randomly shot and Killed Robert Godwin on Easter Sunday (Apr. 16) in Cleveland and uploaded video footage of the shooting on Facebook. Godwin was walking down the street after having an Easter meal with his children.
Stephens ordered Godwin to say Lane's name. "She's the reason that this is about to happen to you," he told the 74-year-old.
Despite Stephens' anger towards his ex, Godwin's children do not blame Joy Lane for Stephens' actions. "We know it is not her fault," Robert Godwin Jr. told Fox 8 Cleveland news earlier this week. "She should not feel like it's her fault."
Lane, who was placed in protective custody while Stephens was on the loose, says she's still trying to process the tragedy. She even says people have commented Stephens should have killed her instead of Godwin.
"The hashtags Joy Lane, Joy Lane massacre, I don't even know who Joy Lane is anymore, or how to pick up all the pieces of my world at this moment. I've got a lot of negative comments. Some even said he should have killed me."
Lane was in a relationship with Stephens for several years. She said he was a "really good guy" who was also kind to her three daughters. She ended the relationship because of Stephens' gambling issues.
Lane also revealed she last spoke to her ex the night before the shooting. She attempted to call him after Godwin's murder went viral, but he did not pick up the phone.
"Each one of us forgives the killer, the murderer," Tonya Godwin-Baines told CNN. She added that her father taught his 10 children the importance of forgiveness.
However, another daughter of Godwin's, Brenda Haymon, is still grieving and is not ready to forgive Stephens for taking her father's life.
"All I can say is that I wish he had gone down in a hail of 100 bullets," she told CNN after learning Stephens had committed suicide. "I wish it had gone down like that," she added.
After a two-day nationwide search, police found Stephens in Erie County, Pennsylvania on Tuesday (Apr. 18). However, he committed suicide before being apprehended.
Be the first to receive breaking news alerts and more stories like this by subscribing to our mailing list.