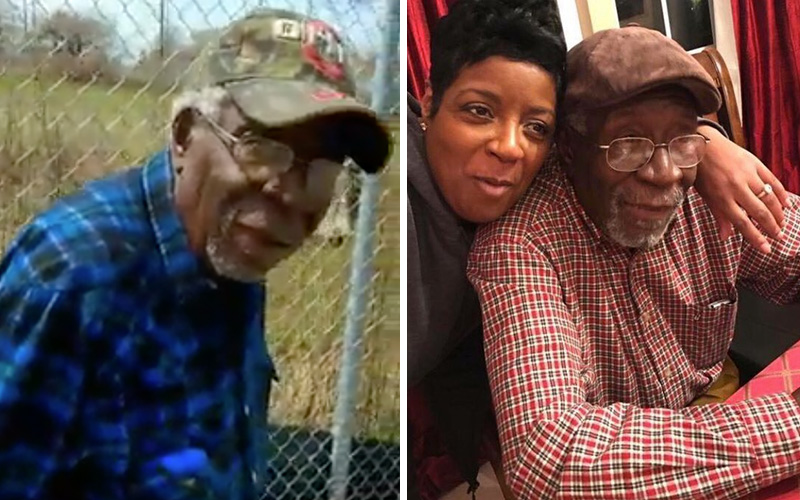 What was supposed to be a normal Easter Sunday ended in tragedy when a dangerous, still on the loose suspect, killed a random 74-year-old man, Robert Godwin, Sr.
After the gunman, Steve Stephenson, posted the brutal murder on Facebook Sunday afternoon (Apr. 16), the slaying made national headlines. Here are some things to know about the victim of this senseless killing:
Robert Godwin, Sr. was a father of nine and grandfather of 14 grandchildren.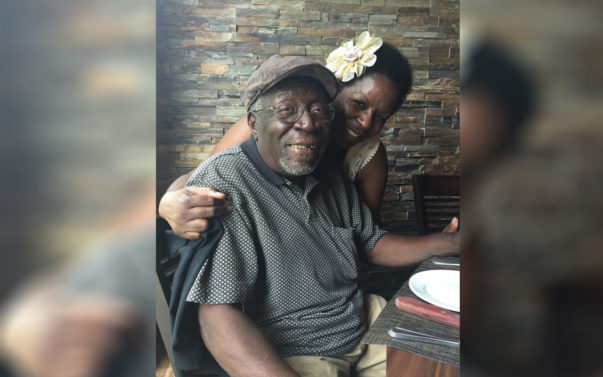 Since the Facebook post has gone viral, more details have emerged about the 74-year-old victim, Robert Godwin, Sr. Perhaps the saddest is that he is leaving behind a robust family to mourn his loss. Godwin was the father of nine children, the grandfather of 14 grandchildren, and a great-grandfather as well.
I just spoke with a man and woman who said the man killed in the FB live video was their 78 year old father @cleveland19news pic.twitter.com/Gpf3EUafLM

— Shanice Settle (@ShaniceDunning) April 16, 2017
As news spread of his death, many spoke to media with nothing but the highest of praise in his honor. Cleveland 19 News reporter Sharice Dunning posted a video interview with a man and woman who claimed to be Godwin's children.
"He'd give you the shirt off his back," said the man. "I'm not just saying that for these cameras…this man right here was a good man. And I just hate that he's gone."
Let's all pray for Mr Robert Godwin Sr & his entire family today. Please, each prayer helps. #Cleveland pic.twitter.com/WqN0lYuTrC

— Kwesi T. (@4CescF) April 17, 2017
Godwin was retired and enjoyed collecting cans on his walks.
God bless this man & his family. This breaks my heart beyond words. Mr. Robert Godwin Sr. was killed in Cleveland, Rest in peace. ? pic.twitter.com/2Id9Hr8znv

— David M Vasquez ? (@TheRealDav1D) April 17, 2017
Godwin was a retired foundry worker who was enjoying the benefits of his well-earned post-retirement years. It has been said that one of his activities was collecting aluminum cans. It was noted that he was often seen carrying a shopping bag while out on a walk in case he found any.
It has been reported that he was out on such a walk, looking for cans in the process, when the killer approached him on Easter afternoon. The gruesome video shows Godwin trying to shield himself from the killer with the shopping bag at the time of the murder.
There was no connection between Godwin and his killer.
Actual photo of Steve Stephens, homicide suspect's, actual vehicle. Please call 9-1-1 if seen. Plate not yet available. pic.twitter.com/hn8a8nQEAP

— Cleveland Police (@CLEpolice) April 16, 2017
There's always a debate in the world as to whether there is meaning to the seemingly chaotic nature of life, and this case only adds more fuel to the fire of that debate. As police looked into the crime, they discovered that there was no connection between the 74-year-old Godwin and his murderer.
It appears that the killing was completely random. The killer, seemingly upset after a recent breakup, chose Godwin at random when he encountered the retired man on his walk following an Easter meal. In the video, the killer can be heard claiming to have killed others, although police have not connected any other victims to the killer.
Knowing that the murder was seemingly completely random makes the killing that much more tragic.
Multiple GoFundMe pages have been set up to help the family.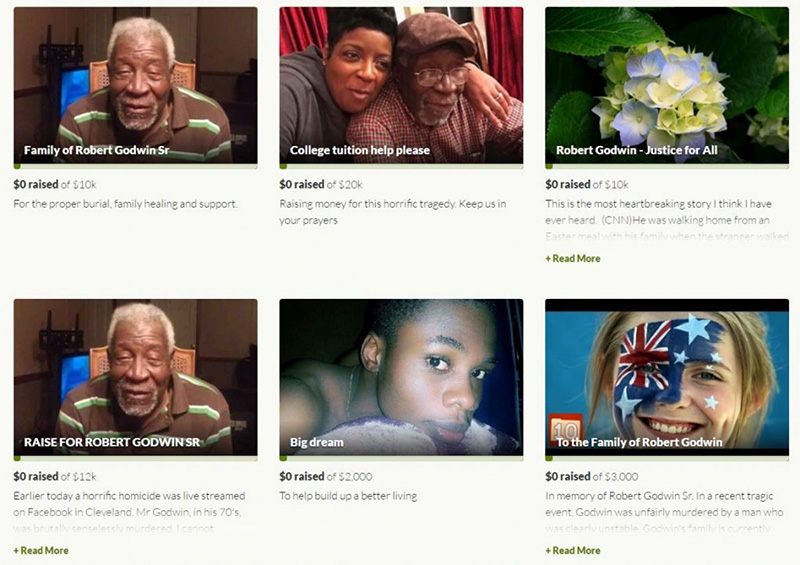 Not too long after news of the killing broke, multiple GoFundMe pages were established. The only issue is that the family of Godwin has warned the public not to donate to GoFundMe due to the large number of fake pages.
"We've gotten word from Mr. Godwin's family that there are several GoFundMe accounts set up not by the family," Cleveland Police Chief Calvin Williams said at a news conference Monday morning (Apr. 17). "So they're asking people not to contribute to any GoFundMe or any memorial or any account right now in Mr. Godwin's name.
One such account was created with a goal to raise $20,000 to "help the family cope" by Facebook user Wesley Scott Alexander. The campaign exceeded its goal, raising more than $33,000, including $4,500 in a single hour.
The problem with that is Alexander is a stranger who lives in Phoenix, 2,000 miles away from Cleveland.
The Facebook video of the shooting has prompted debates as to what should be allowed to be shared.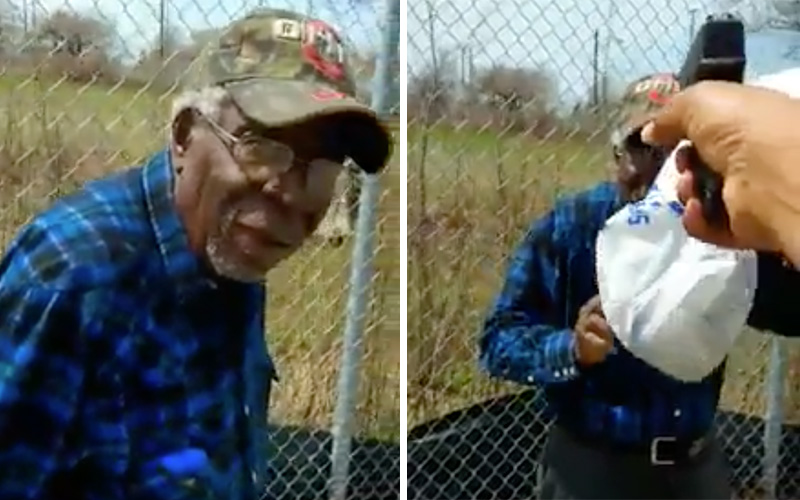 The very graphic video of Robert Godwin, Sr.'s murder was posted to Facebook by the killer after the fact. Early reports indicated that it took place on Facebook Live, but it has since been discovered that the killing was actually recorded and uploaded later.
Regardless, the post itself has sparked debates as to social media sites' responsibility on videos of this nature being allowed to be shared. On one hand, such a tragic video going viral is heartbreaking. The family of Godwin have asked for the video not be shared in honor of the victim.
Please please please stop retweeting that video and report anyone who has posted it! That is my grandfather show some respect #Cleveland

— Ryan A. Godwin (@god_winr) April 16, 2017
And while requests like that are understandable, the debate is not clean cut. Yes, violent material is shared on a daily basis (street fights with "WorldStar!!!" being shouted commonly make their rounds on social media), but there are other instances, such as the murder of Philando Castile that shine a light on injustices occurring.
This instance has prompted a debate as to where the line should be drawn.
Be the first to receive breaking news alerts and more stories like this by subscribing to our mailing list.