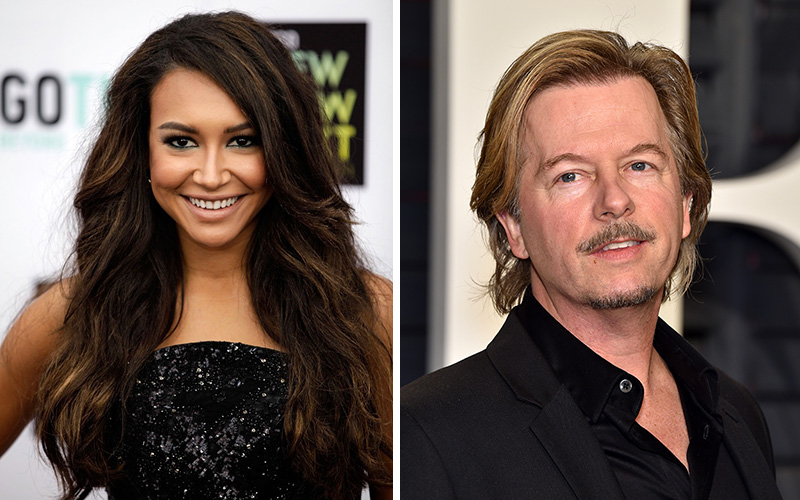 Right around April 1st, everyone is skeptical of any breaking news that may come across their timeline or Google search, and rightfully so. Companies love to pull April Fools jokes with fake news, and so when word started spreading that Big Sean's ex-girlfriend Naya Rivera and comedian/actor David Spade were dating, a lot of people were calling bull sh*t.
Well, it turns out it wasn't a joke and the two really are together. Reports say that 30-year-old Rivera and 52-year-old Spade were both in Hawaii, although separately, when they decided to meet up for a little poolside rendezvous.
https://twitter.com/NayaRiverasNews/status/847911459753426944?ref_src=twsrc%5Etfw&ref_url=http%3A%2F%2Felitedaily.com%2Fentertainment%2Fcelebrity%2Fnaya-rivera-david-spade-dating%2F1846977%2F
They were photographed swimming and hugging up on each other in the water, and a witness spoke to Entertainment Tonight about the odd couple, saying:
"The pair went for a short swim, hugged and had lots of body contact in the pool. They kept to one side of the pool where there was the most covering from prying eyes. Outside of the pool, they sat on lounge chairs and talked animatedly. They spent about an hour poolside together…They were very happy. They looked pretty comfortable together."
After the poolside fun, the two were spotted eating together at Duke's restaurant in Waikiki.
Naya Rivera and David Spade showed off some PDA in the pool and that's what we missed on Glee. https://t.co/0DK4NLWpGo pic.twitter.com/TqPm9urInk

— E! News (@enews) April 2, 2017
So clearly, this is a thing. Like, a real thing. Not everyone is just accepting it as fact, though, and instead are taking to Twitter to express their confusion.
E News: Naya Rivera and David Spade showing PDA
Everyone: pic.twitter.com/qjb9aJUgeR

— Stephanie (@ochoa_steph) April 1, 2017
if david spade can get naya rivera then this leads me to believe that theres literally nothing that we cant achieve if we put our mind to it

— ????????? ?. ? (@CaliforniaLuv84) March 31, 2017
David Spade dating Naya Rivera is the worst April Fools joke of the day.

— Shari Blair ????? (@TheNewYawker) April 1, 2017
https://twitter.com/briesIarsns/status/848637934937026560?ref_src=twsrc%5Etfw&ref_url=http%3A%2F%2Felitedaily.com%2Fentertainment%2Fcelebrity%2Fnaya-rivera-david-spade-dating%2F1846977%2F
how and why are david spade and naya rivera a thing pic.twitter.com/qVk5oc2wLW

— christina (@tamitaylors) April 1, 2017
No couple has ever made less sense than Naya Rivera and David Spade. #fact

— kris ?? (@kreeestav) April 1, 2017
But when you really look at it, it's not as unheard of as it may seem. It's weird, yeah, but David Spade has been known to pull some beautiful women in his life. The list includes Heather Locklear, Lara Flynn Boyle, Pamela Anderson, Nicolette Sheridan and most recently Charlotte McKinney.
Then, add on the fact that the two worked together on the Crackle comedy film Mad Families, and suddenly the very real possibility of the two hitting it off starts to make sense.
All that being said, though, I think it's safe to say this is a couple that no one saw coming.
Be the first to receive breaking news alerts and more stories like this by subscribing to our mailing list.