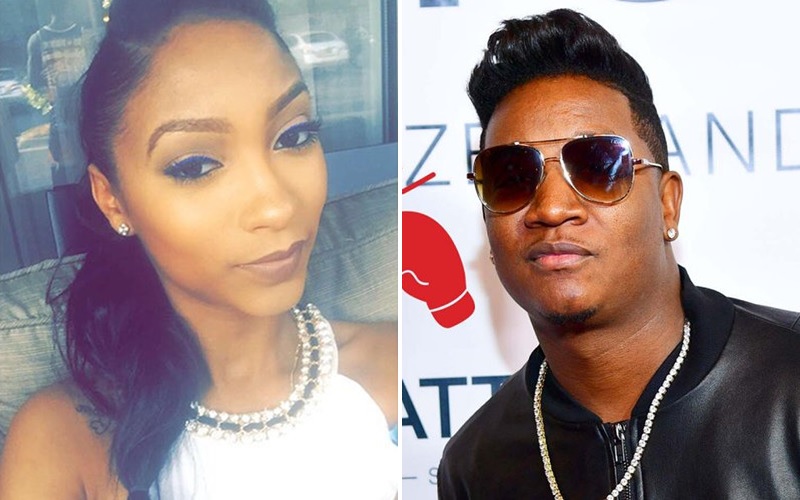 This Love & Hip Hop Atlanta storyline gets messier by the day. Another potential father of Jasmine Washington's baby has emerged and it's someone else already on the show: Yung Joc!
Promos for the upcoming episode show Joc admitting to his current girlfriend, Karlie Redd, that he also had sex with Jasmine. Since January, Jasmine has claimed that Kirk Frost is her baby daddy. However, Hollywood Life is reporting that Joc is now worried that he may be the father.
A source exclusively tells the gossip site:
"Joc's scared he may be the father of Jasmine's baby and that's one of the reasons he and Karlie are having problems. He feels bad about it."
Joc and Karlie definitely had problems in their reality show romance way before Jasmine came on the scene (and they're still trading low blows on social media). Nonetheless, the source continues to share more details on the matter.
"He feels awful he f**ked up his relationship with Karlie. He's pissed that he let his other head talk him into doing something he knew was wrong and now he's paying the price. Jasmine's adamant Kirk's the father and Joc's hoping that he is. Because the last thing he wants is a child with her."
In addition to Kirk and now Joc, it was reported last week that Jasmine's ex-boyfriend, Logan, is the father of her 7-month-old son, Kannon. Logan and Jasmine have been in an on/off relationship for the past 11 years.
Interestingly, Logan's late father's name is Cannon, who Jasmine's son was allegedly named after. Rumors suggest she changed the spelling of her son's name to begin with a "K" only to fit the LHHATL storyline that Kirk is baby Kannon's father.
It's clear that we all love the manufactured drama and ratchetness that Love & Hip Hop offers. However, this particular storyline is quickly becoming uncomfortable and less entertaining. At the end of the day, a 7-month-old child is at the center of it all.
Maybe Kirk is the father. Maybe it's Logan. Or maybe it's someone we have yet to meet or will never meet. And though he doesn't get much screen time (if any), at this point, it's beginning to feel like innocent baby Kannon is being exploited for ratings and that's sad.
Before this turns into a think piece, I would hope we find out the truth sooner rather than later. Unfortunately, I have a feeling this will be stretched out for the entire season.
Be the first to receive breaking news alerts and more stories like this by subscribing to our mailing list.