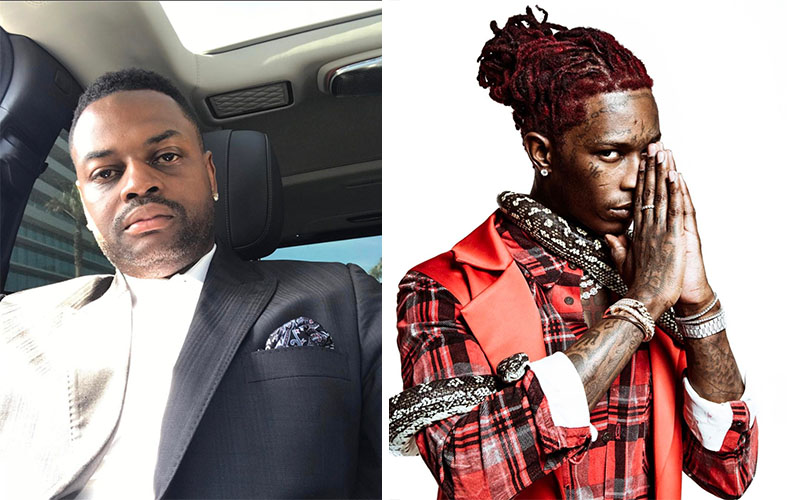 One of the most underestimated and unappreciated jobs in the music industry is that of the artist's manager. You think Sean Spicer has it bad being Donald Trump's White House press secretary is a shit job, but can you imagine trying to navigate the emotional and intellectual chaos of steering Young Thug's music career toward something resembling a strategy and profitability?
Manny Halley, best known as Keyshia Cole's manager, apparently took this challenge on and was Young Thug's manager.
I must have missed the memo 'cause I had no idea Manny added Young Thug to his client roster, but here's a flick of the two turnin' up and celebrating the new year together:
Despite the New Year's festivities, the relationship appears to have taken a turn for the worse lately as Young Thug's finance team opened fire on Manny Halley in court and through the blogs, accusing Manny of swindling money from Young Thug.
To put it bluntly: Young Thug's business manager called Manny a lyin' ass thief and read him the riot act. Here's a taste of what Manny was served via Hip Hollywood:
Dear Manny –

I have left several messages for you the last several days to discuss a prohibited and illegal/criminal activity that you are undertaking.

· You have undertaken an illegal and prohibited act by intentionally bouncing checks with vendors;

· You have engaged in an illegal/criminal act by authorizing and forging a signature of an employee of my firm's personal credit card and signing a contract, see below; I have further proof of the following below.

We received the following information from my employees credit card companies yesterday.

Chase credit card attempted charges that we are informed:
$10,984 – 11/23.
$7,087.60 – 11/26.
$7,087.60 – 11/26.
$34,202 – 12/1.
$9,763 – 12/3.
$29,840.75 – 12/7.

Citicard credit card attempted charges:
$16,442.81 – 12/1.
$16,442.81 – 12/1.
$34,202 – 12/1.
$9,763 – 12/3.
$4,817.44 – 12/7.
$29,840.75 – 12/7.

· Prior to me receiving the documented proof, you knowingly lied and denied any of these severe wrong doings, whereby I have confirmation in writing from vendors;

· These actions above have routinely occurred, not only for your personal doings, but you are also endangering Young Thug to criminal and financial harm;

· There is no financial control or integrity of the financial management of funds on behalf of Young Thug, further escalated by the fact we are prohibiting you from engaging directly with Young Thug to address financial concerns directly.

You further exposed not only my firm to financial compromise, but you have endangered an employee of David Weise and Associates. I cannot tolerate these actions nor, can I allow my professional relationships within the community to be compromised further. These actions are criminal in nature, with intent and malice. At 11:00 today, we have scheduled an appointment with LAPD criminal department and will extend all legal remedies to enforce and protect our firm.

As a result of the above and unless we are allowed to engage directly with Jeffrey Williams, David Weise and Associates will terminate effectively immediately not only your personal representation of Jeffrey Williams if you are anywhere connected.

Please govern your actions accordingly.

David Weise, CPA
To add insult to injury, after David Weise ethered Manny, Young Thug's lawyer sent Manny a termination letter immediately relieving Manny of his management duties.
All of those blows are enough to make a man roll over and play dead, but Manny ain't no possum and he's decided to fight back. The man who at one point managed Nicki Minaj (and did so as recently as the release of her last album The Pinkprint), clapped back hard at his detractors and has COUNTERSUED Young Thug's business manager for defamation to the tune of $50 million, according to TMZ:
Young Thug's former personal manager says his reputation has been ruined by Thug's finance guys who trashed him to cover their own incompetence.

The manager, Manny Halley — who's repped a bunch of stars including Keyshia Cole and Nicki Minaj — has filed a $50 million defamation suit against David Weise & Associates.

It all started when Weise's company sent an email in December to a bunch of people, claiming Manny had racked up more than $200k in unauthorized charges. The email got picked up by various urban blogs, and Manny says it's ruined his rep in the community.

Manny says the $200k was for YT's private jets for his concert tour.

Manny says he knows what's up … claiming the Weise company bungled YT's financial affairs to the point his cell phone service and the lights in his home were shut off.

And Manny says before he got trashed he tried to get the Weise company fired, so that's when they used the email as a preemptive strike.
You know what, after getting to know easy-going, patient-as-all-get-out Manny on Keyshia's BET reality shows, I'm rooting for him. I really am. Because if these fools are lying on him, they've completely ruined his ability to ever work as a manager in the music industry ever again. And $50 million should set him up nicely for a long time.
But if they're not lying, Manny needs to take the L and find a new profession.
Be the first to receive breaking news alerts and more stories like this by subscribing to our mailing list.